Page Updated 18.02.19
Forest School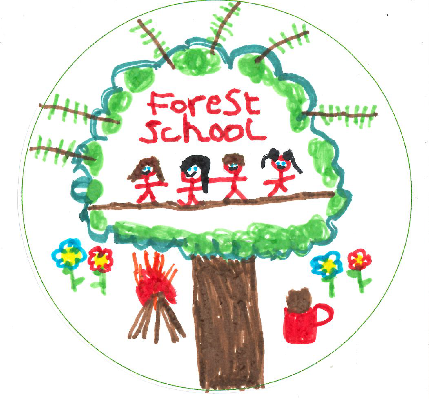 Latest Forest School News →
The Forest School Ethos
Forest School is a unique educational experience and process that offers children the opportunity to succeed and develop confidence and self- esteem through hands - on learning experiences in a woodland environment.
Children engage in motivating and achievable tasks and activities throughout the year and in almost all weathers. Children will work with tools, play, learn boundaries of behaviour; both physical and social, grow in confidence, self- esteem and motivation whilst developing an understanding of the natural world.
The Forest School concept originates in Denmark, aimed at pre-school children, where it was found that children who had attended forest school then arrived at school with strong social and communication skills, having the ability to work in groups effectively, generally has high self-esteem and confidence in their own abilities. These foundations helped children raise their academic achievements.
A Forest School encourages children to:
Develop personal and social skills
Work through practical problems and challenges
Use tools to create, build or manage
Discover how they learn best
Pursue knowledge that interests them
Learn how to manage failures
Build confidence in decision making and evaluating risk
Develop practical skills
Understand the benefits of a balanced and healthy lifestyle
Explore connections between humans, wildlife and the earth
Regularly experience achievement and success
Reflect on learning and experiences
Develop their language and communication skills
Improve physical motor skills
Become more motivated
Improve their concentration skills
---
Forest School have been busy making love heart bird feeders for our feathered friends - especially for the robin that joins our weekly sessions.
A big 'Thank you' to Ella's Grandad - John and Steve(Webb's wood yard)for the timber and construction for our new addition to our outdoor learning area - Our very own scales!
We had great fun today trying them out.
---
December:
Mrs Cook's Key Person group had their first Forest School session on 14th December. Minus 4 was the temperature reading! Very cold - but this didn't dampen our fun as everyone was dressed for the elements and a great time was had by everyone.
Lots of "wow" moments ... discovering lots of imaginative play where some children stumbled upon dinosaur bones and then hearing some strange noises coming from the undergrowth ... Some children used real hammers to drive nails into off-cuts of wood, used the axe to chop kindling for our fire.
The popcorn was a huge success as all the children said they had never cooked popcorn before, let alone on an open fire! The warm hot chocolate went down well and the children agreed it was the best as they had never poured hot chocolate before.
The children had to listen to lots of new instructions and adhere to new boundaries. Mrs Cook would have been very impressed with her key person group!
---
Foundation - October
Mrs Finney's key person group have been enjoying our weekly trips to Forest School on a Friday morning.
During our visits we have worked as a group and discovered lots of new adventures.
This week we have worked with clay (a first time for many children) to create different characters of their choice - lots of fun was had as the characters turned out to be each other's friends! So we had a Frank character, a Lottie , Bella and even a Freckle's. The children then used the characters to create a puppet show - lots of amazing imagination !
Evan and his family made homemade bread especially for Forest School - which was enjoyed by everyone - Thank you Evan it was delicious.
A part of the morning the children did experience the cold - so we huddled into the log cabin with blankets and created some lovely "artwork" and "mark making" with clipboards - this was the perfect opportunity to remind the children the importance of dressing in layers for Forest School especially wearing extra socks to keep our feet warm - hat and gloves are a must on frosty mornings.
This term the children have learnt lots of new instructions such as how we need to cross the road and be mindful of the building work that is happening down Horse Croft - lots of heavy trucks and machinery. We've learnt how to stay safe around the fire and demonstrated how to enter and exit this area. The children have demonstrated they understand the Forest School chant "123 where are you ? " and the children reply "123 we are here" This is used when we need everyone's attention - very important!
We have really enjoyed using the "talking stick" to reflect on our morning towards the end of the session, and everyone has understood the importance of our listening skills as the person with the talking stick is doing the talking and the rest of us have to use our listening skills! - Mrs Cook will be impressed with this vital skill.
It's lovely to hear from the children how much they are enjoying Forest School and how they wish every day was a Friday.
---