Page Updated 08.04.22
Forest School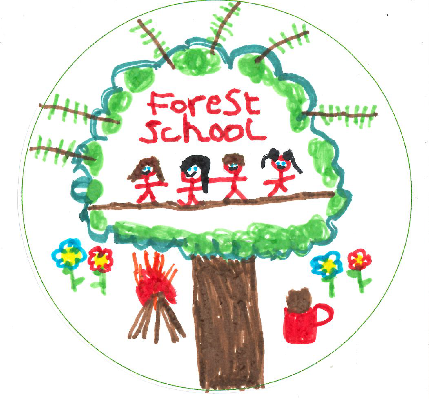 Latest Forest School News →
The Forest School Ethos
Forest School is a unique educational experience and process that offers children the opportunity to succeed and develop confidence and self- esteem through hands - on learning experiences in a woodland environment.
Children engage in motivating and achievable tasks and activities throughout the year and in almost all weathers. Children will work with tools, play, learn boundaries of behaviour; both physical and social, grow in confidence, self- esteem and motivation whilst developing an understanding of the natural world.
The Forest School concept originates in Denmark, aimed at pre-school children, where it was found that children who had attended forest school then arrived at school with strong social and communication skills, having the ability to work in groups effectively, generally has high self-esteem and confidence in their own abilities. These foundations helped children raise their academic achievements.
A Forest School encourages children to:
Develop personal and social skills
Work through practical problems and challenges
Use tools to create, build or manage
Discover how they learn best
Pursue knowledge that interests them
Learn how to manage failures
Build confidence in decision making and evaluating risk
Develop practical skills
Understand the benefits of a balanced and healthy lifestyle
Explore connections between humans, wildlife and the earth
Regularly experience achievement and success
Reflect on learning and experiences
Develop their language and communication skills
Improve physical motor skills
Become more motivated
Improve their concentration skills
---
Year 2: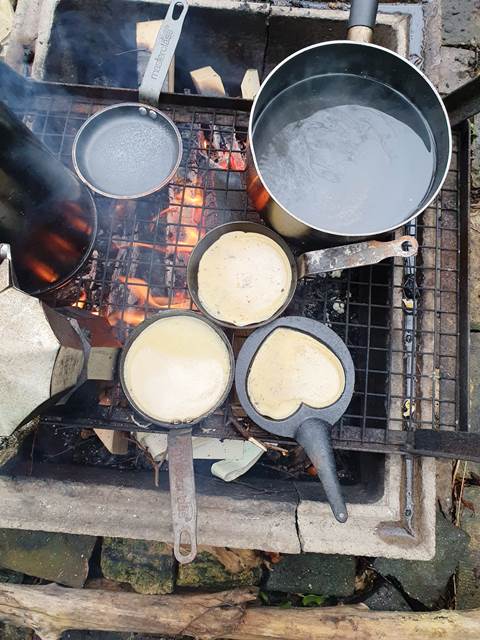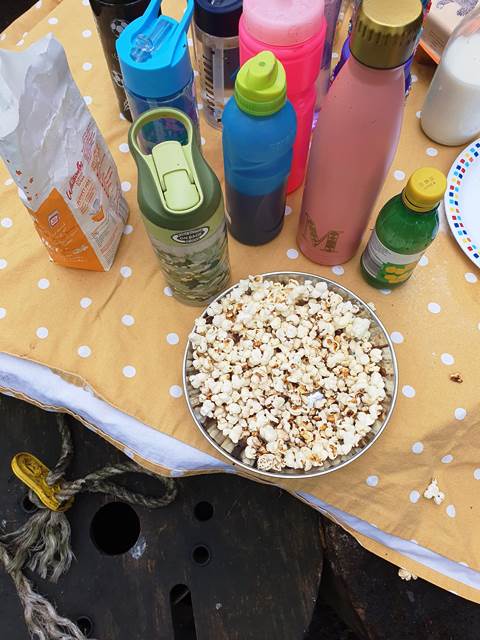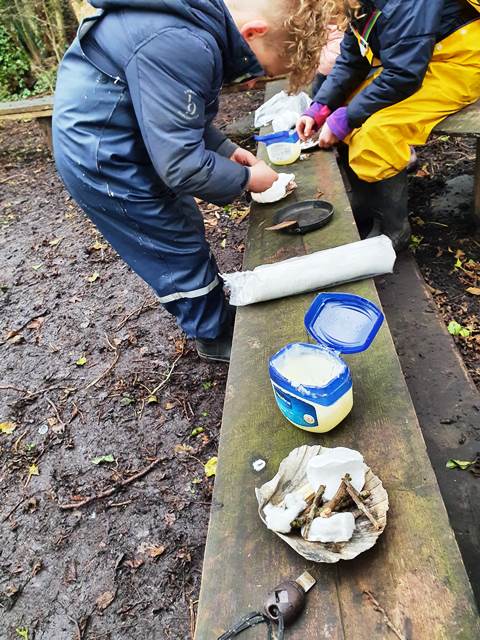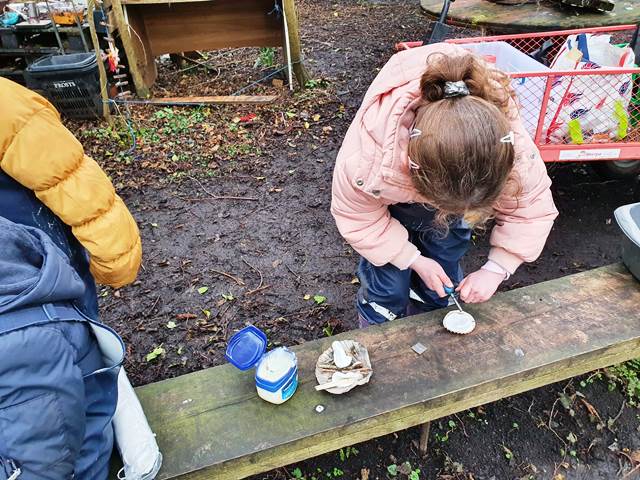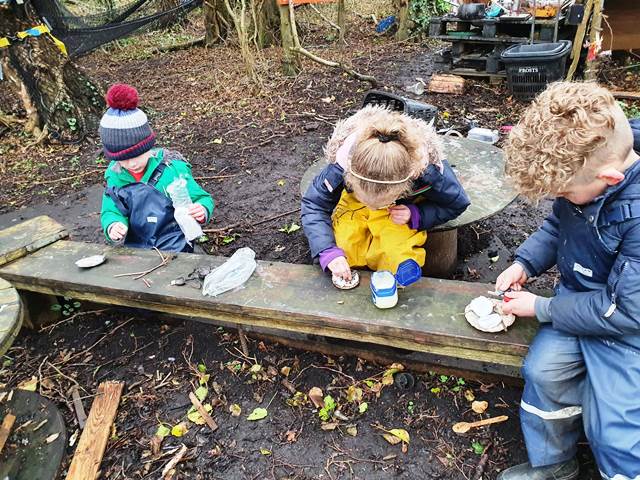 ---
Foundation 01.04.22:
What a cold start to the morning! But this didn't stop the fun.
Freddie's Dad erected a volcanic mould, and the children had the fun putting together the paper and plaster of Paris onto the mould to create a seal.
Inside the mould was a litre bottle of cherry aid. Once covered, the children had fun adding glitter to the outside.
Once the plaster of Paris had dried, Andy added the mentos mints to the cherry aid and then we had a "wow" moment … as the mints were added we witnessed an explosive cherry aid come from the bottle top and shoot into the air.
We have never experienced a "Volcanic Explosion" at Forest School before!
Freddie enjoyed sharing his dinosaur stickers with his friends during the session.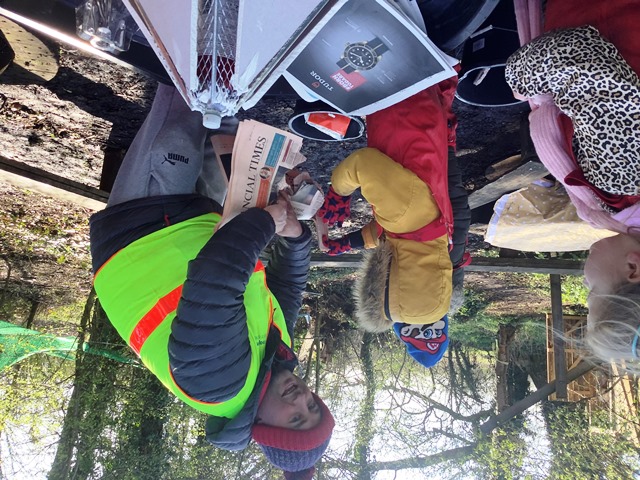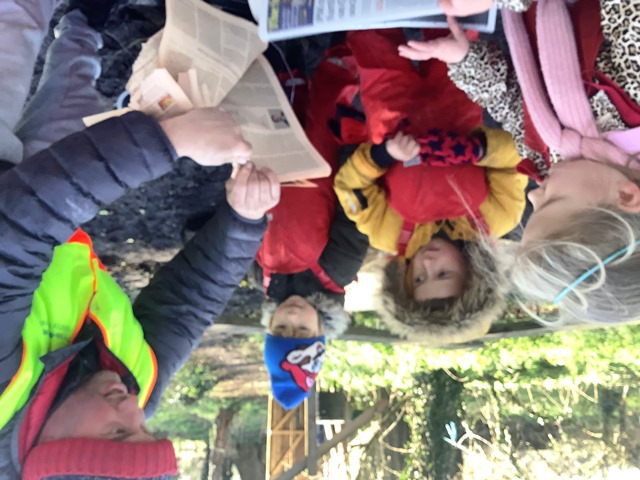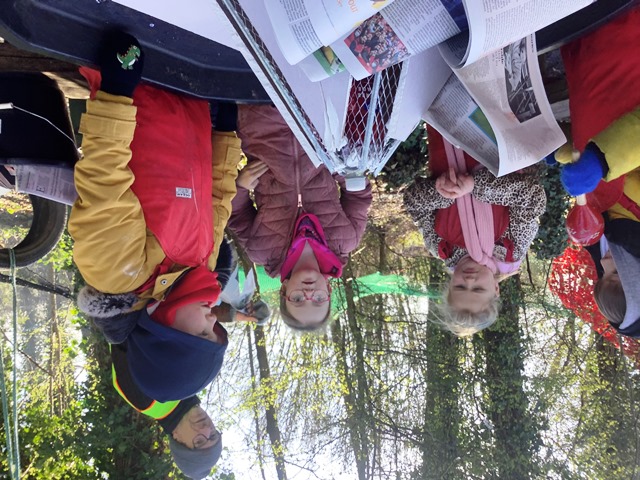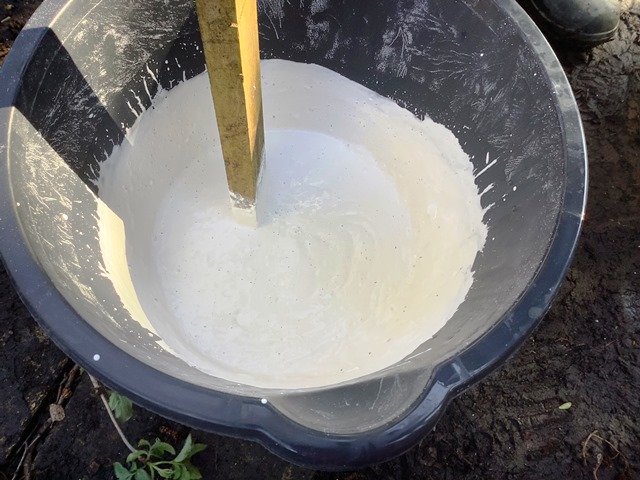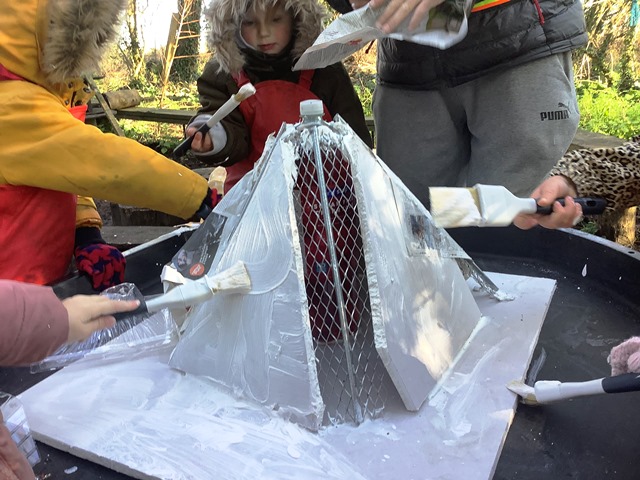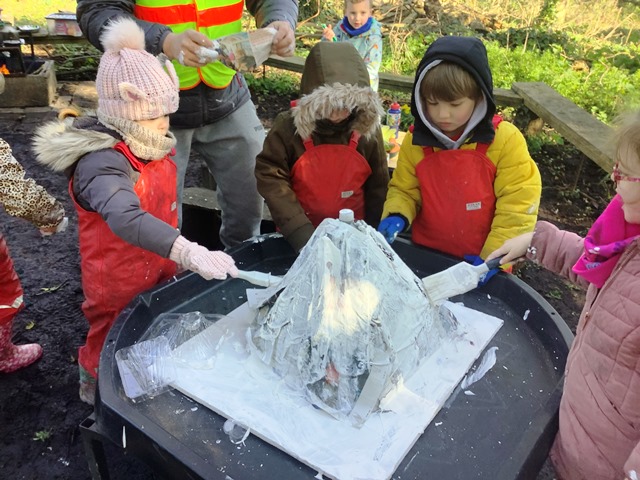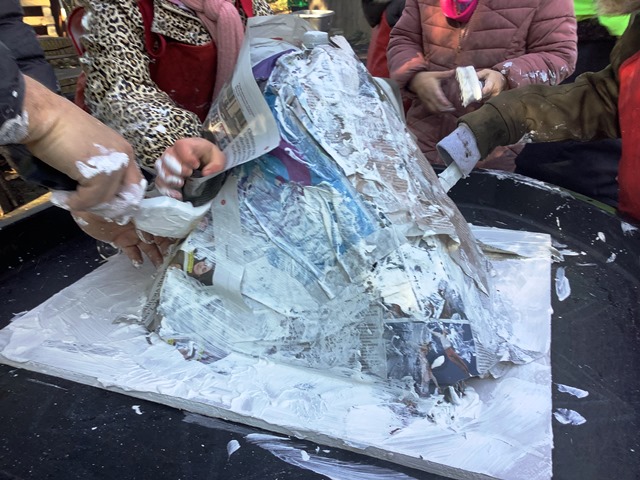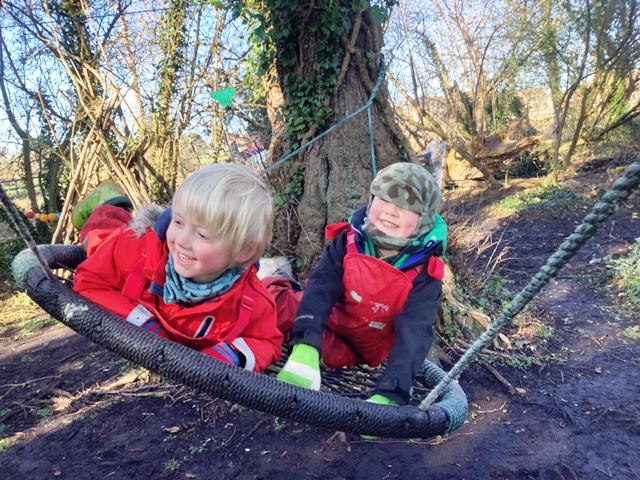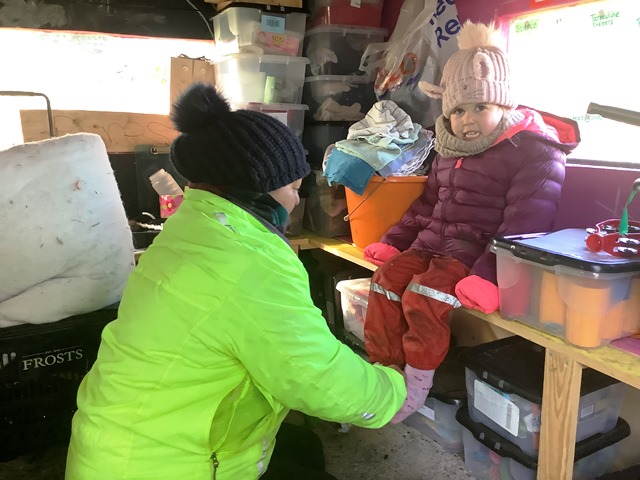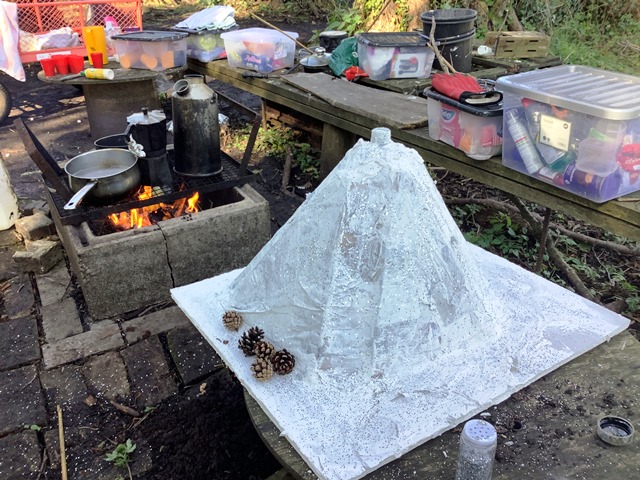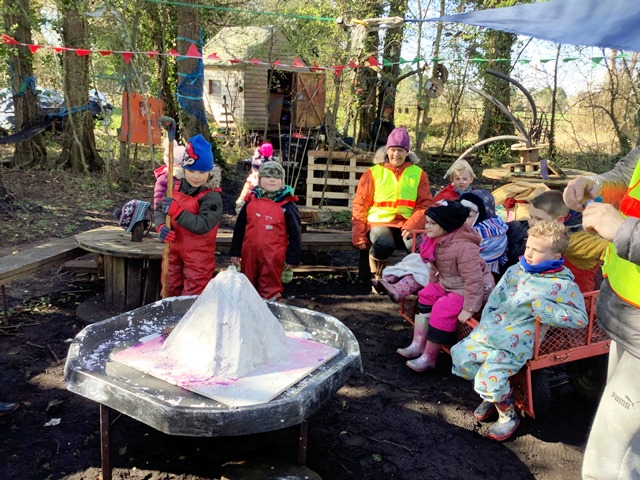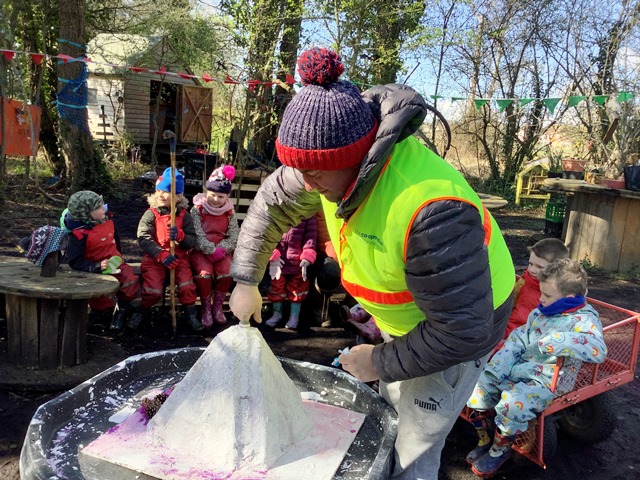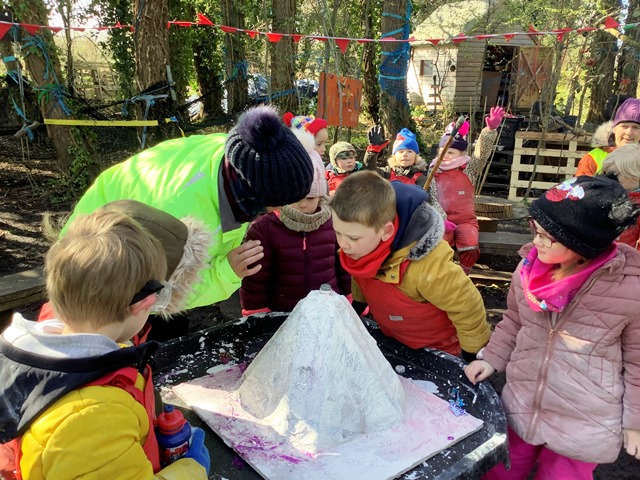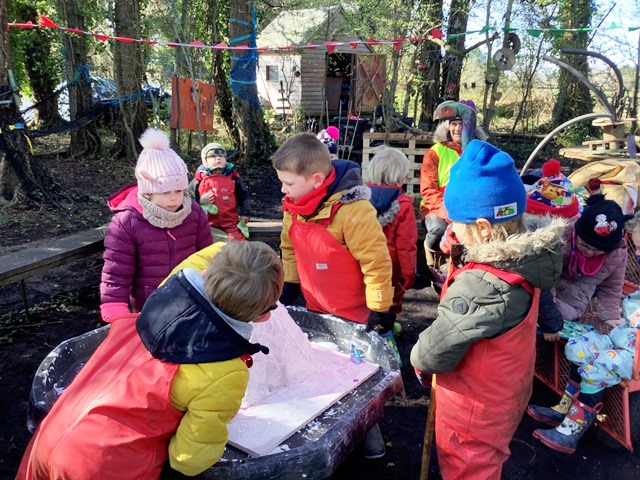 ---
Year 1 31.03.22:
What a fun afternoon - we experienced snow on our walk to Forest School - which excited everyone.
We then created a spiderweb using string and then using red wool added a laser section to the web - this was great fun and everyone worked together on this - real teamwork!
The log cabin became a "happy house" which gave us some shelter.
We finished the session walking to the bridge and played "pooh sticks". We all agreed we had lots of fun being outside with our friends.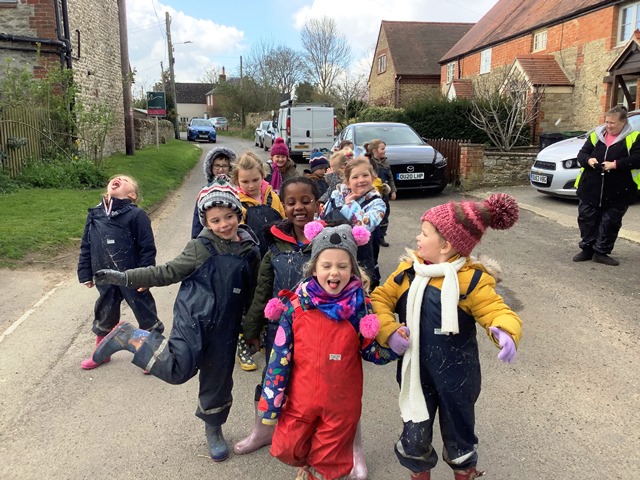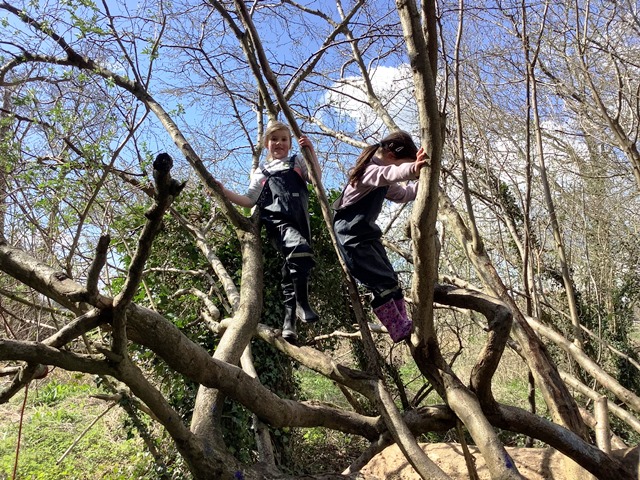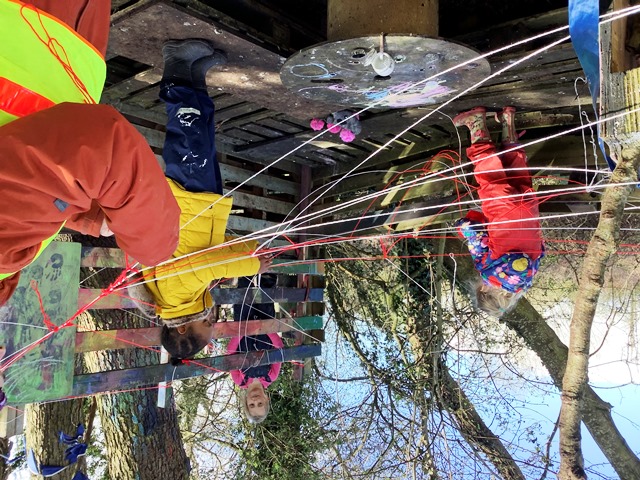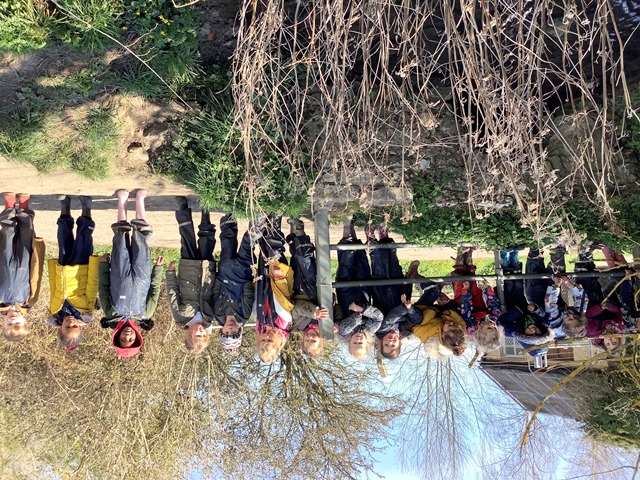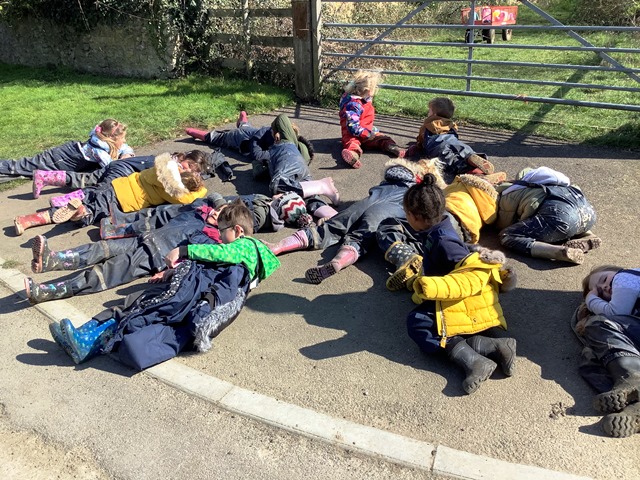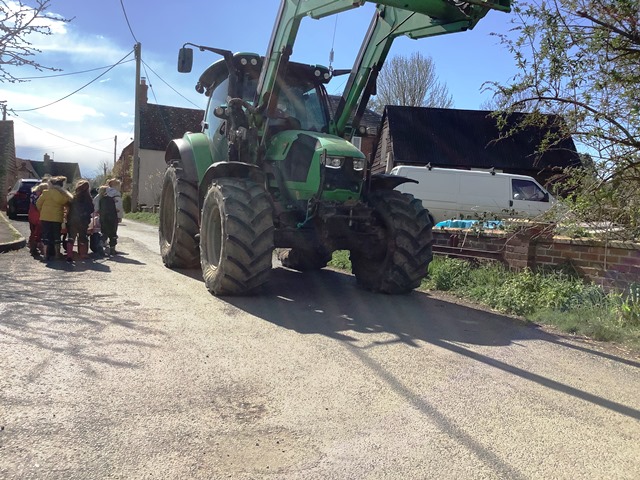 ---
Year 2 29.03.22:
What a busy afternoon at Forest School.
We cleared an area of the site to enable us to have access to a fallen tree, ready to be able to climb. Created a bridge. Lots of arts and craft during the activity.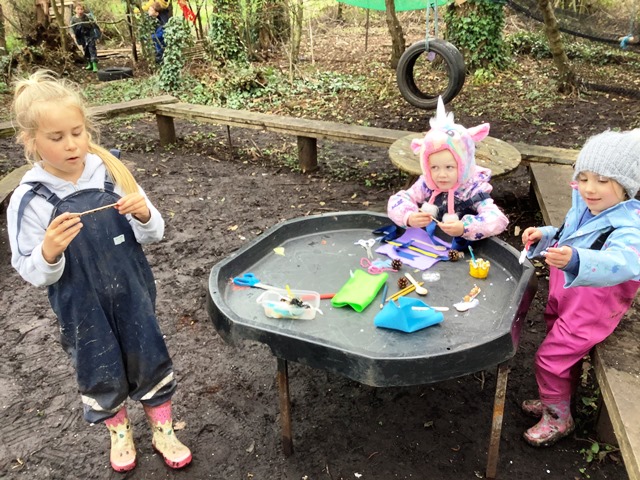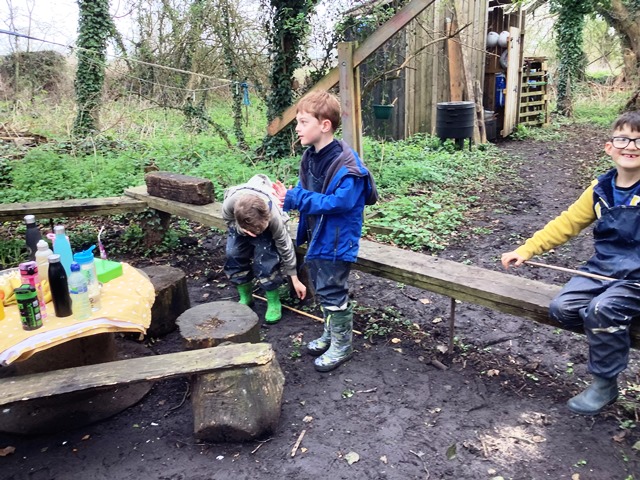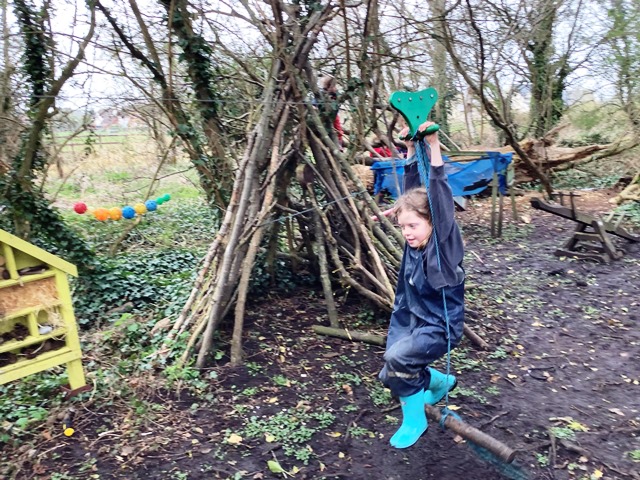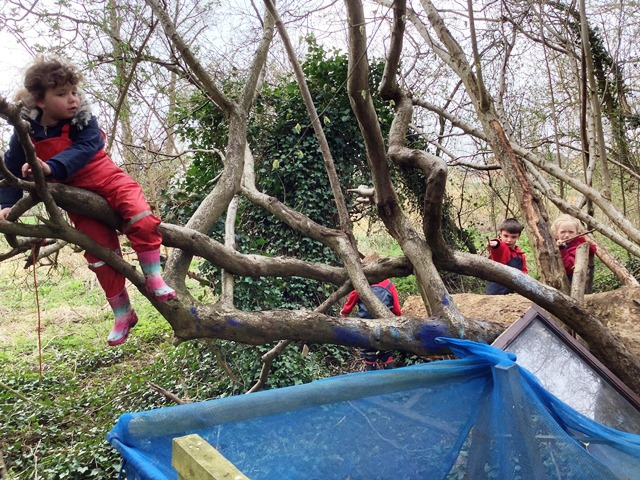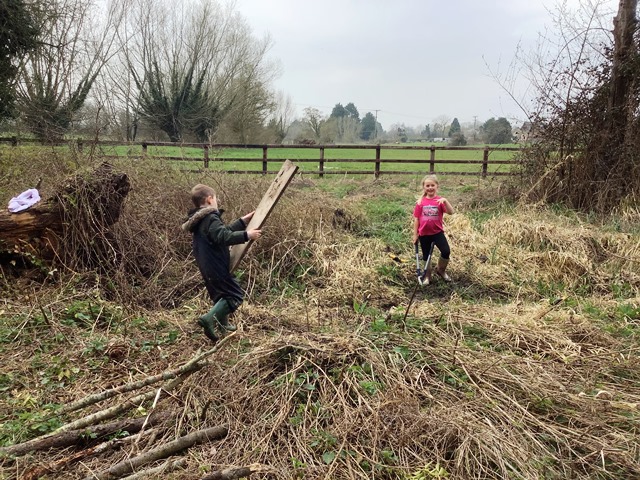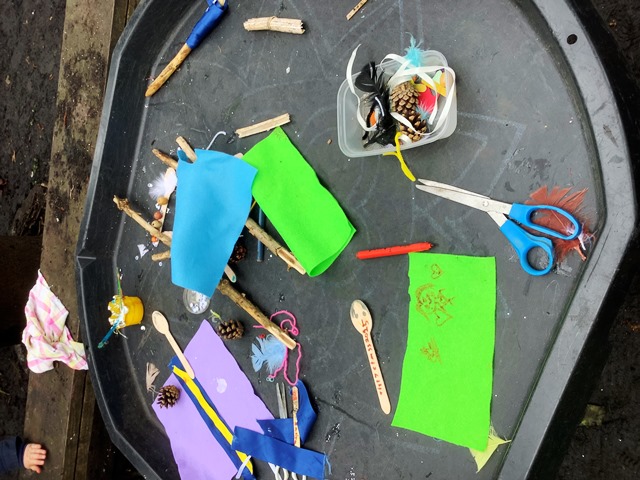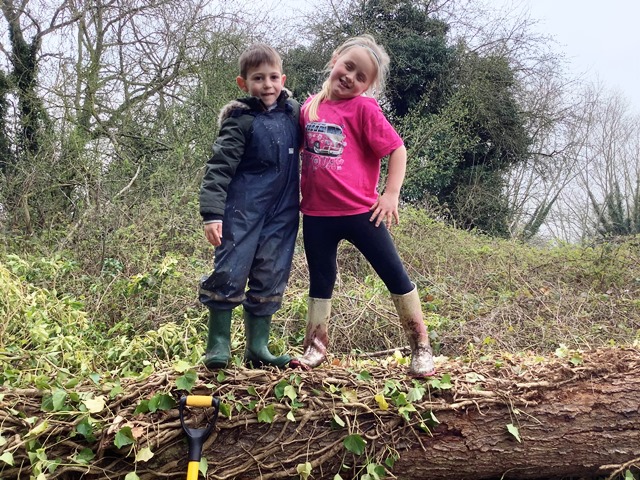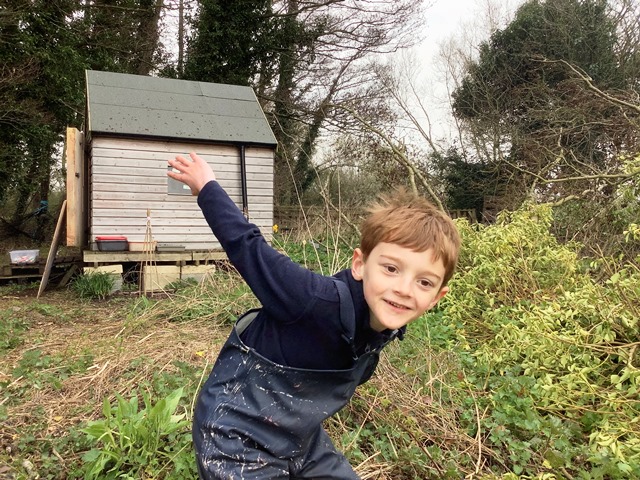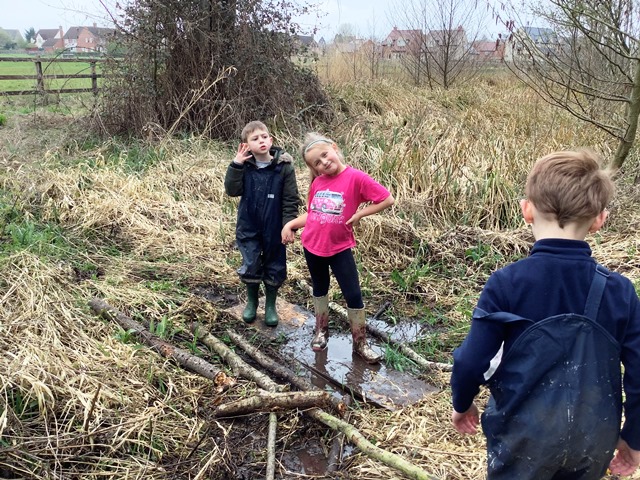 ---
Foundation 25.03.22: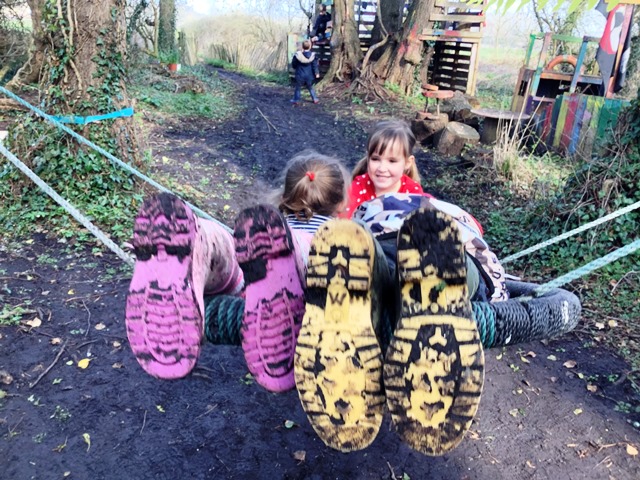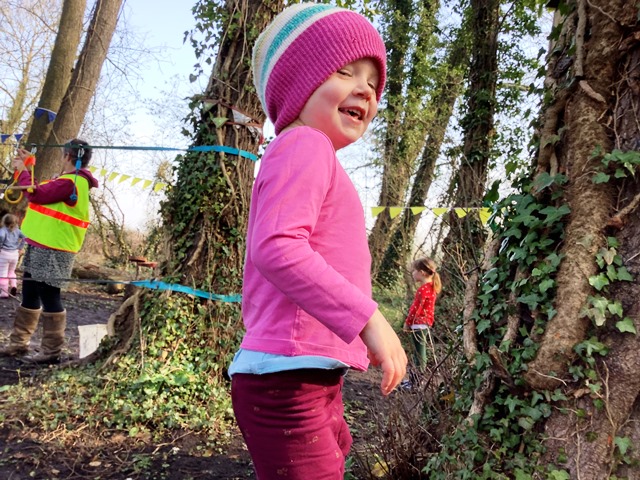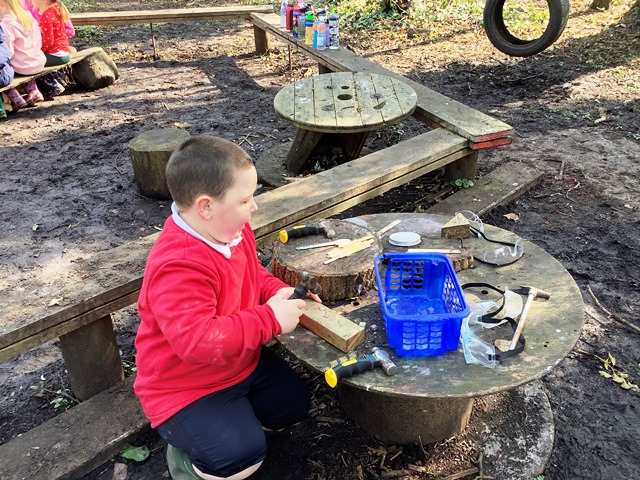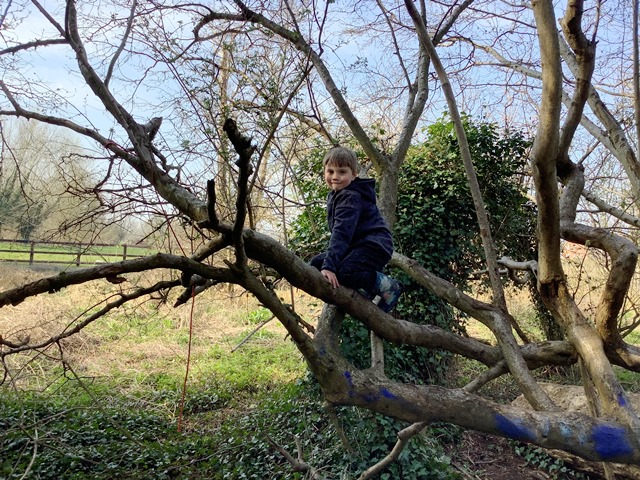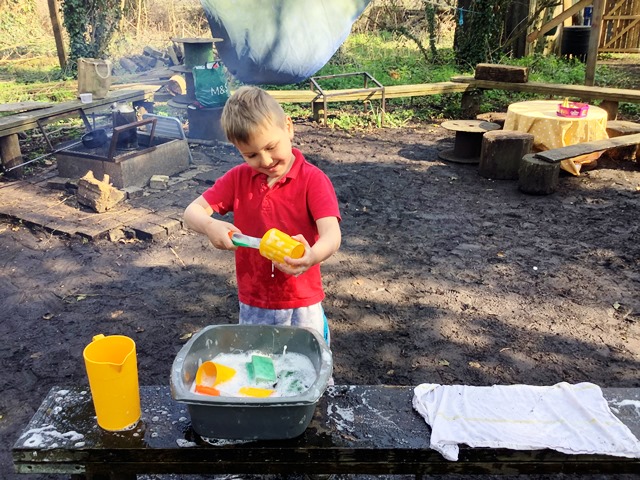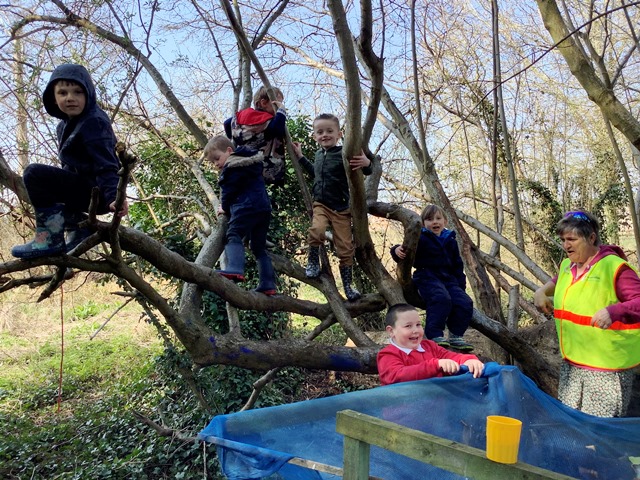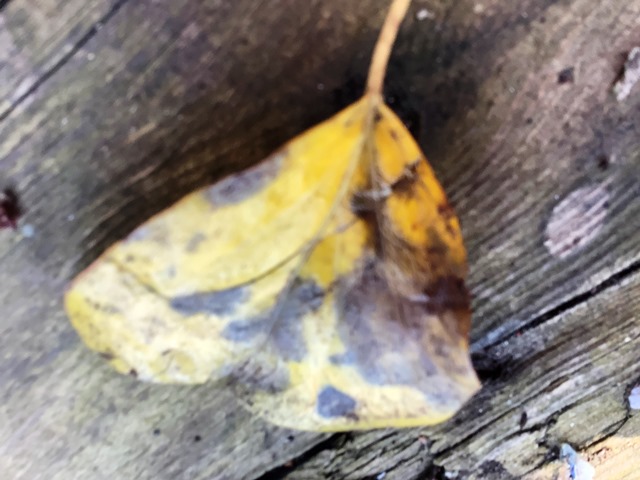 ---
Year 1 24.03.22:
What a busy afternoon - we had a wedding party, two puppet shows and lots of cutting back the brambles and we even got to plant our runner beans and radishes!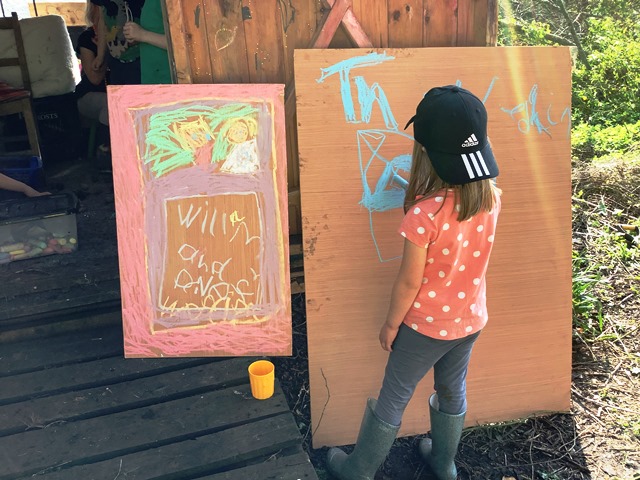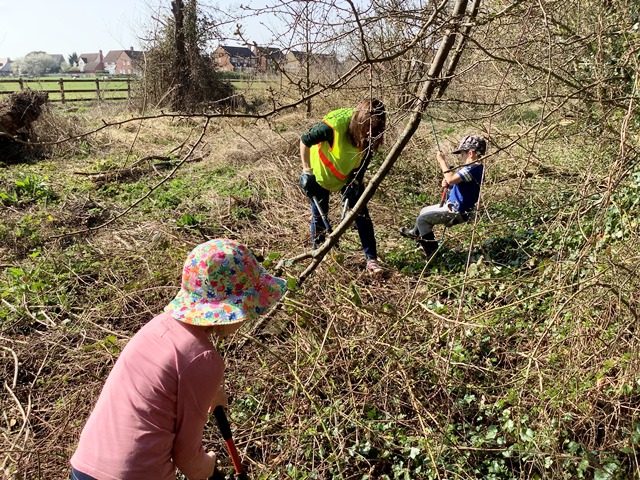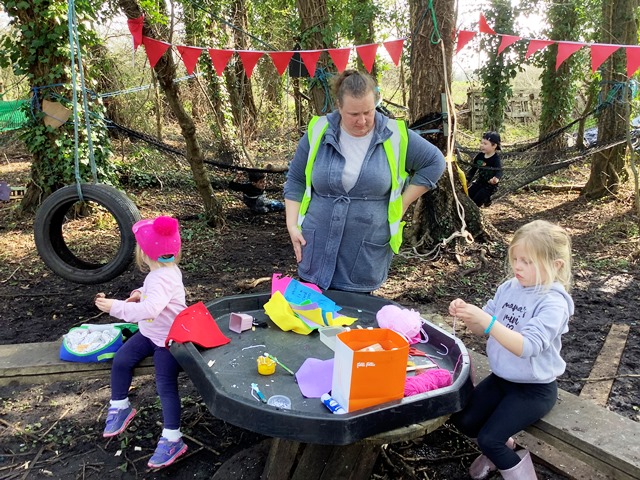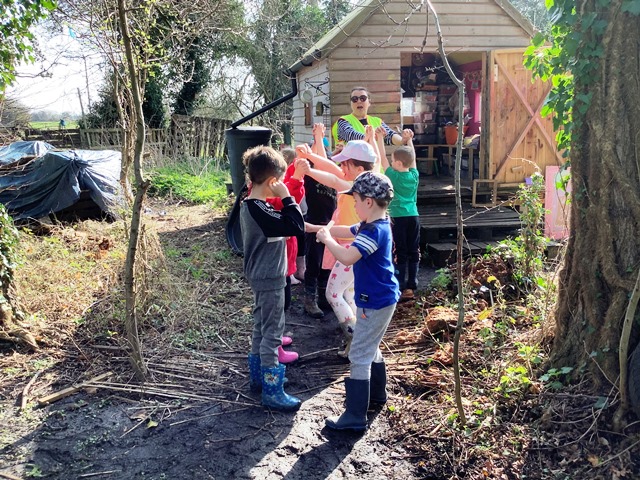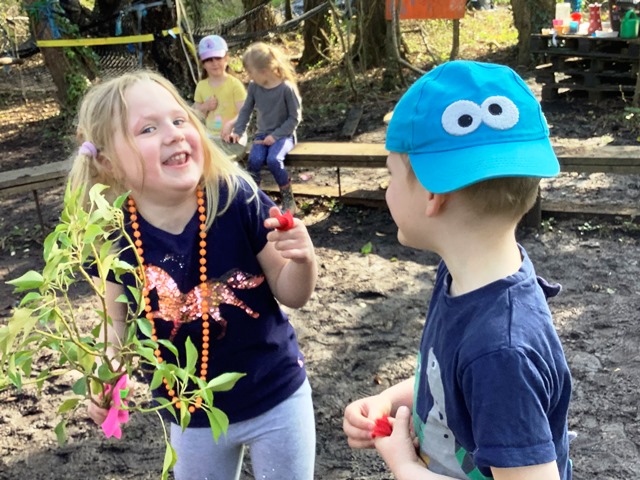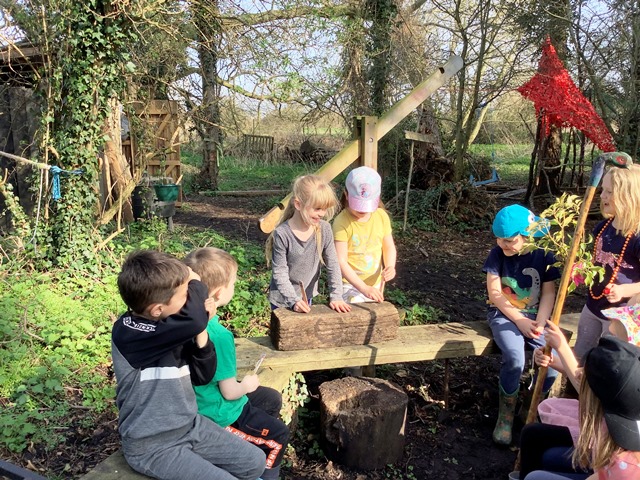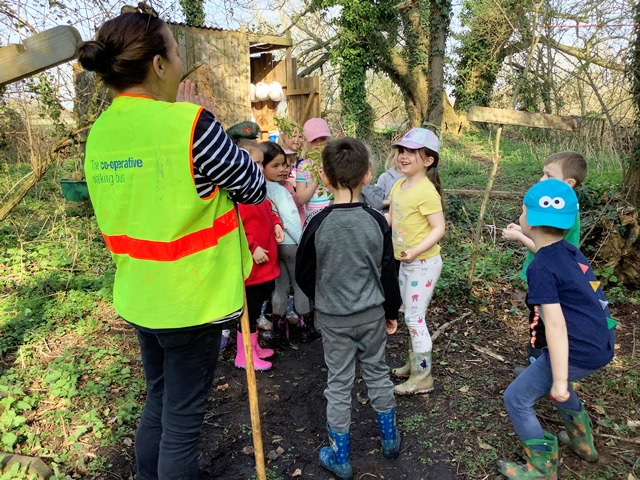 ---
Year 2 22.03.22
This week we were lucky enough to go to Forest School as a whole class, this was very special. We did miss our three friends who are off school at the moment.
We created lovely cards for our special people in our lives for Sunday.
We planted various plants donated by Heather - so 'Thank You' Heather.
We had lots of imaginary play going on, some pirates, builders erecting doors to a passage and more. We enjoyed the popcorn, hot chocolate and s'mores on offer today.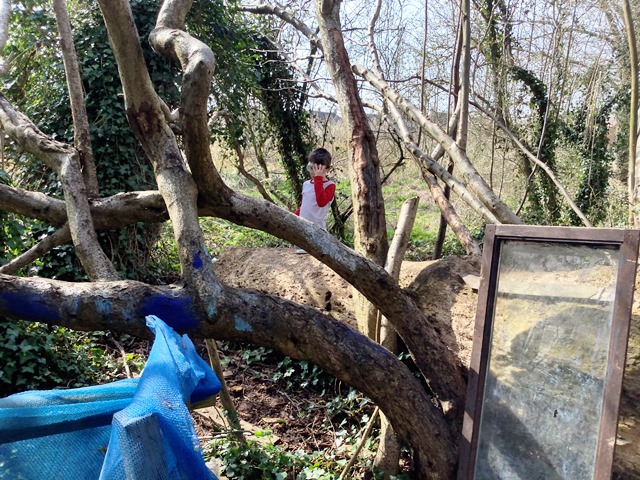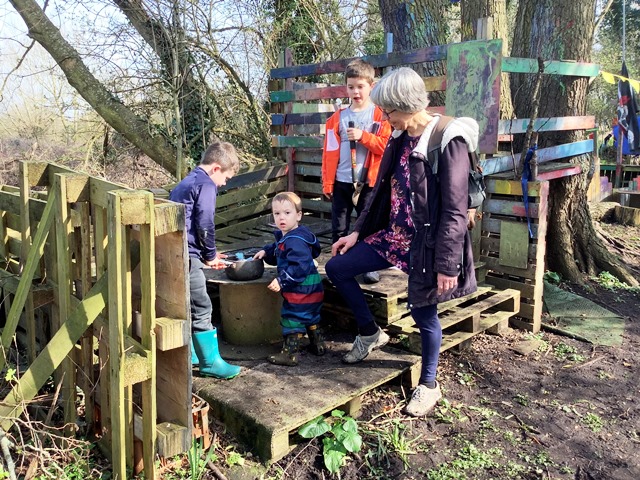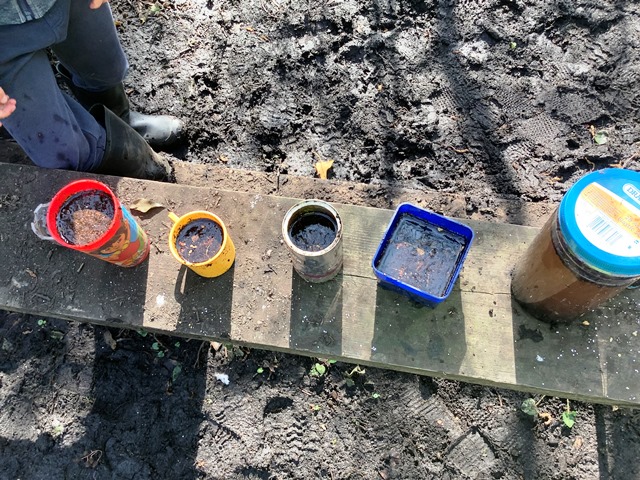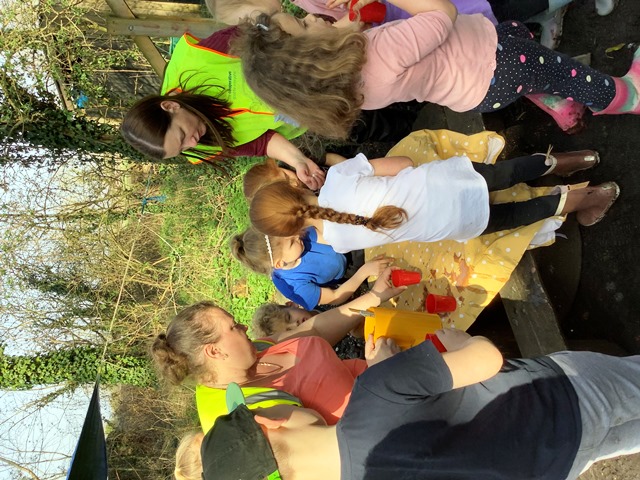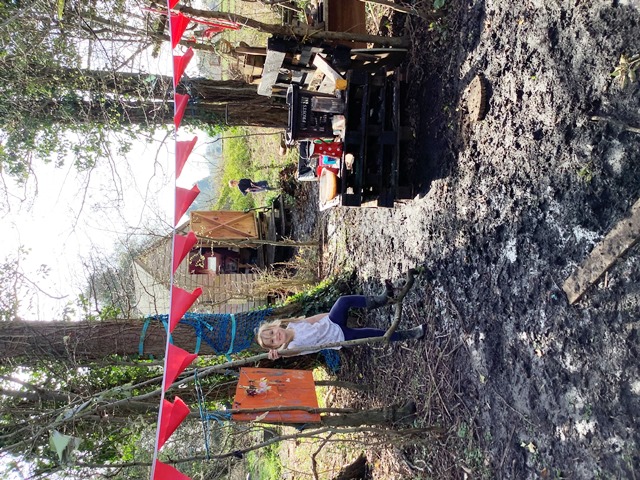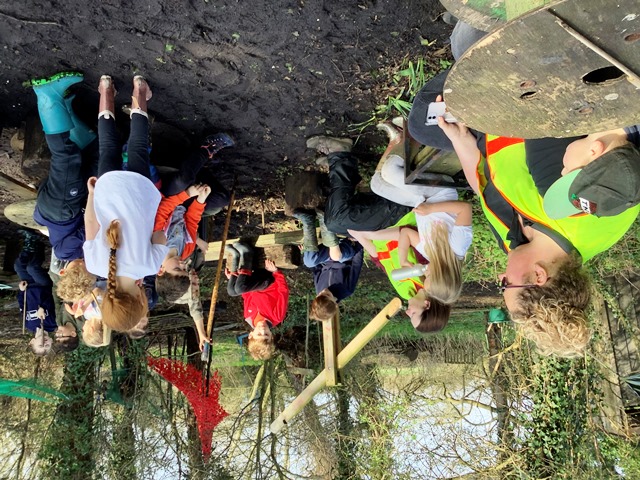 ---
Foundation 18.03.22:
We certainly have experienced the elements this week from floods to a foggy start to our morning.
We didn't let this put us off, as we created floating boats that actually worked.
We cut back Ivy from a fallen tree, so we can create a climbing frame.
We all agreed we had great fun and came back to school very muddy.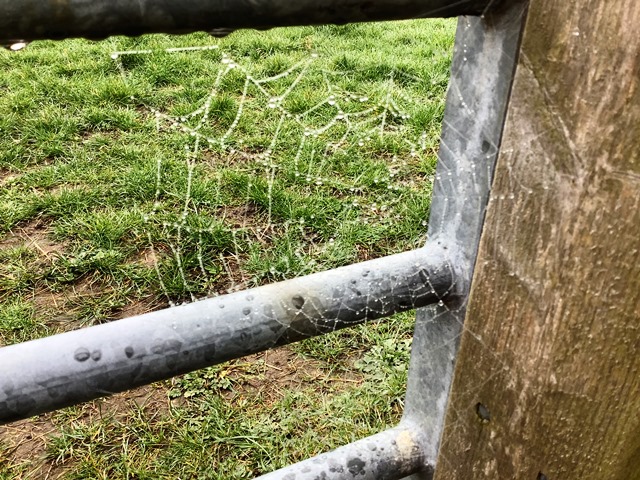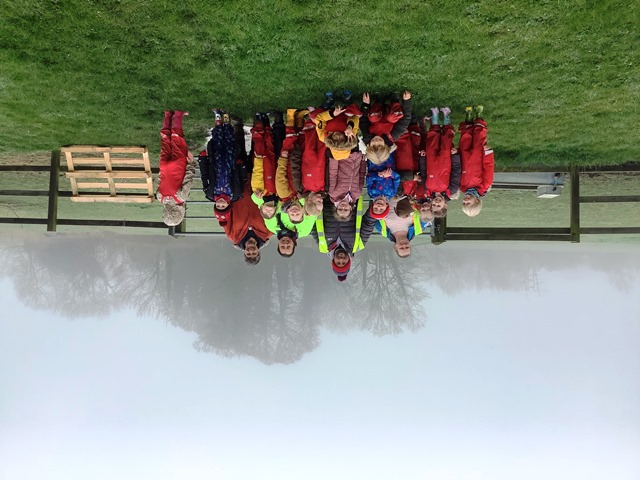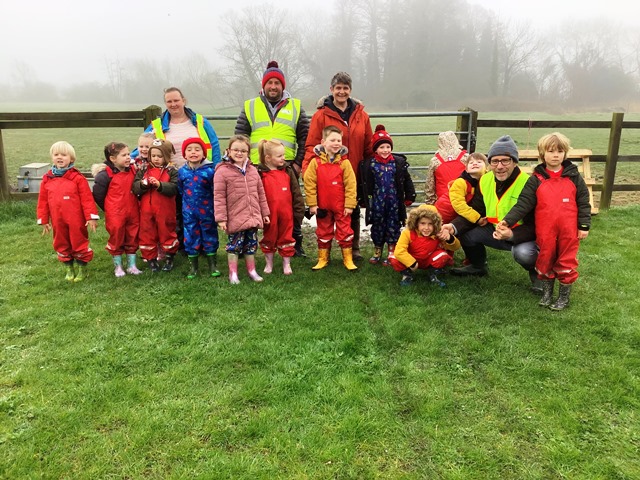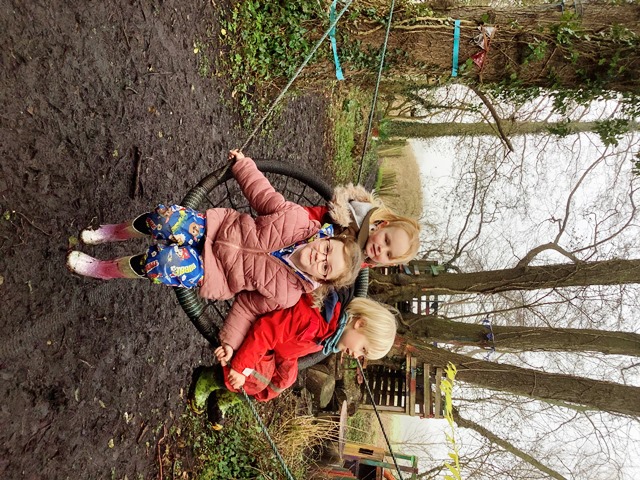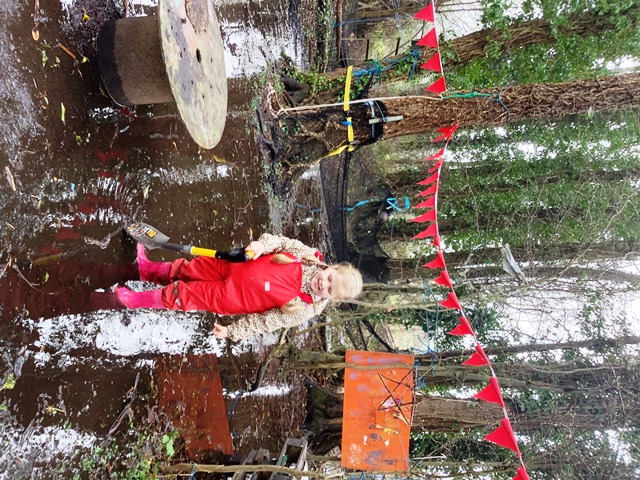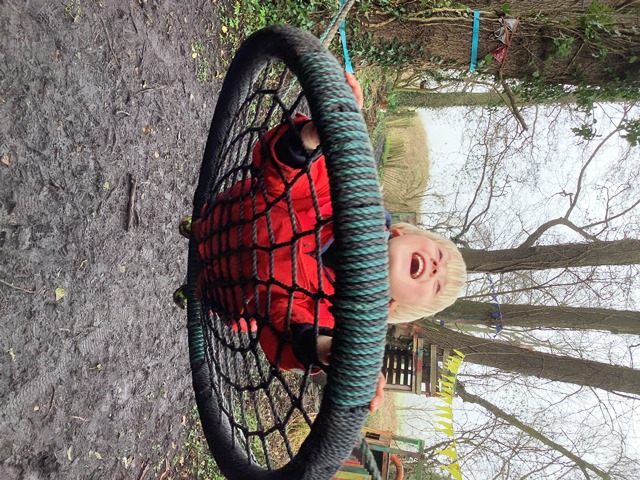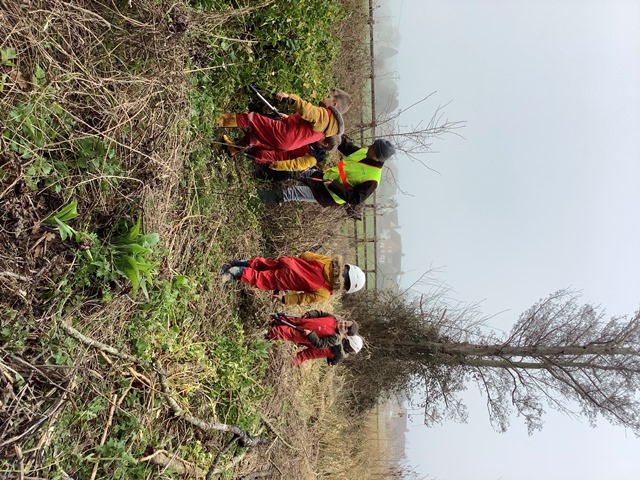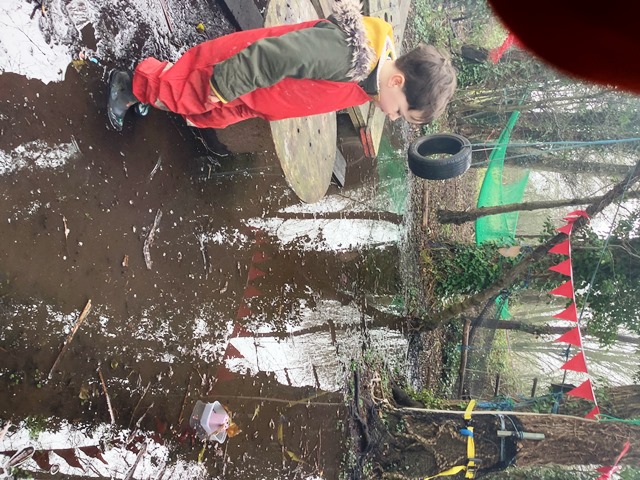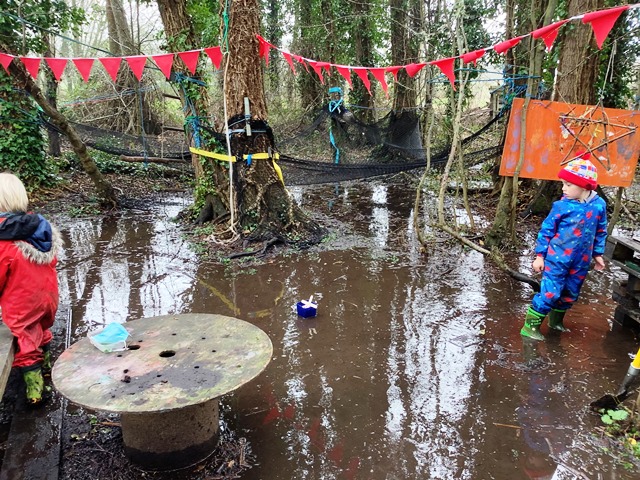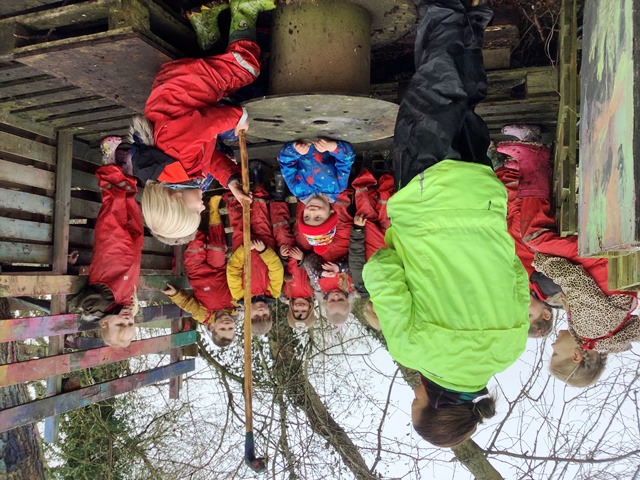 ---
Year 1 17.03.22:
Today we experienced floods at Forest School, after all the rain we had on Wednesday.
This didn't stop our fun, as we managed to find some dry land.
During the session we enjoyed hot chocolate and cooking our s'mores on the open fire. We made a special homemade mud birthday cake.
It was lovely to have the sun shining down on us during the session.
During Reflective time with the "Talking Stick" everyone agreed they had a special time playing with their friends.
Thank you to the Forest School volunteers who help each week, as we couldn't run Forest School without you.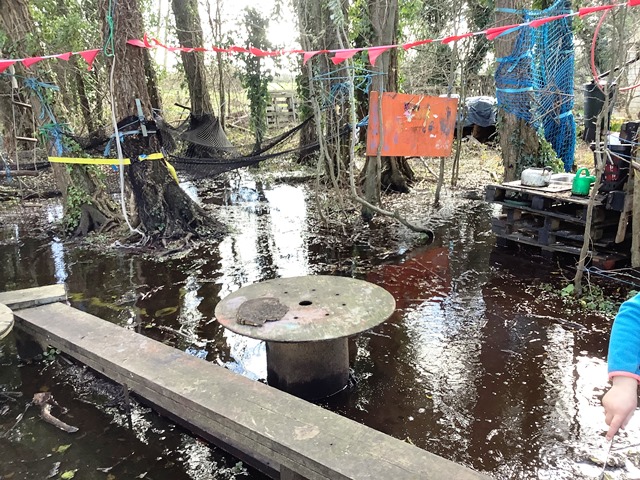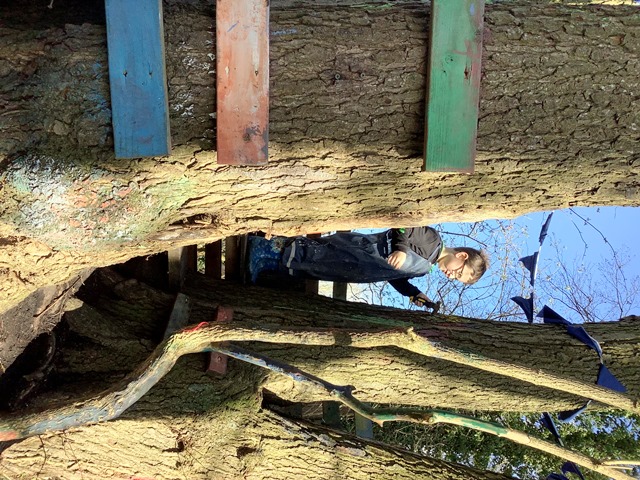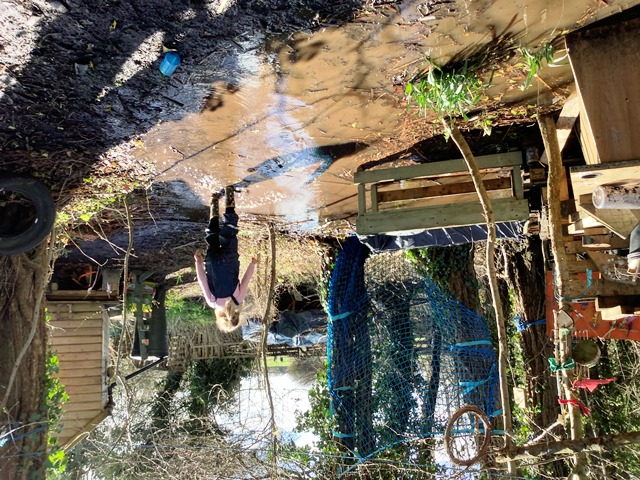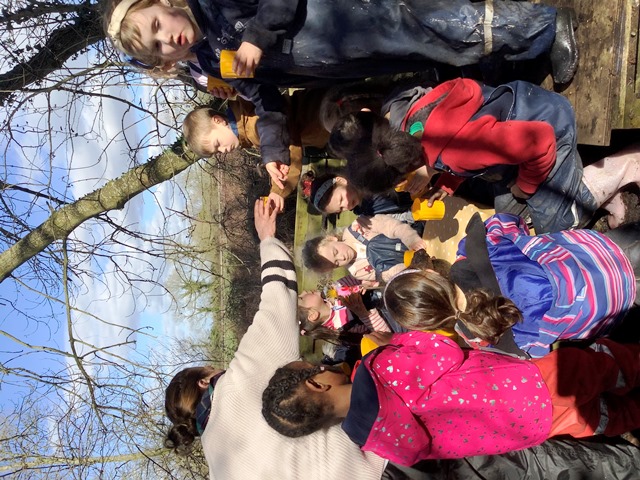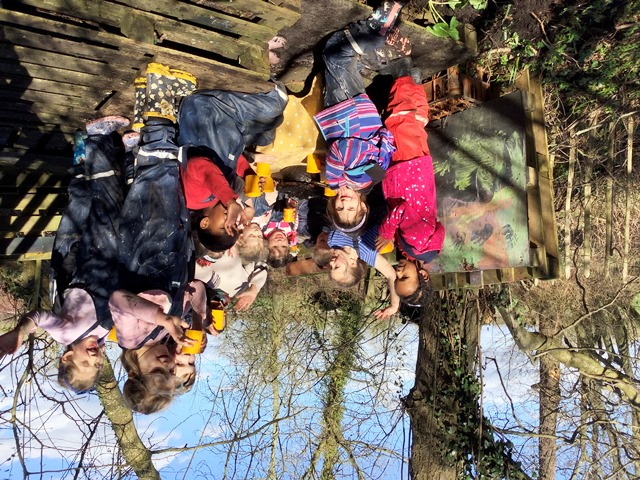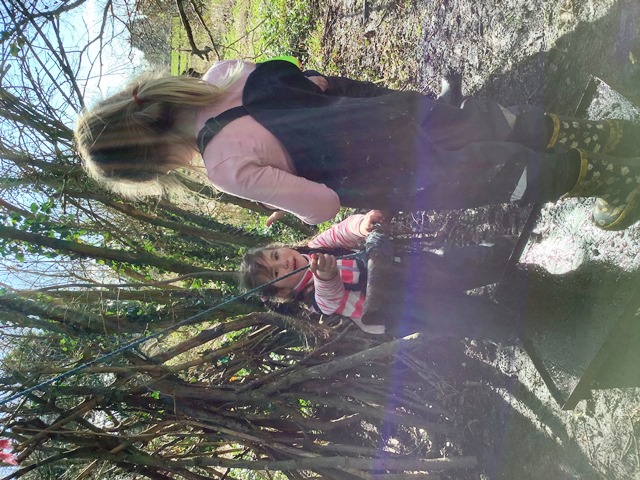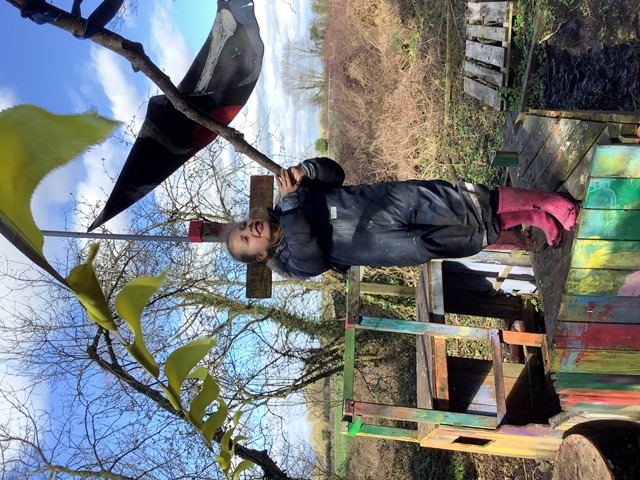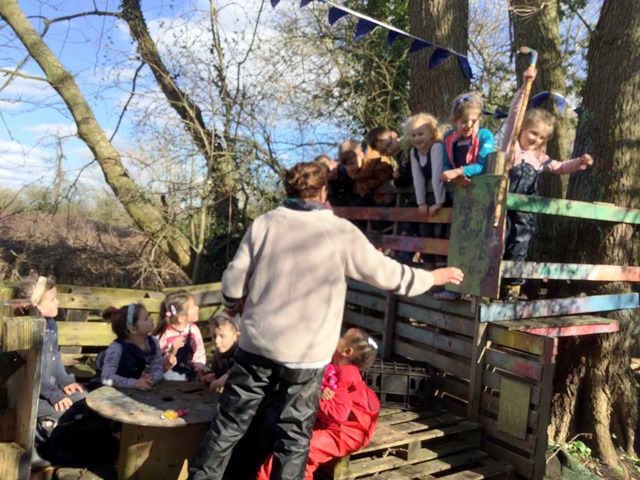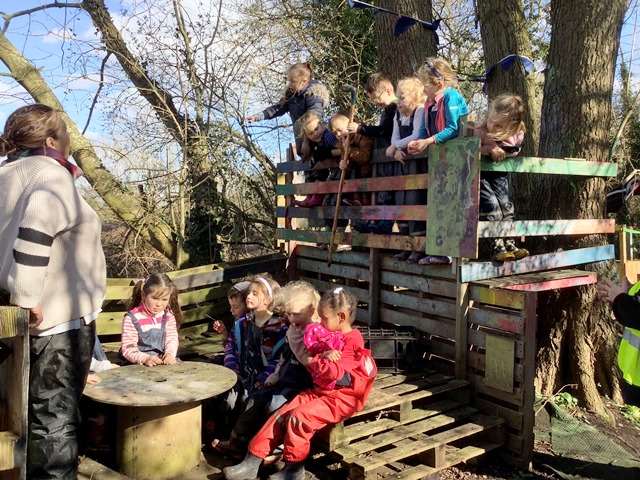 ---
Foundation 11.03.22: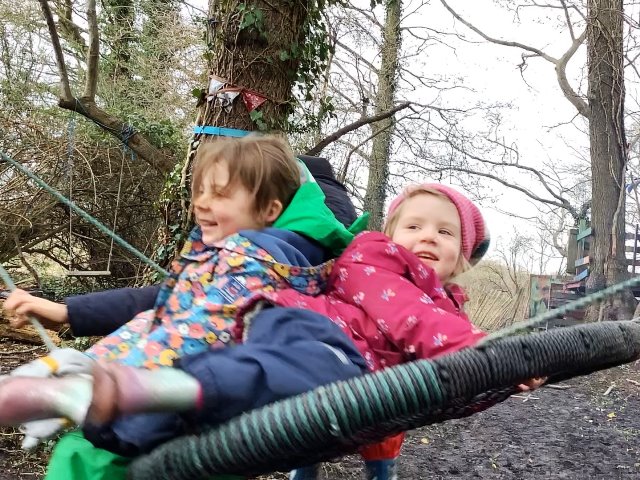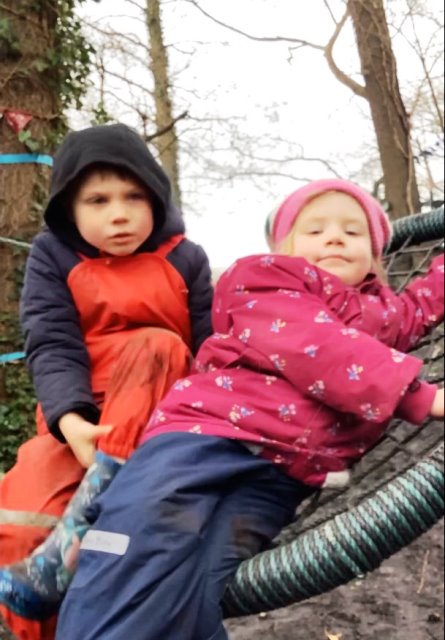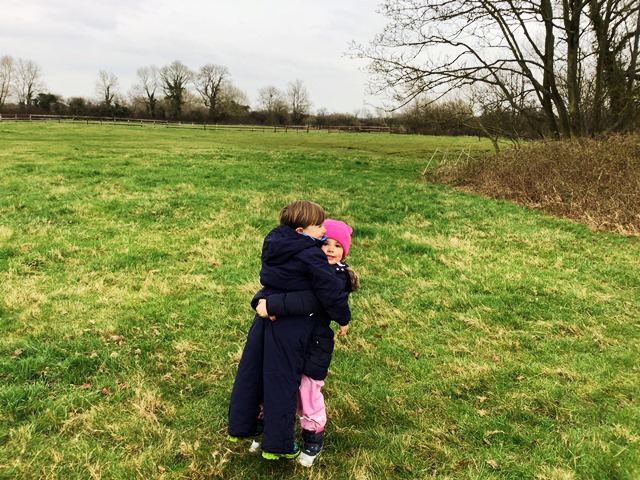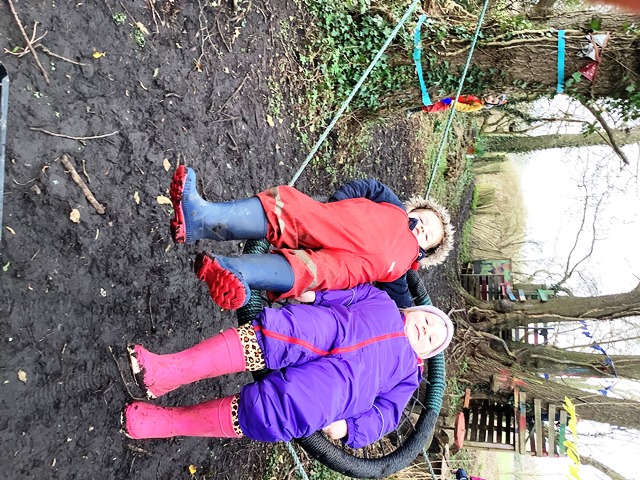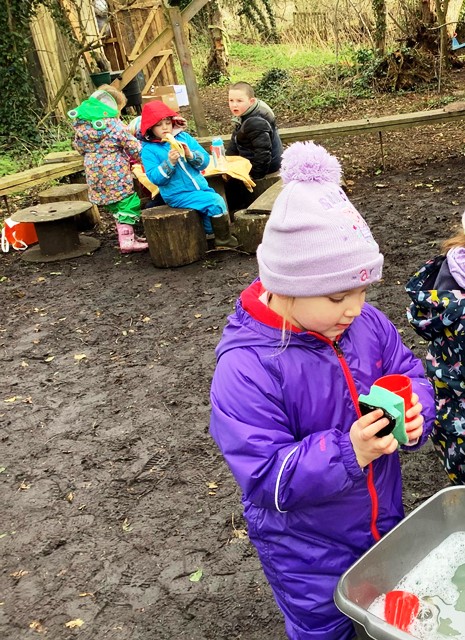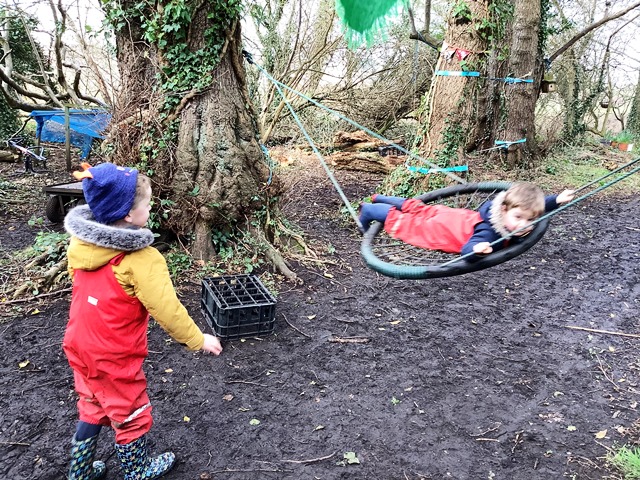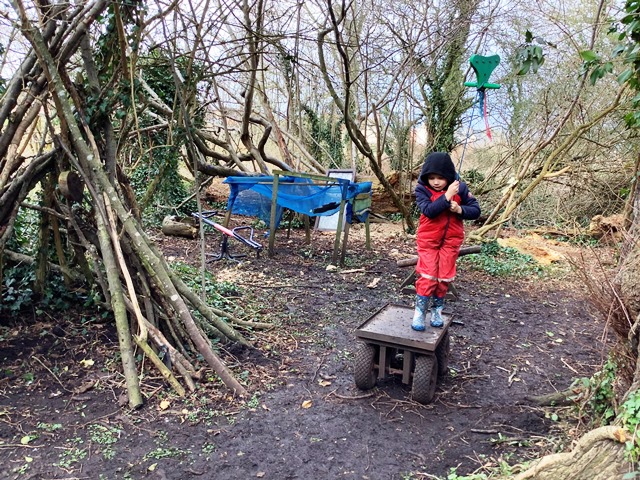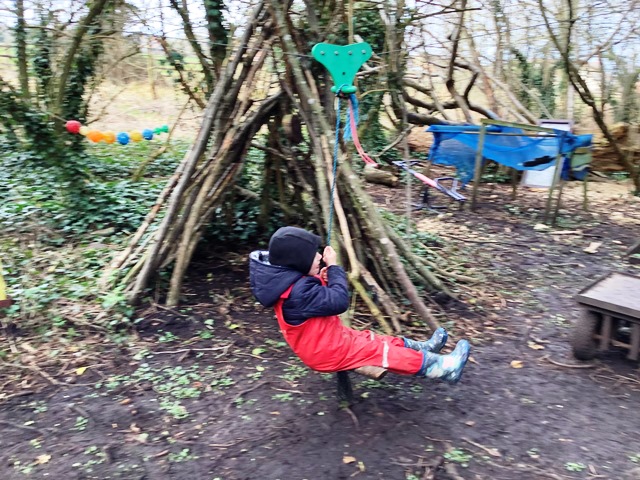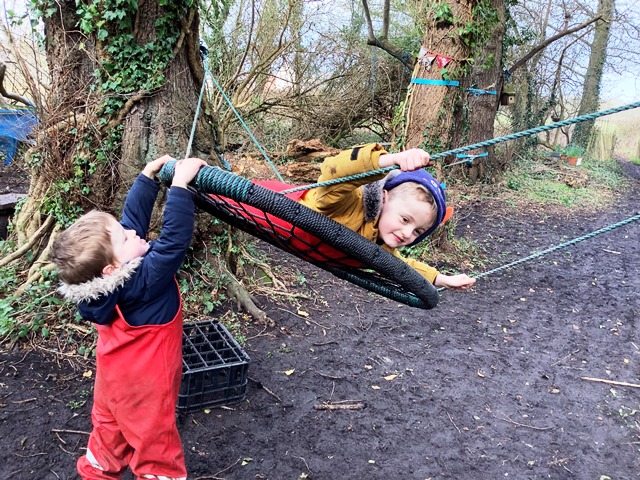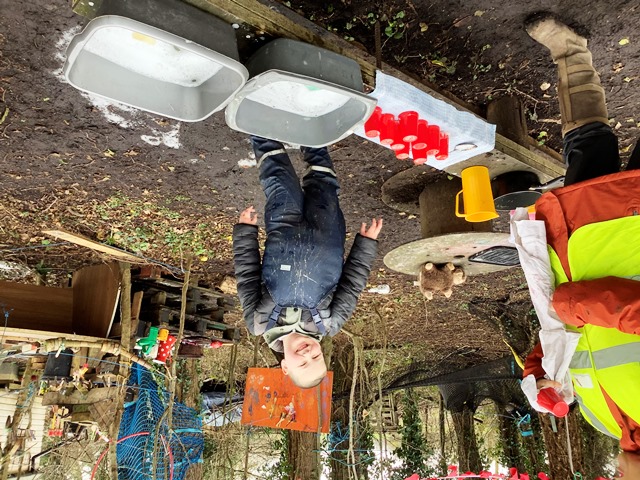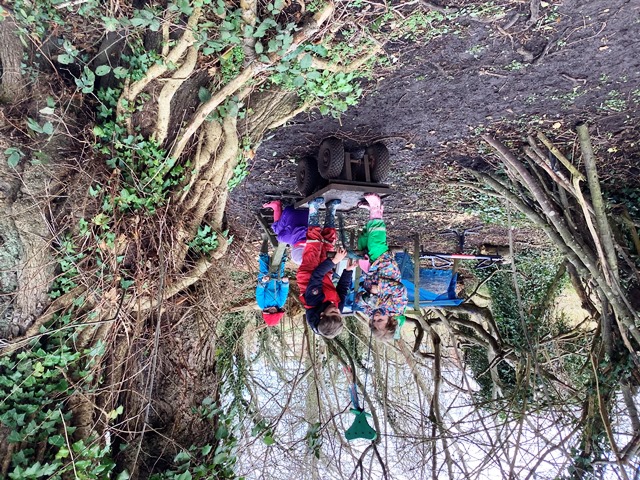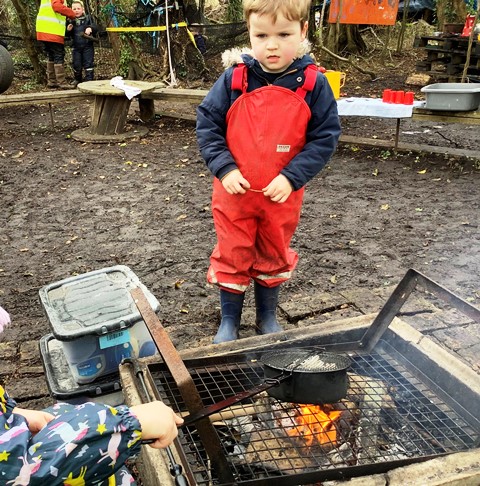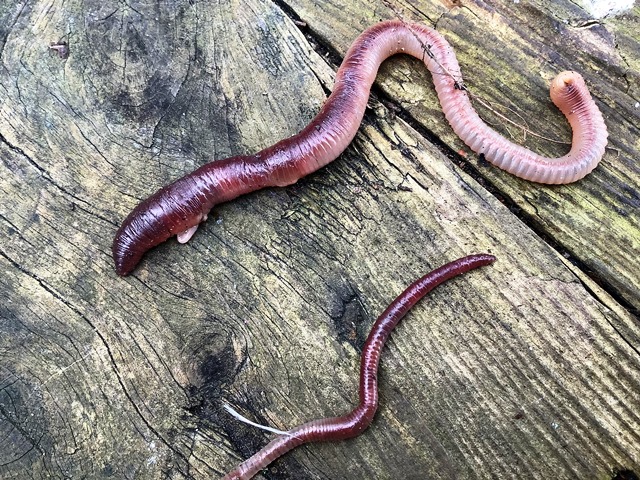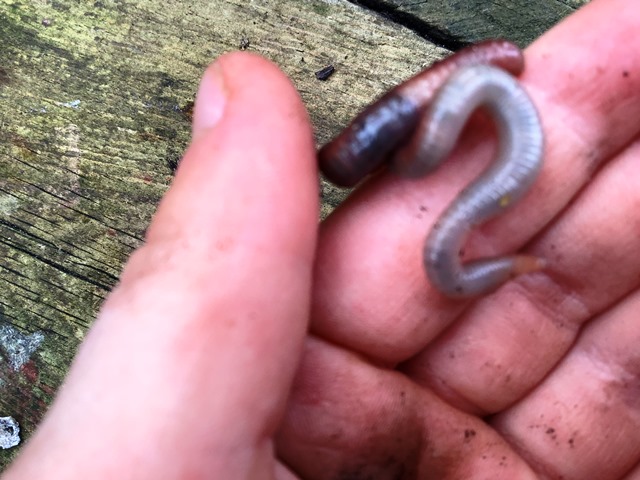 ---
Year 1 - 10.03.22:
What a busy afternoon we had - from looking for worms and treasure, followed by a never done before puppet show!
We certainly were "wowed" with the performance and the audience thought it was truly brilliant.
During our reflective time with the "talking stick" the puppet show was everyone's favourite.
It was lovely to see Jenny on our way back to school and see her dogs and even some children had a cuddle with the horses.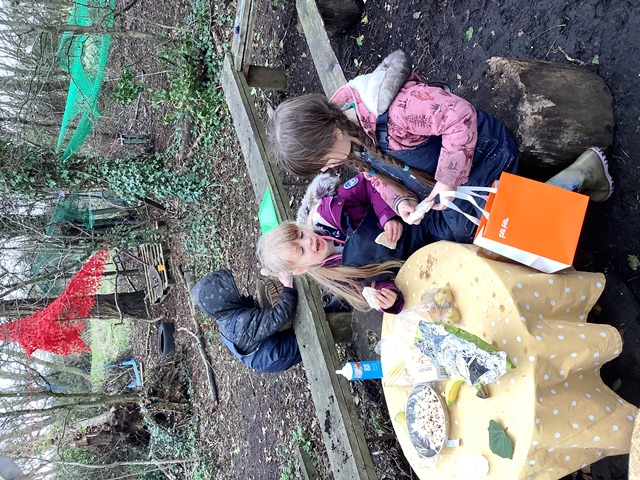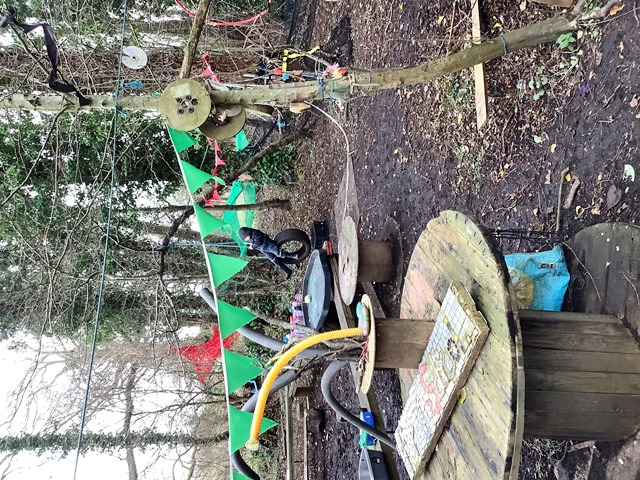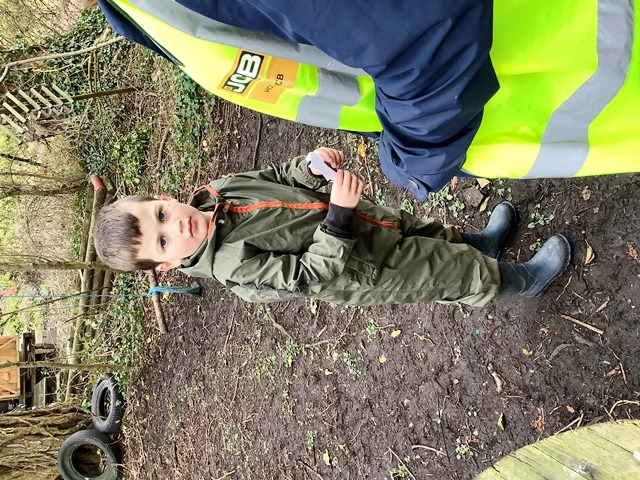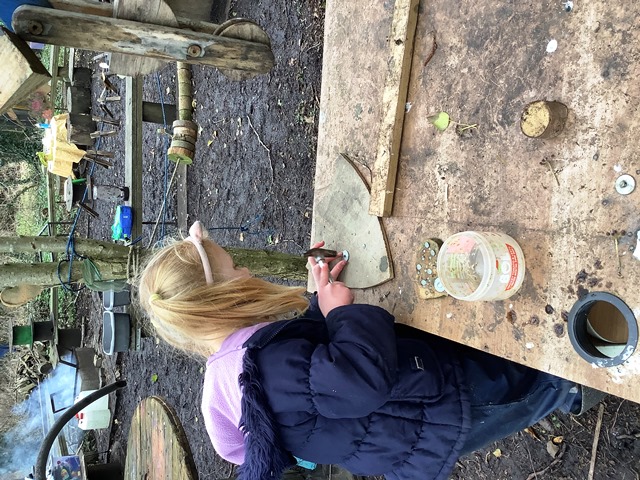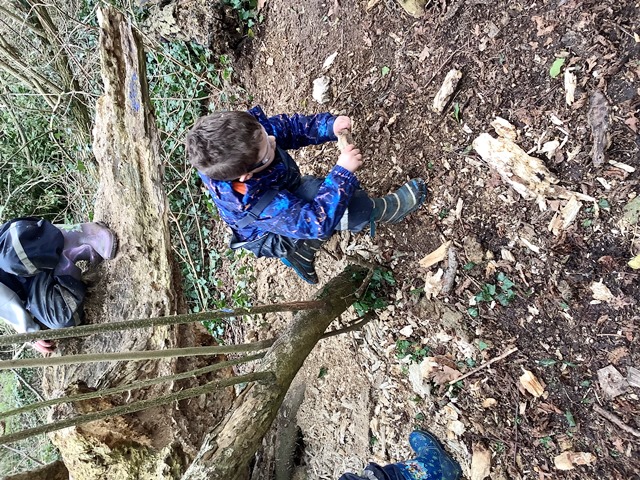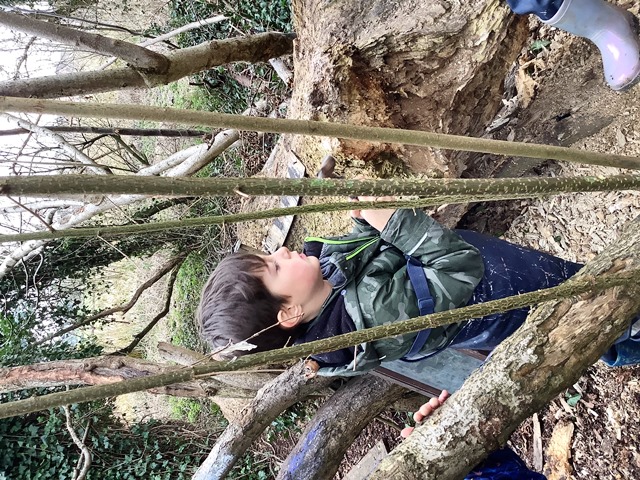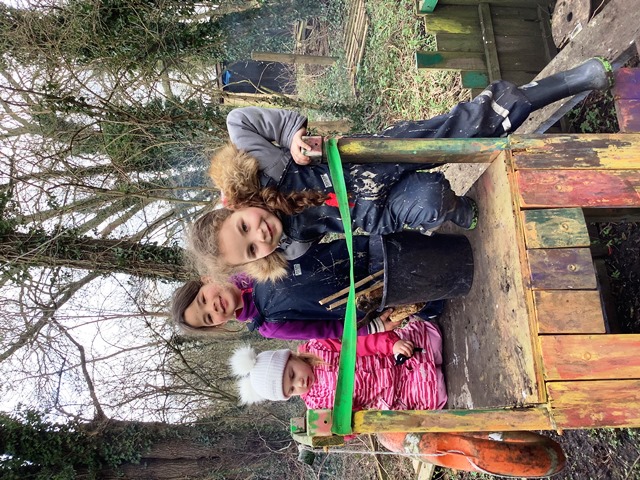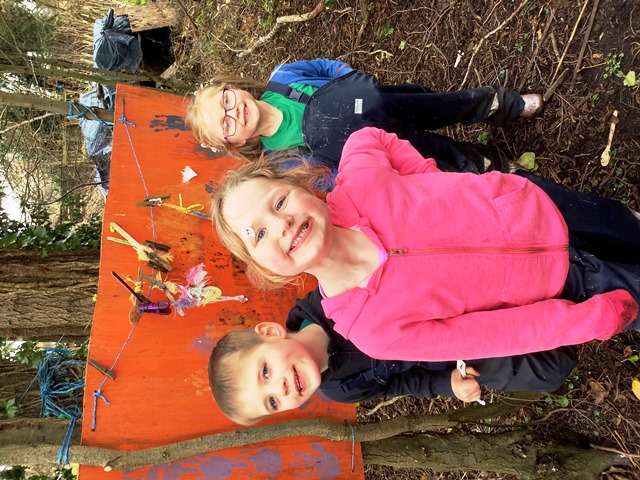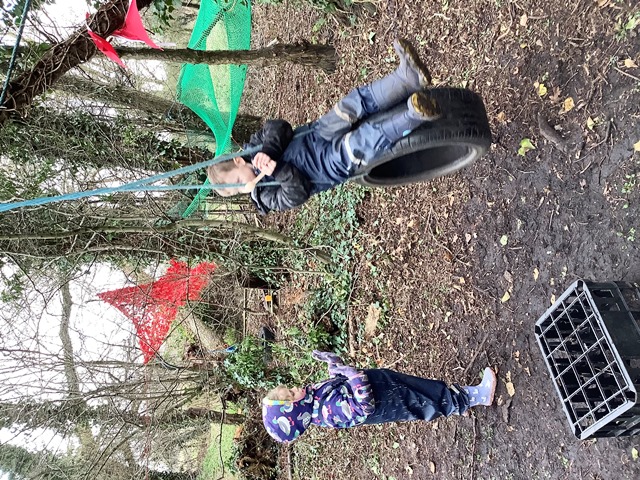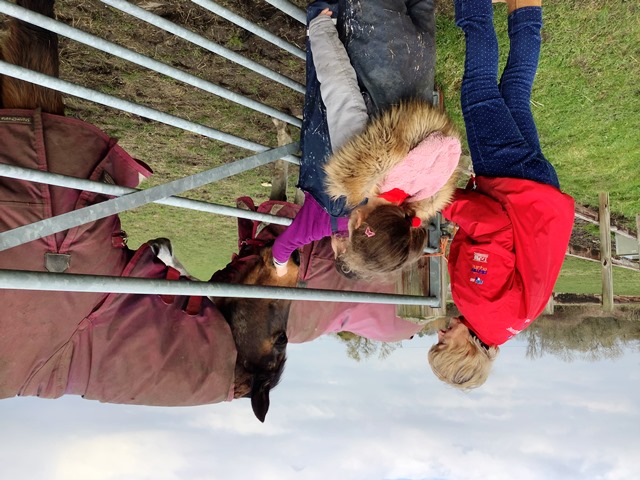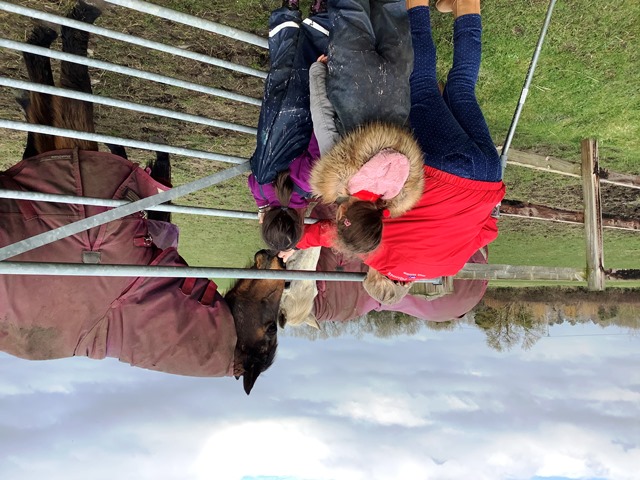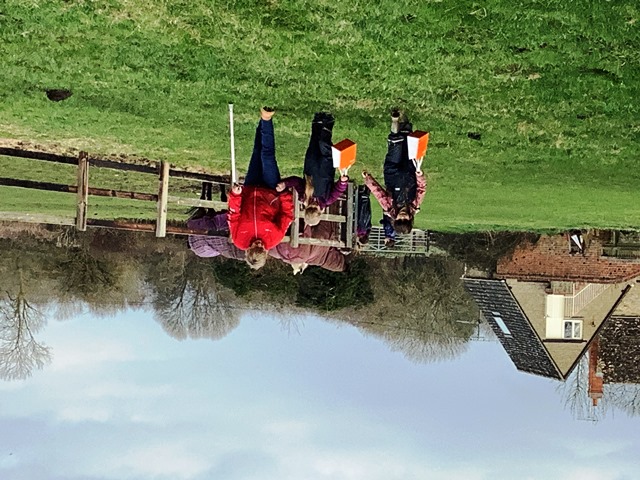 ---
STEAM Day 4th March:
The focus of the morning was looking for signs of new growth and we were certainly "wowed" with our discoveries whilst at Forest school.
We spotted some "scarlet elf cups" they were growing in clusters hidden under some leaf mulch - apparently they are edible and very tasty - but we thought they would make good fairy beds instead. We then used sunflower seeds to count and create a flower and a rainbow - before planting them in the raised beds. We used the fire steels to create "fairy fires" which wowed one dad who had never experienced it before.
We used an array of tools such as spades to dig holes and used as a lever to move tree stumps. The loppers to cut back branches and nettles.
We all agreed we had a very busy but fun session whilst at Forest School.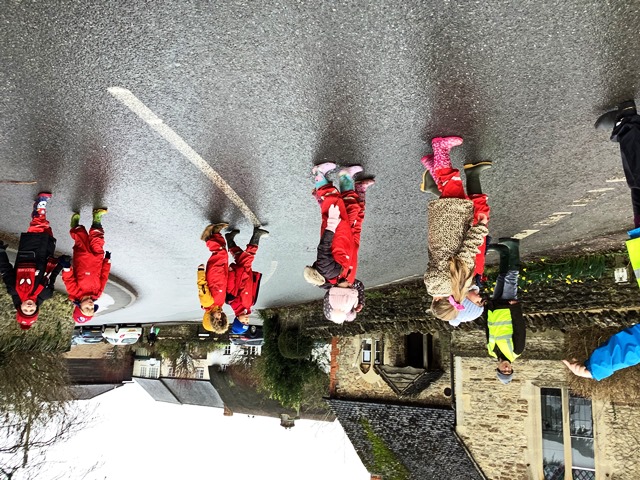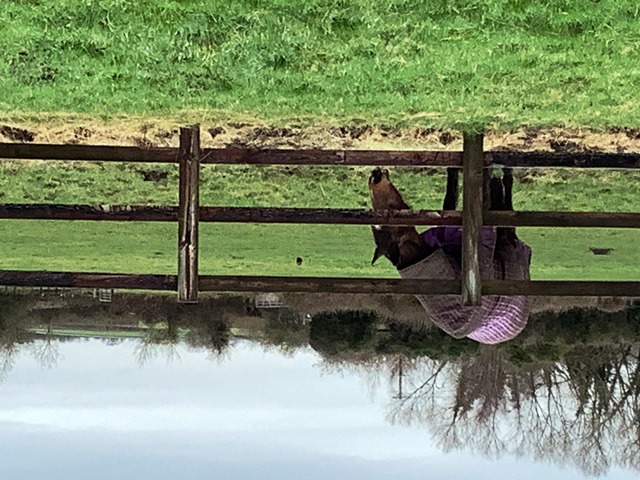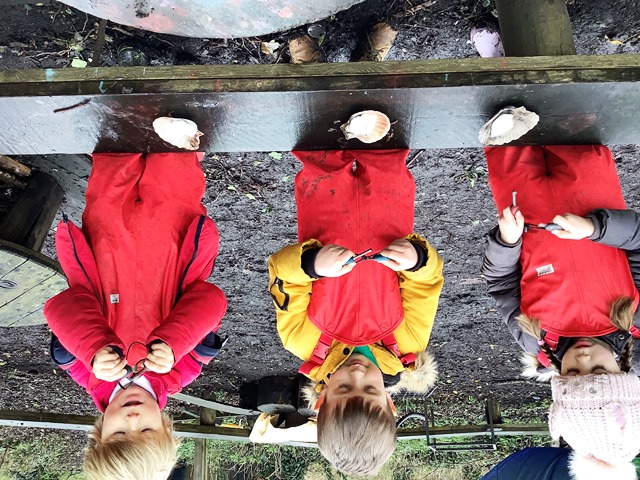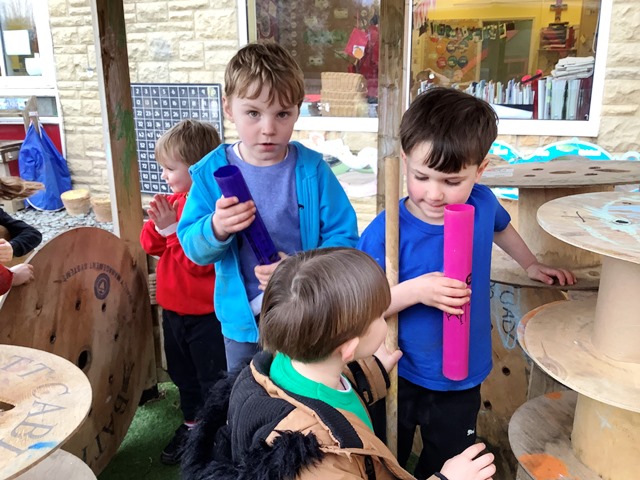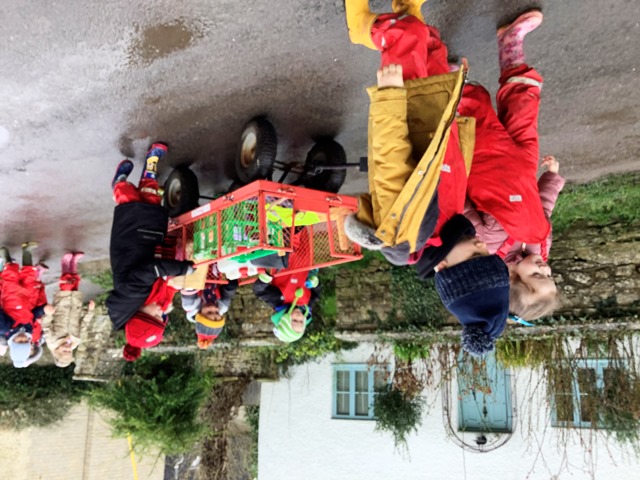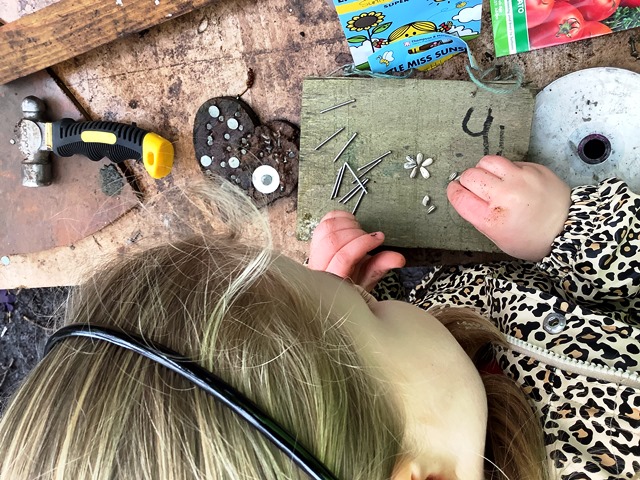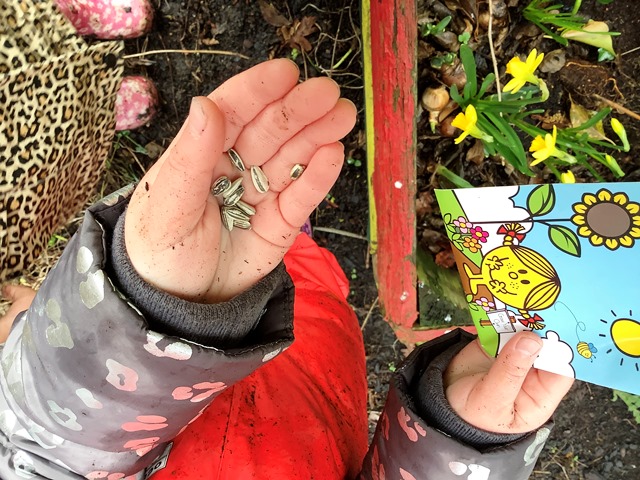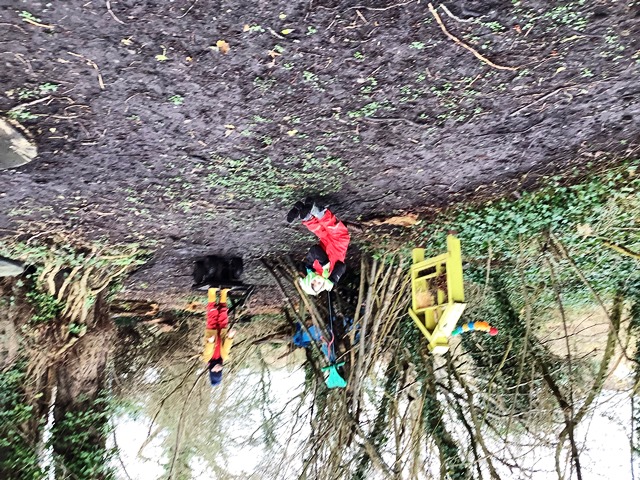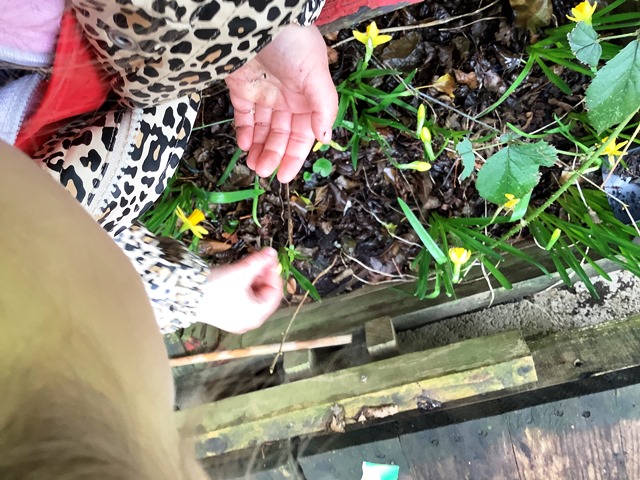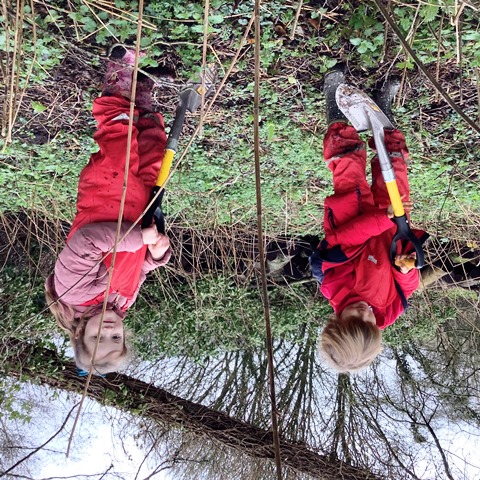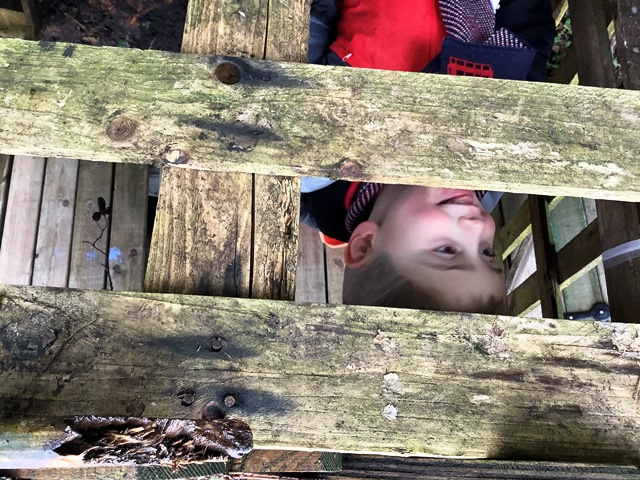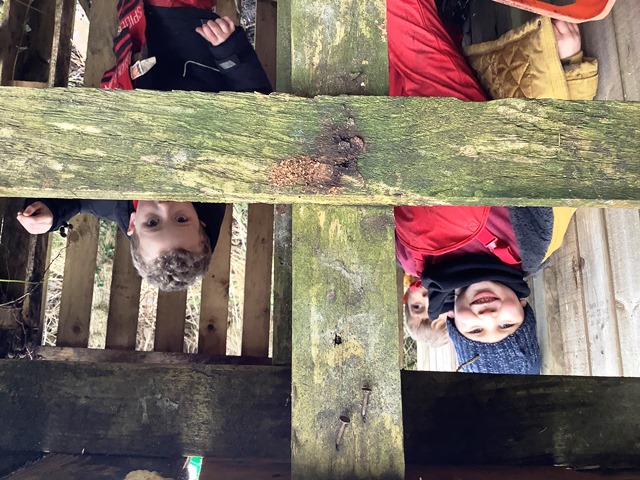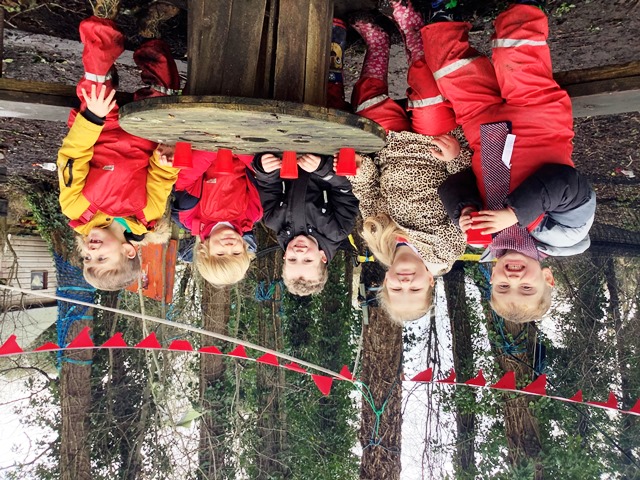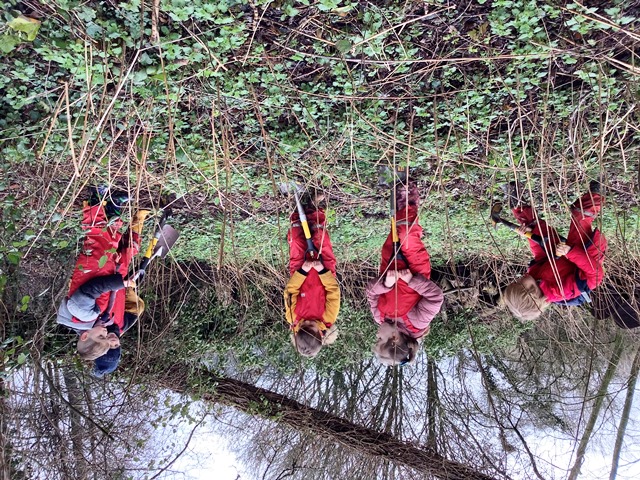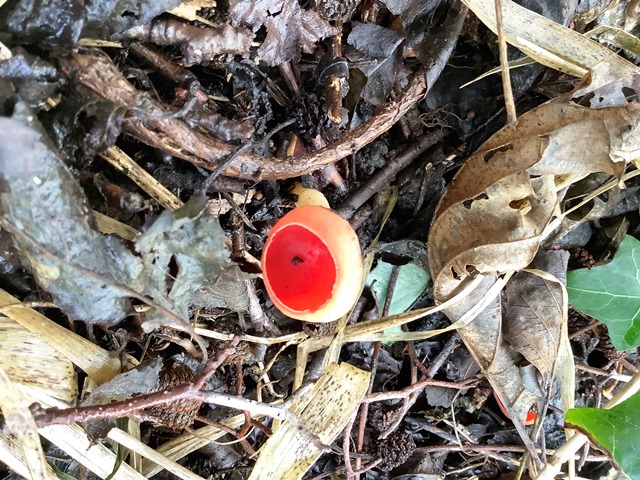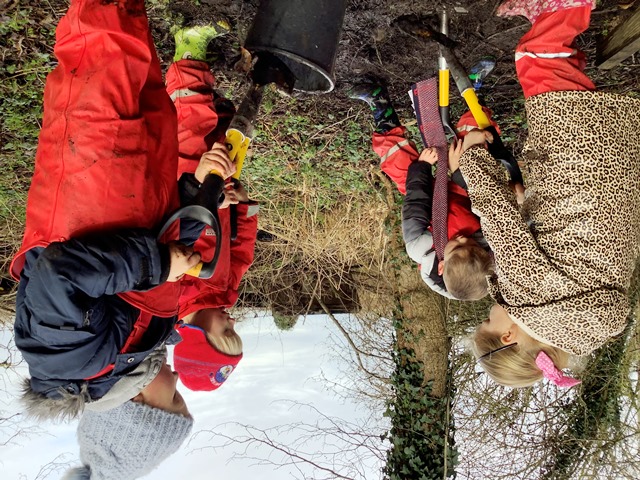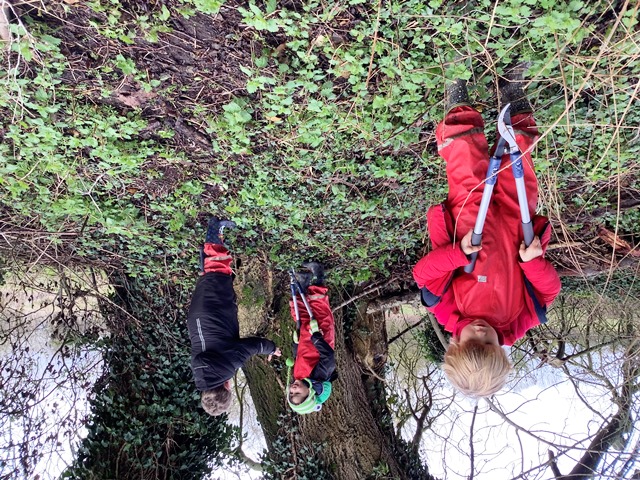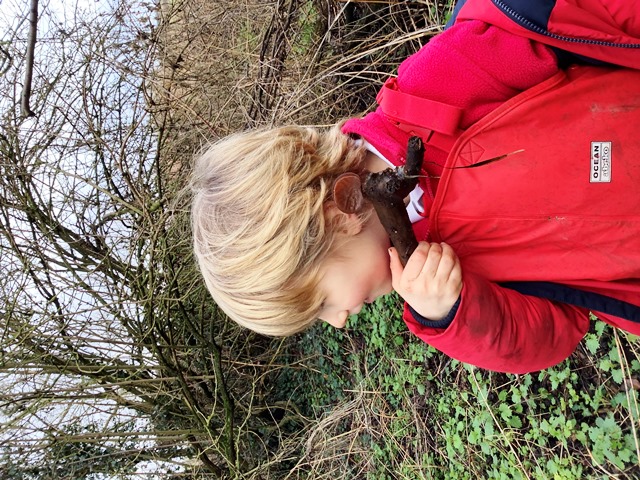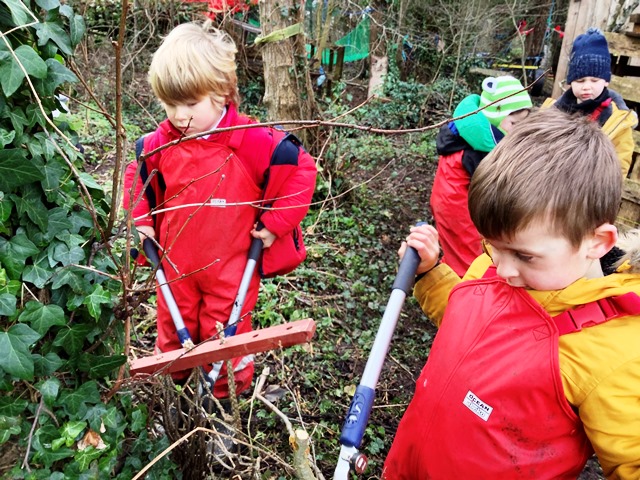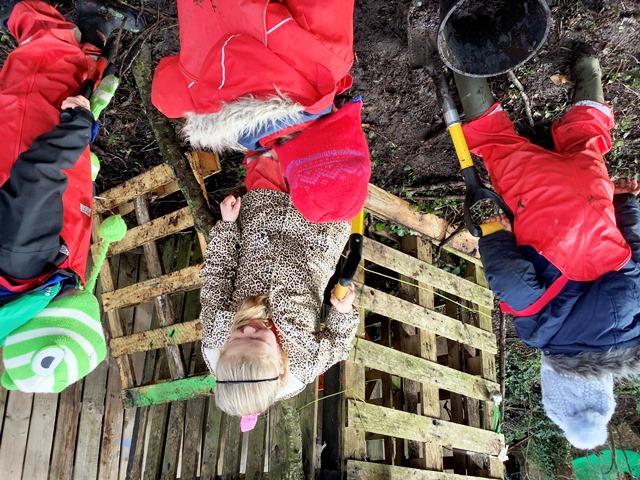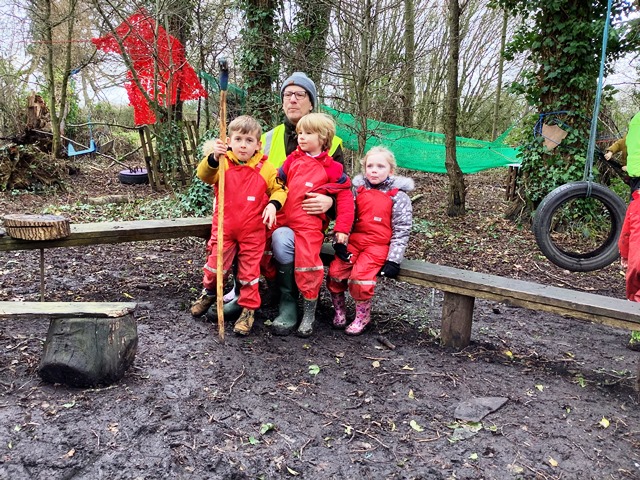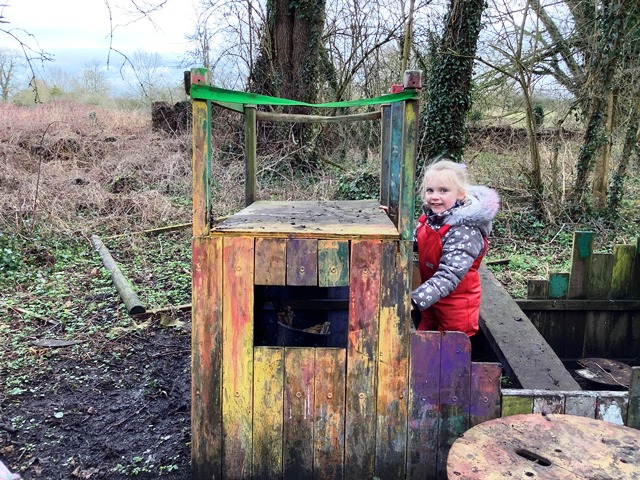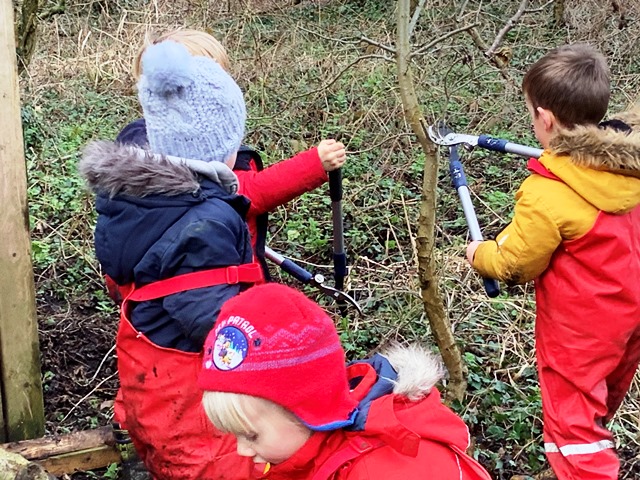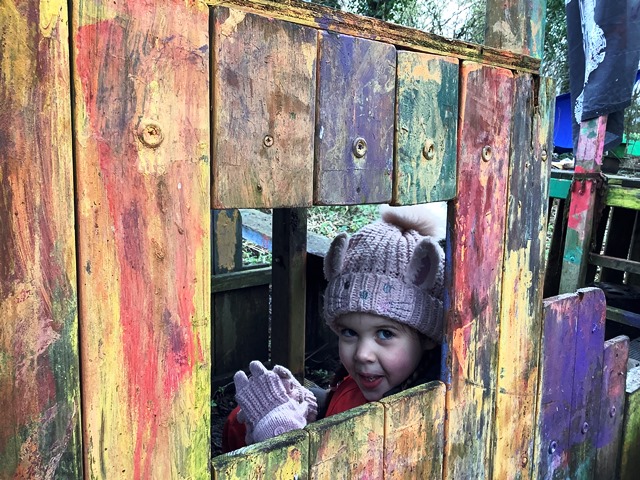 January 2022:
It was so special to be back at Forest School this sunny afternoon. We had lots of fun exploring the site again.
Many Thanks to the parent volunteers that came along and supported our outdoor learning - we simply couldn't have done it without you.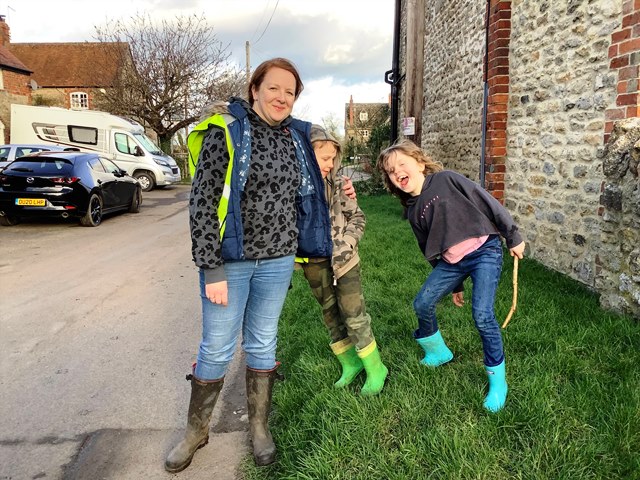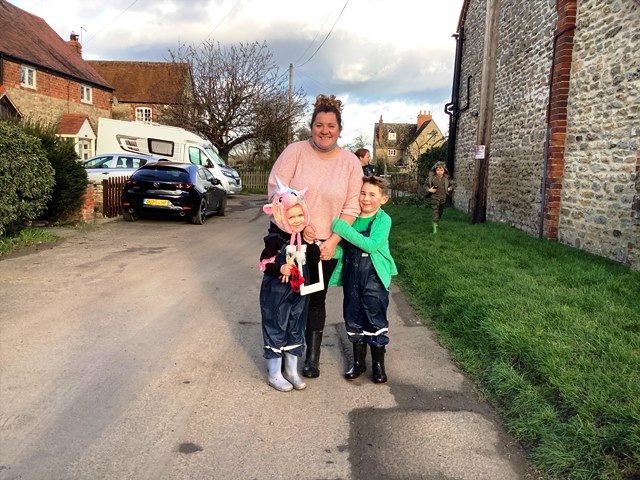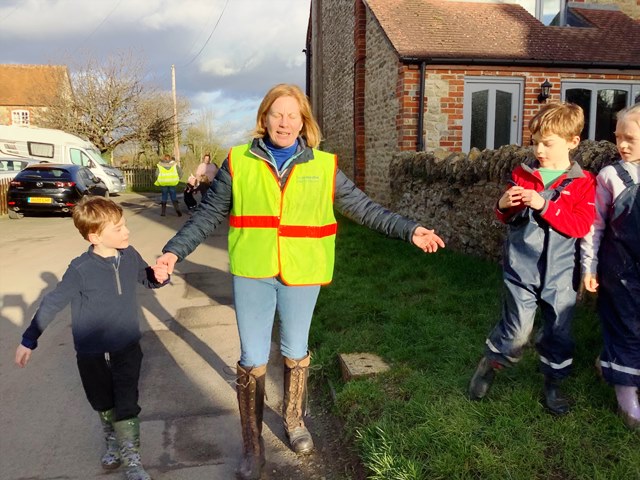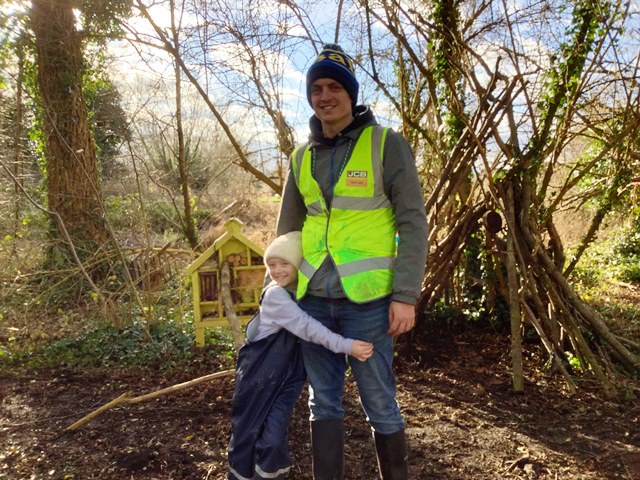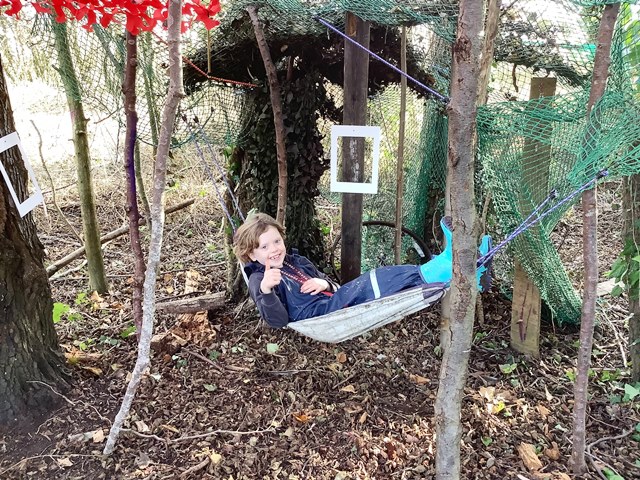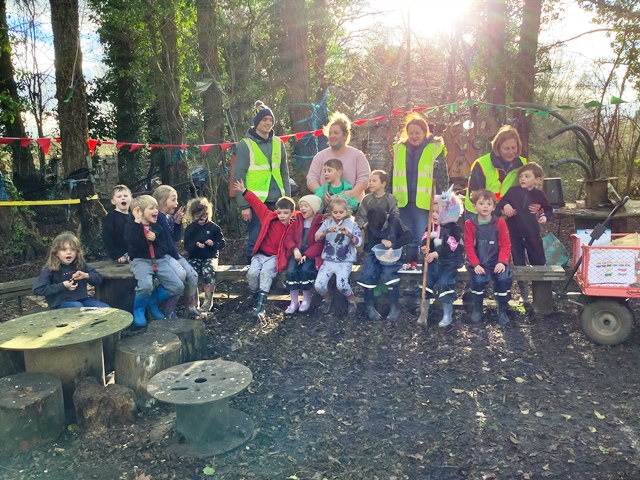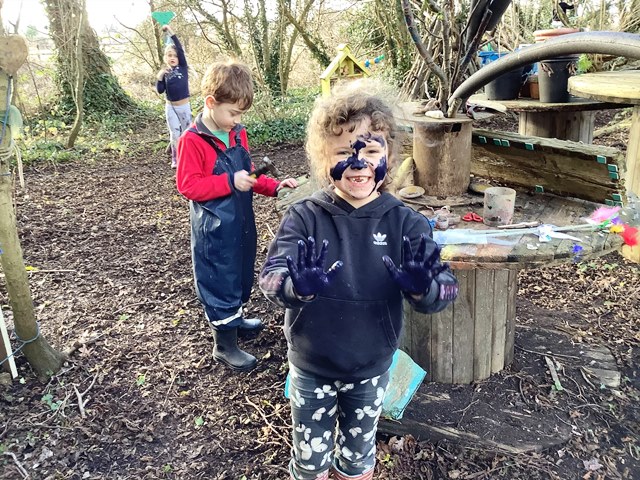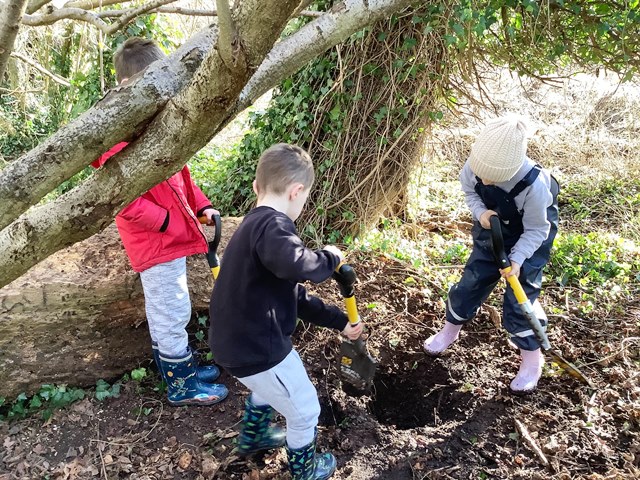 ---
November 2021:
Year 1 Forest School :
We spent a fun afternoon making red leaf poppies to add to the tree stumps. The mud kitchen was very busy this afternoon making mud cakes. Lots of imaginary play and lovely team work was had today.
Everyone agreed whilst using the talking stick we all had the best time playing and working together.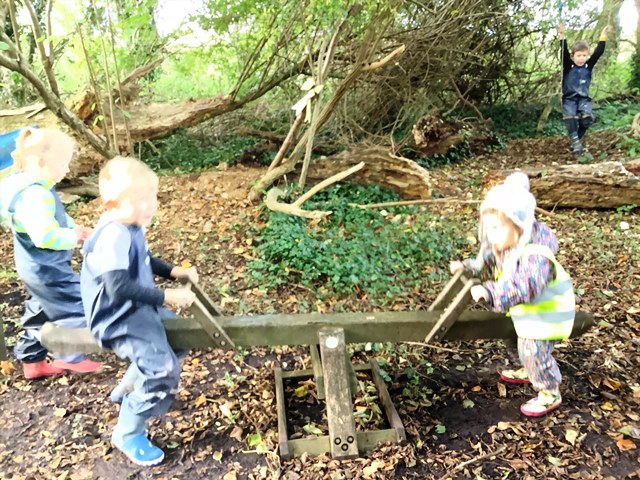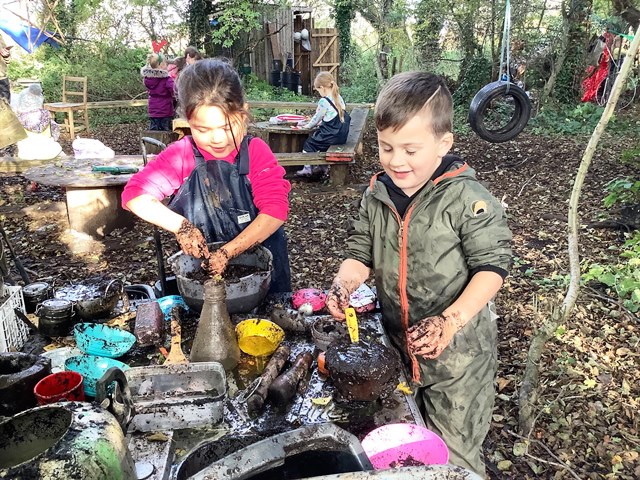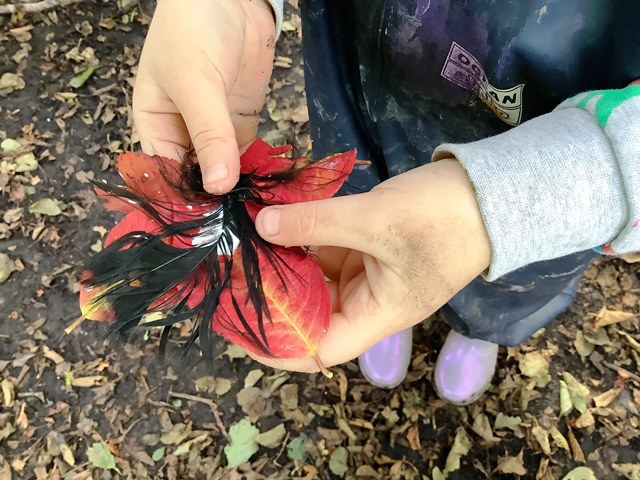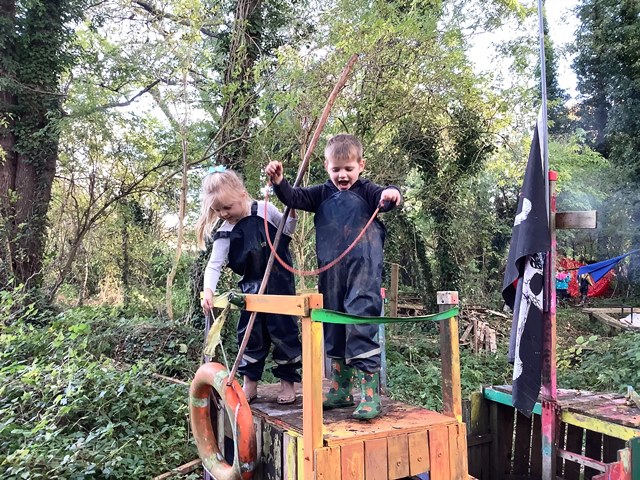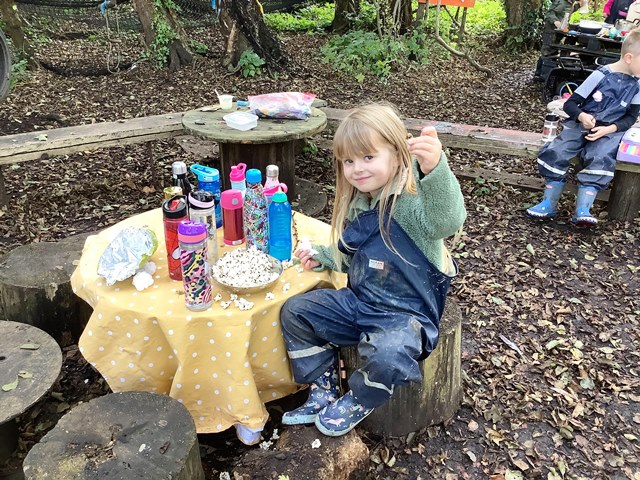 ---
Foundation
On Friday 5th November one group had there first session of Forest School. We had to listen to lots of new instructions and learn new boundaries. It's safe to say it was a great success and everyone enjoyed there time spent in our outdoor learning environment. We used the "Talking Stick" to reflect what we had enjoyed and it was really lovely to hear all the children's feedback and even the adults who came to help.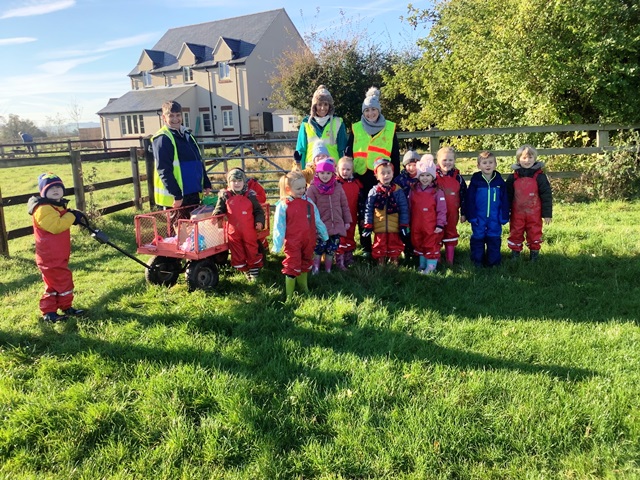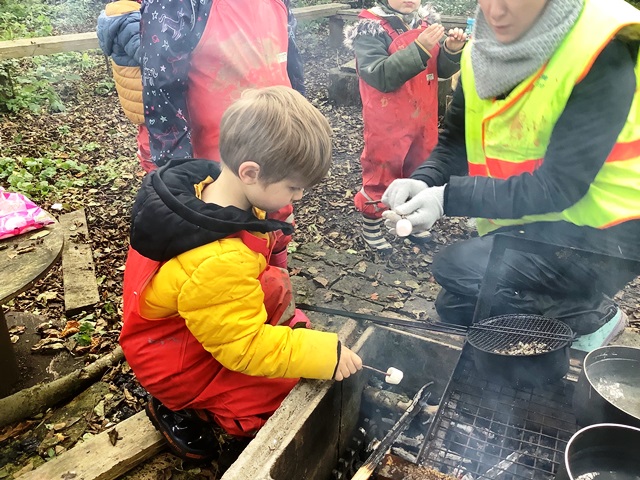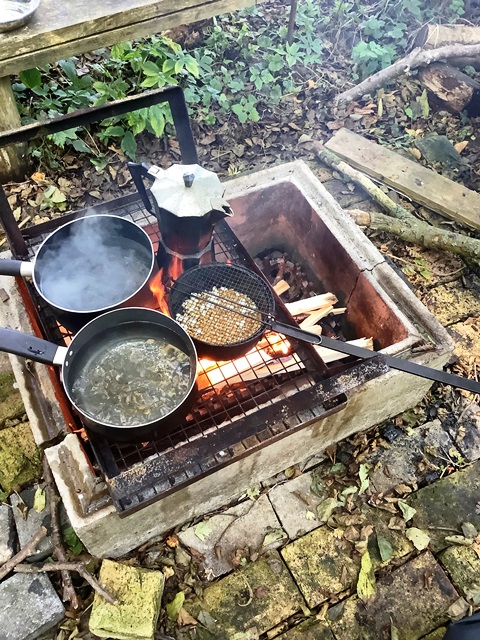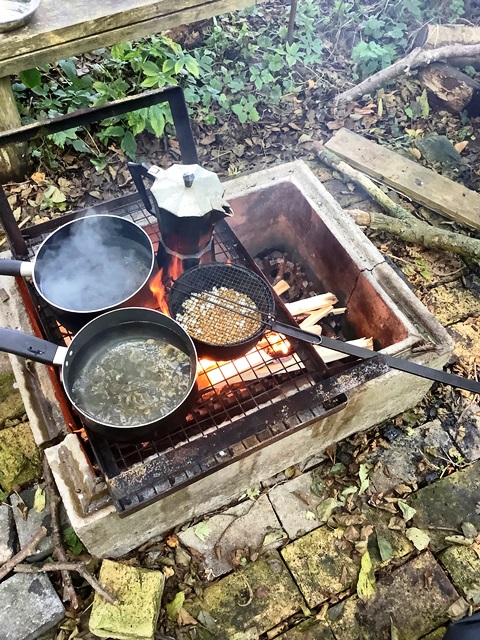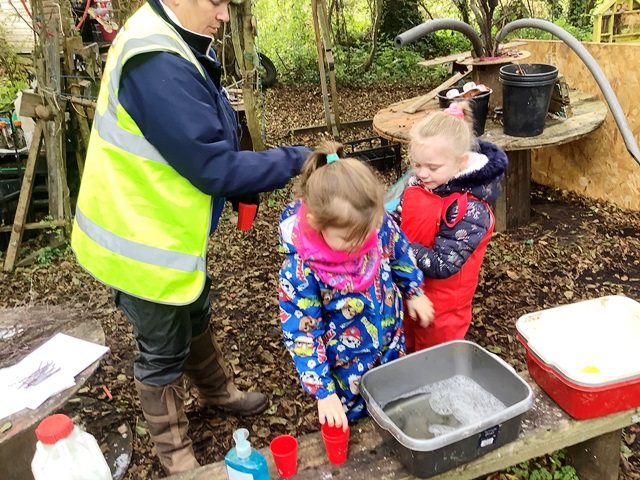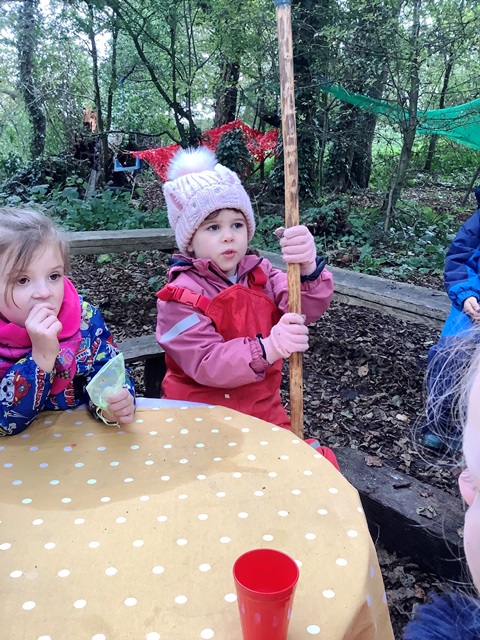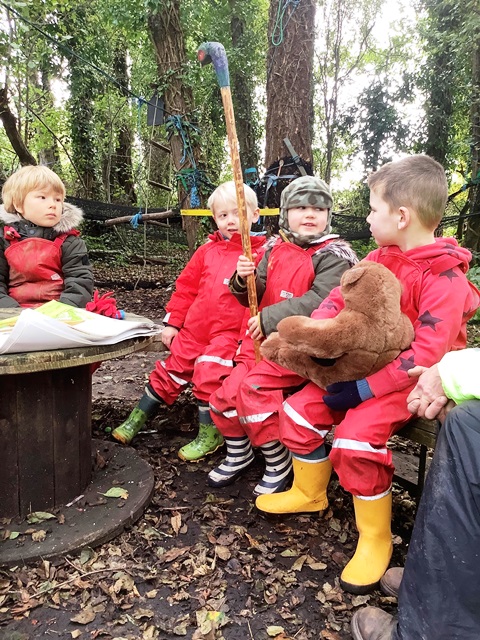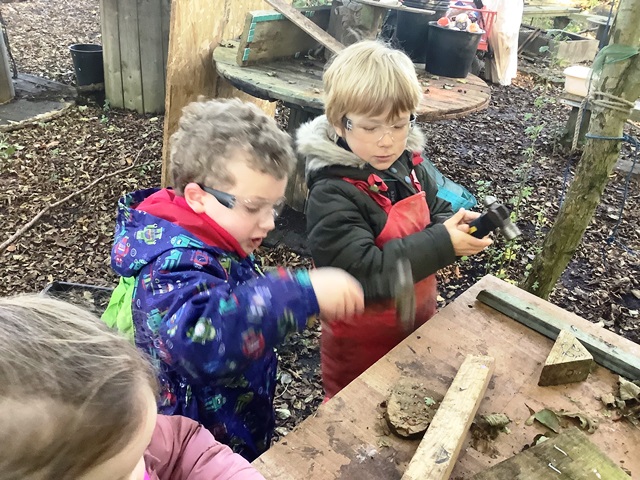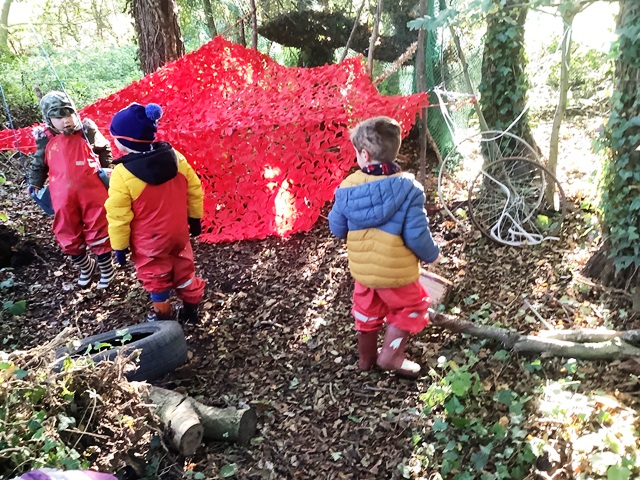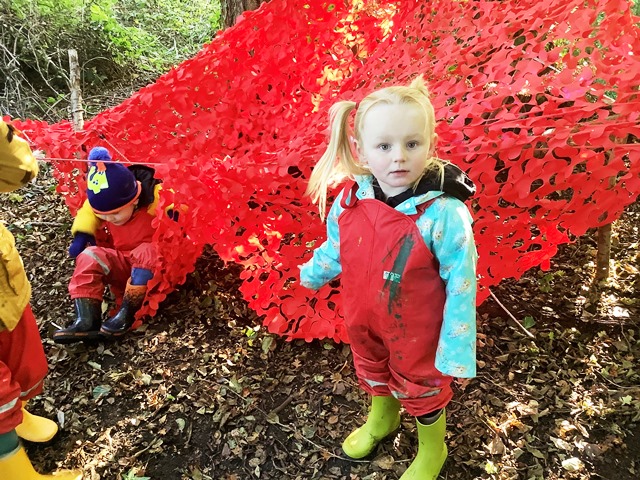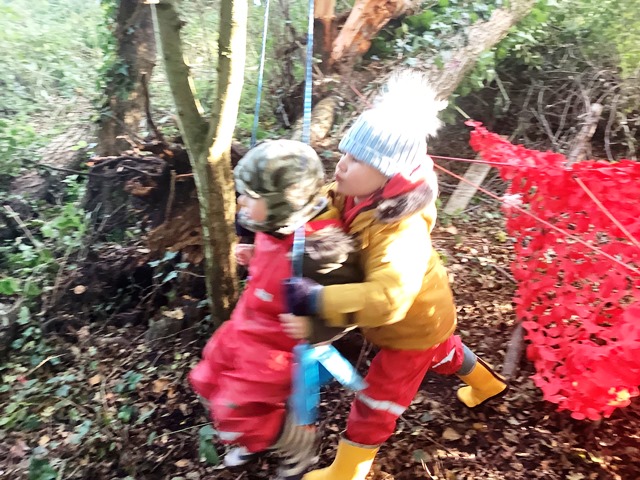 ---
From a shopping list to making play dough at Forest School - this was a first time experience for many and enjoyed by all! We shall be doing this again - as many children decided whilst talking with the"talking stick" they would like to create a "science section" within the outdoor learning area.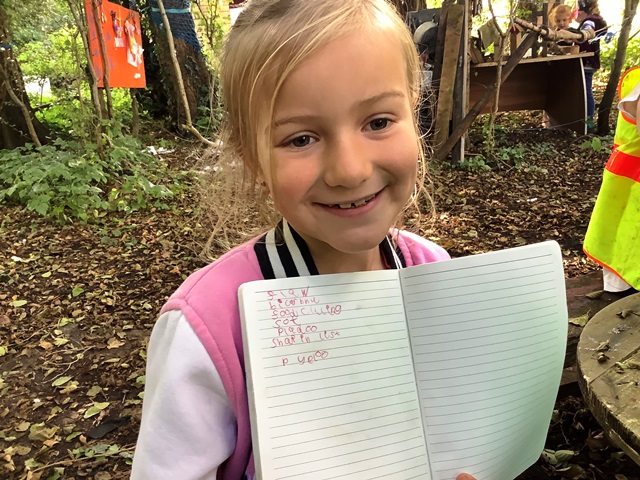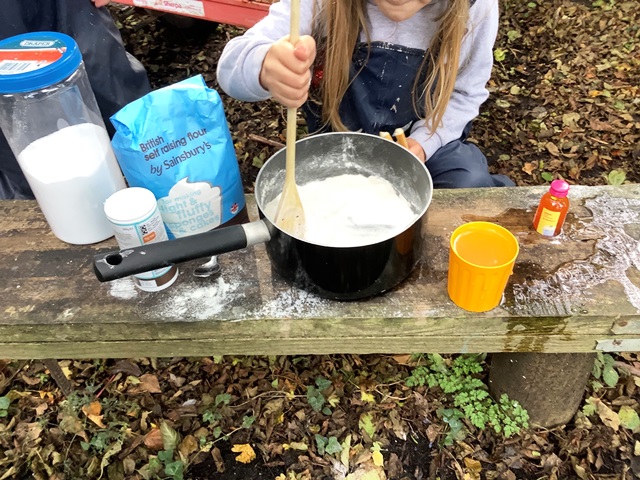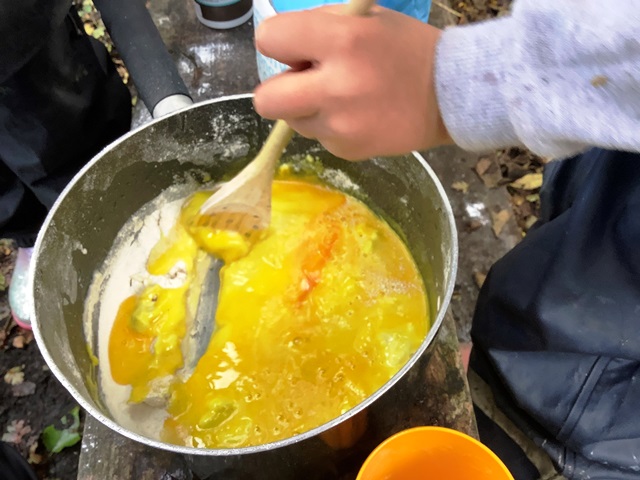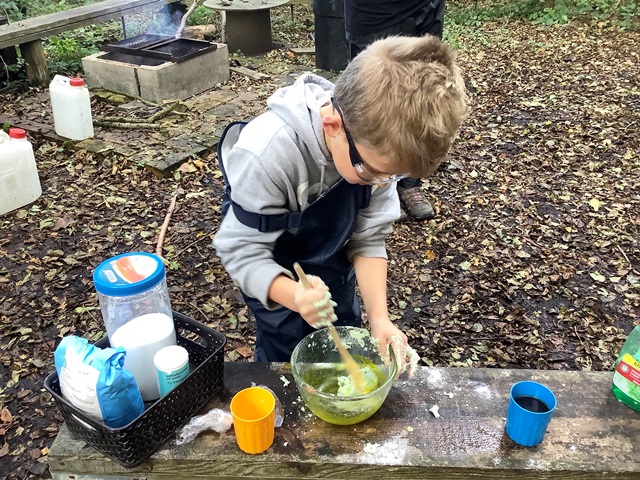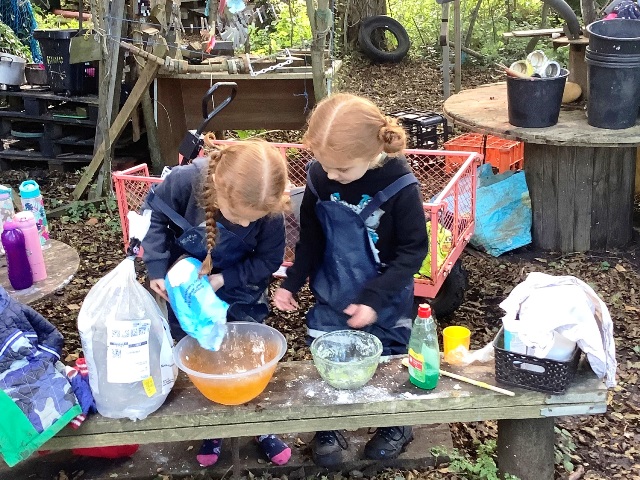 ---
October 2021: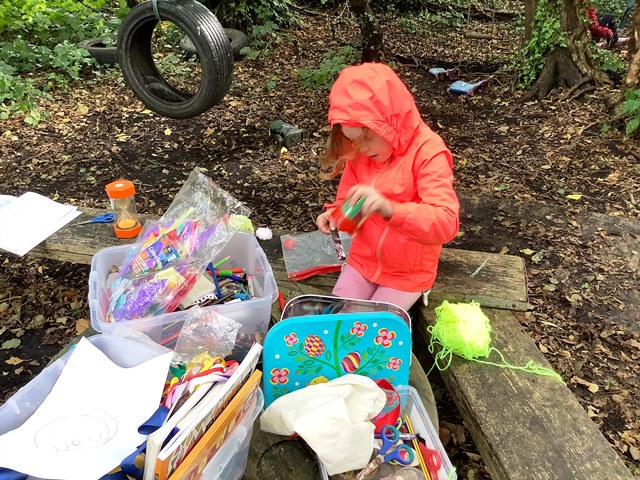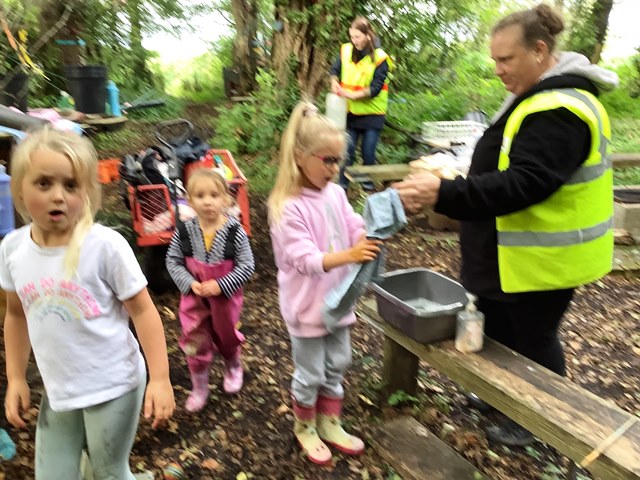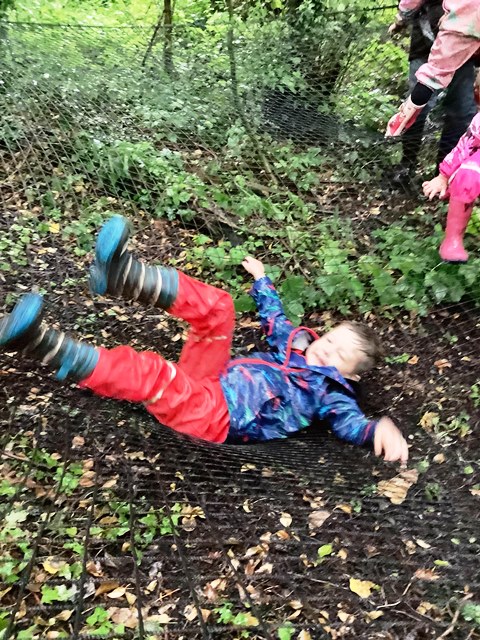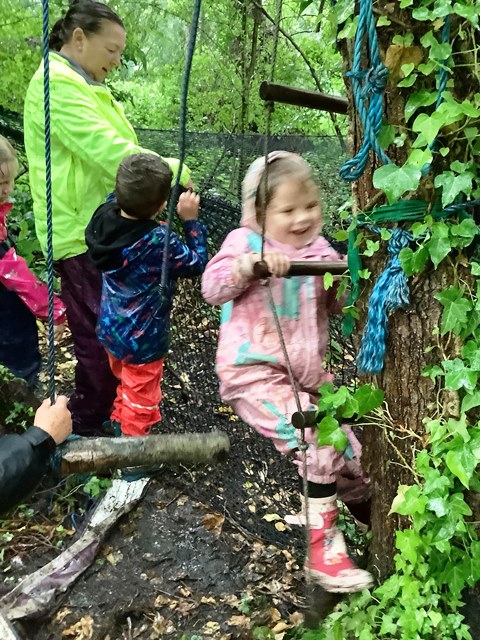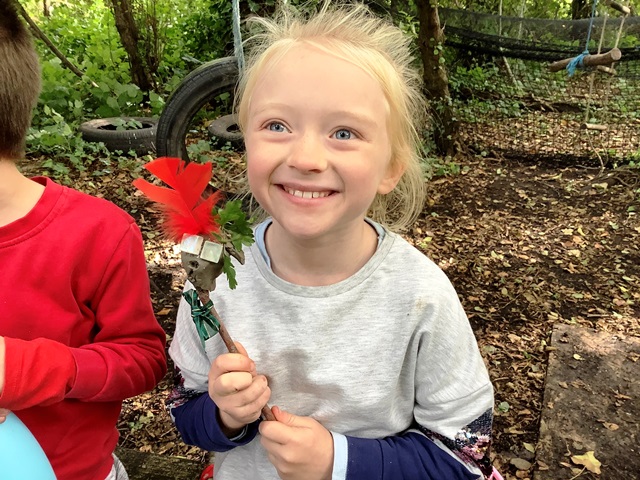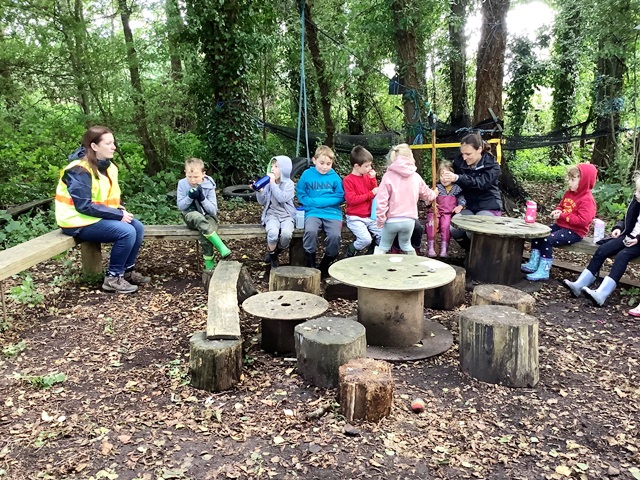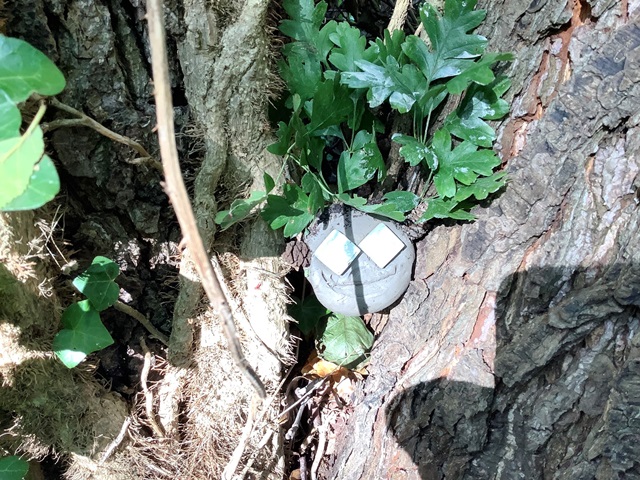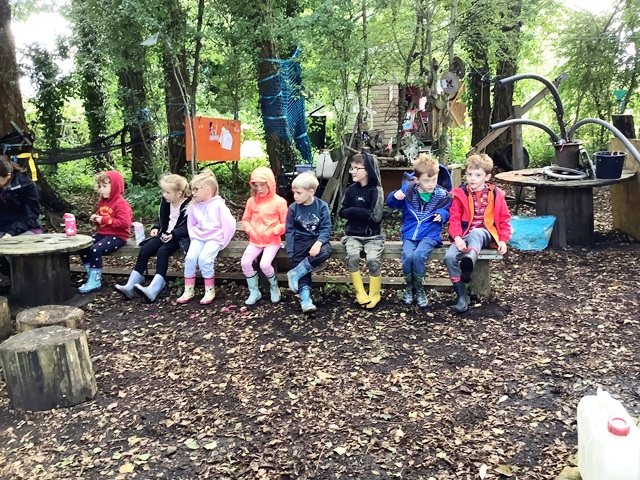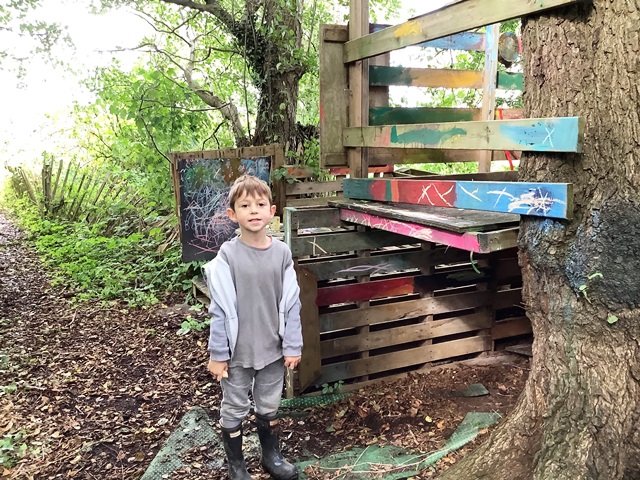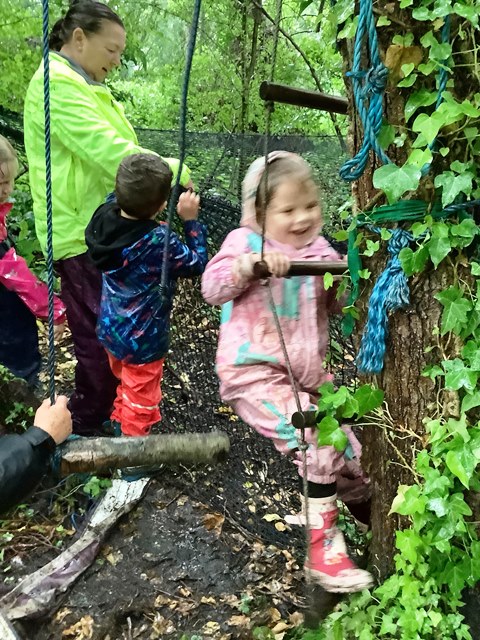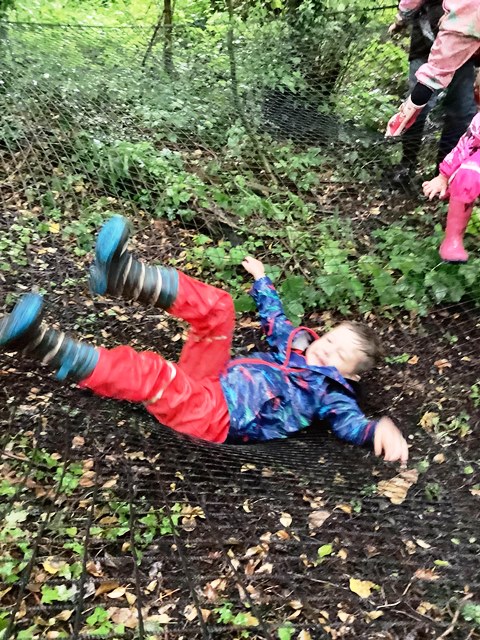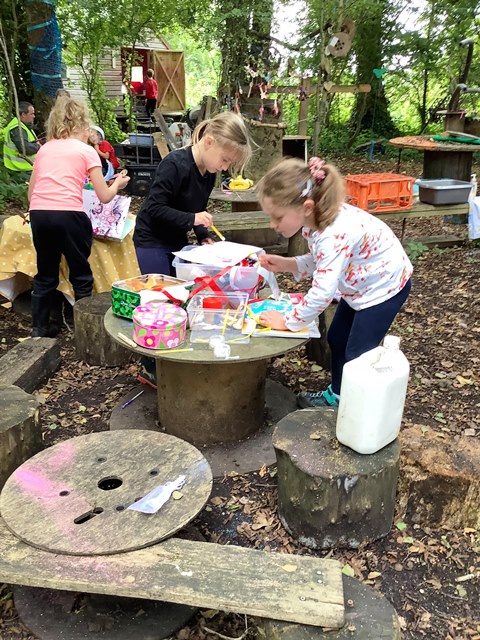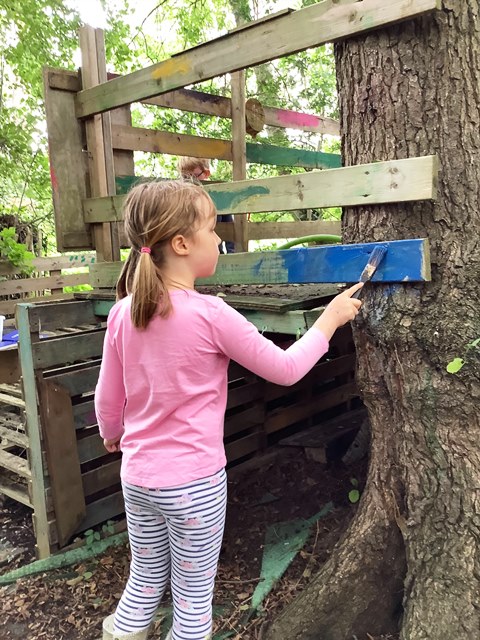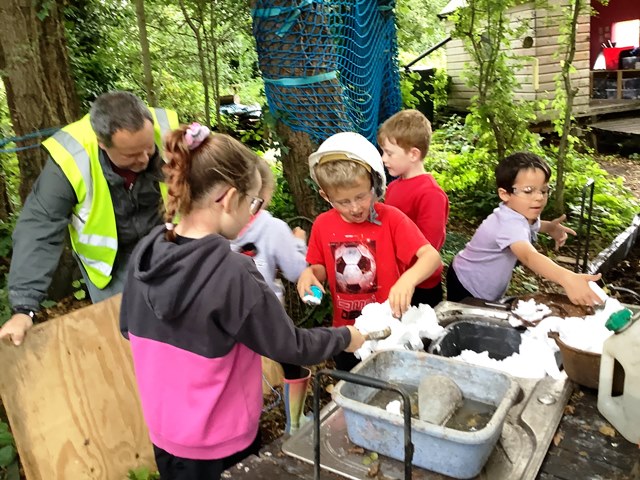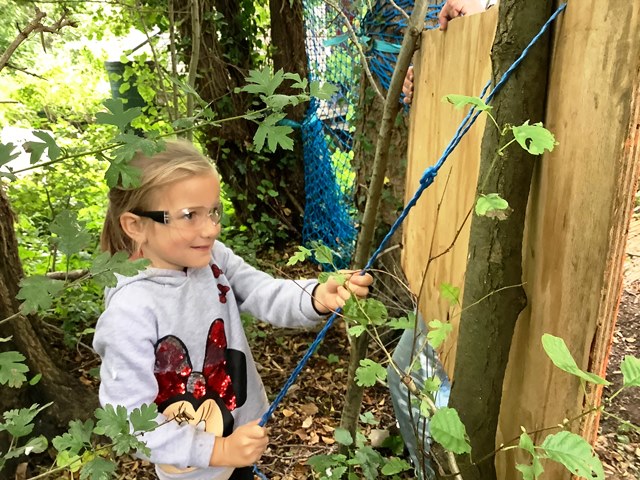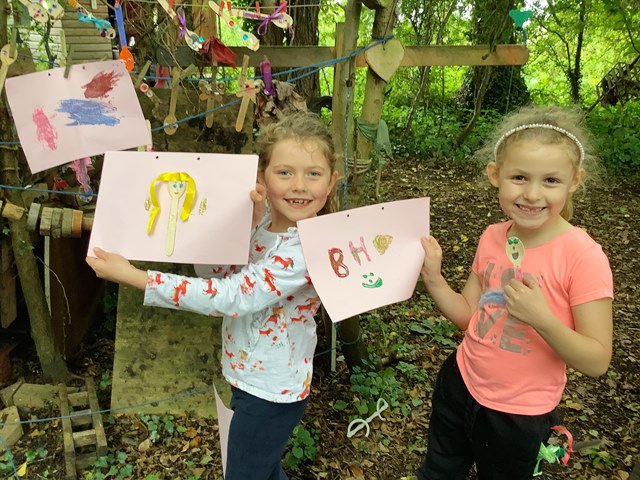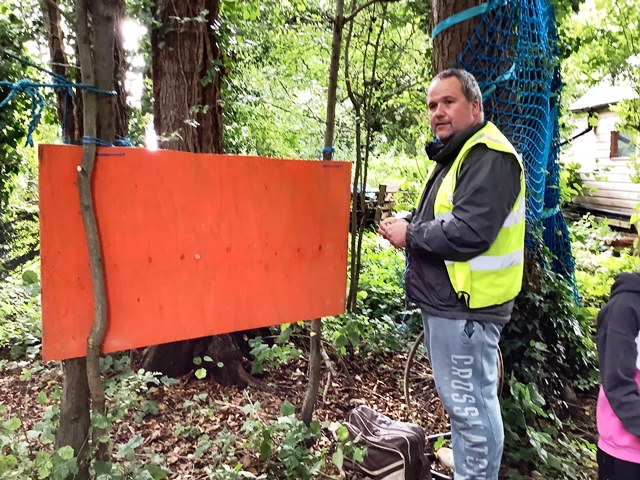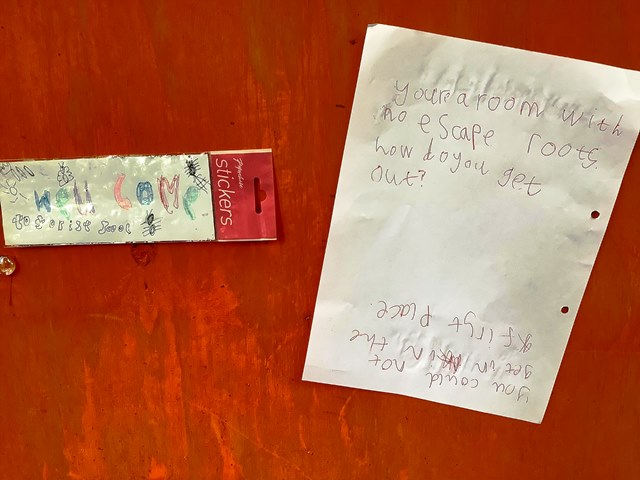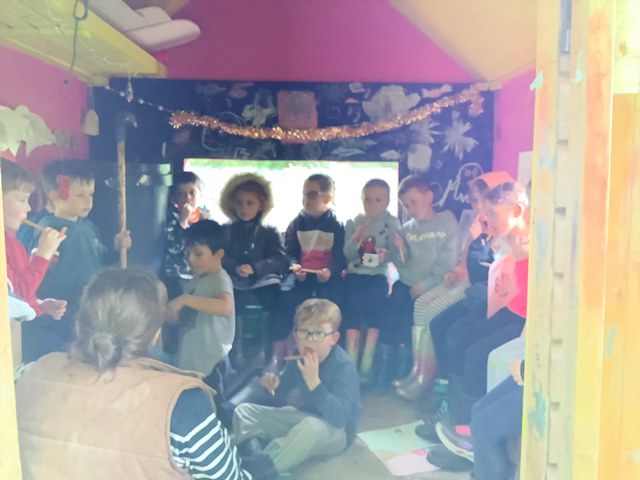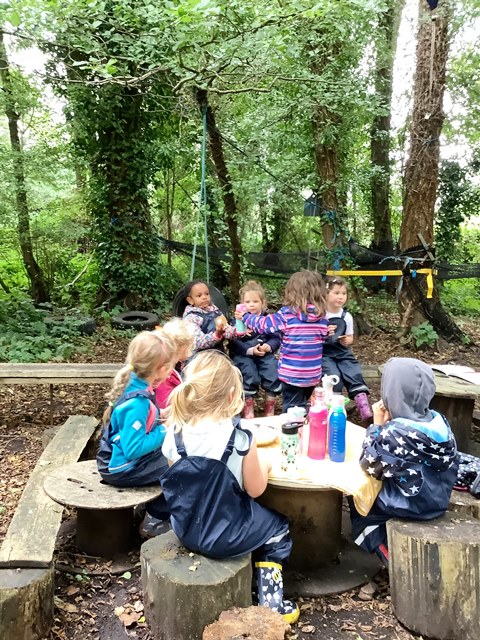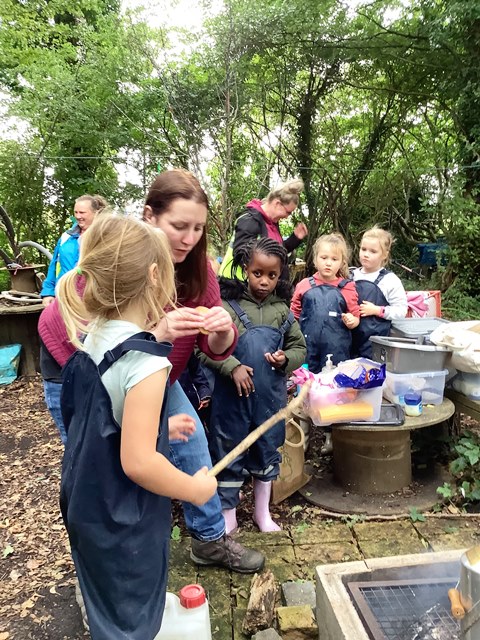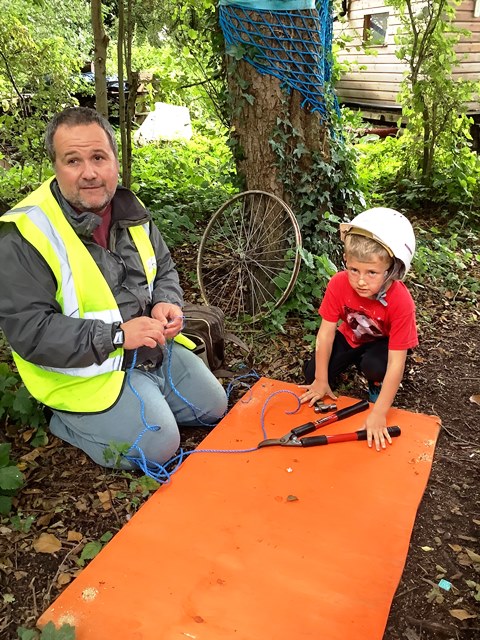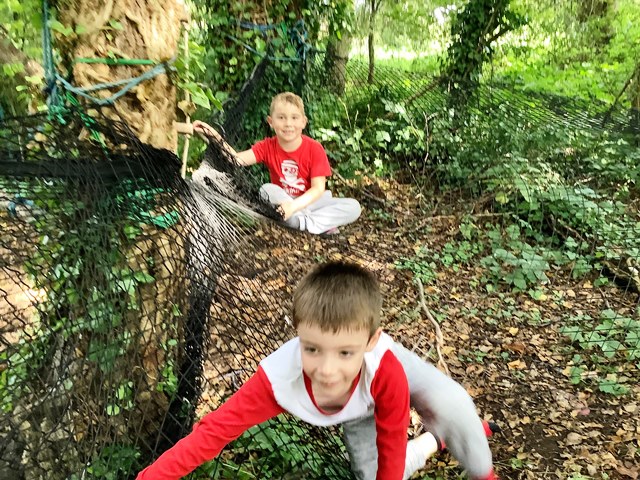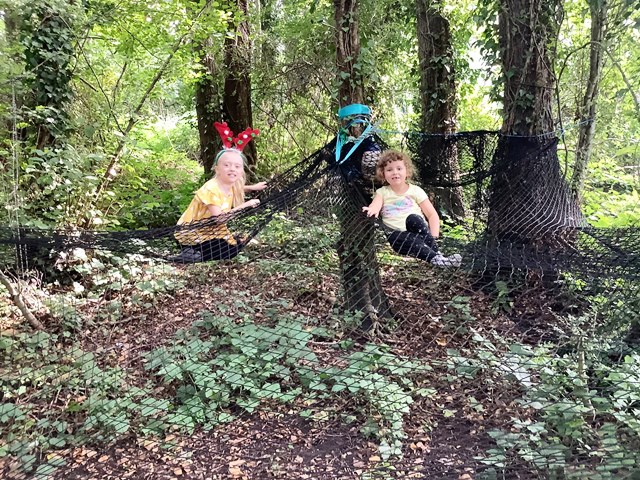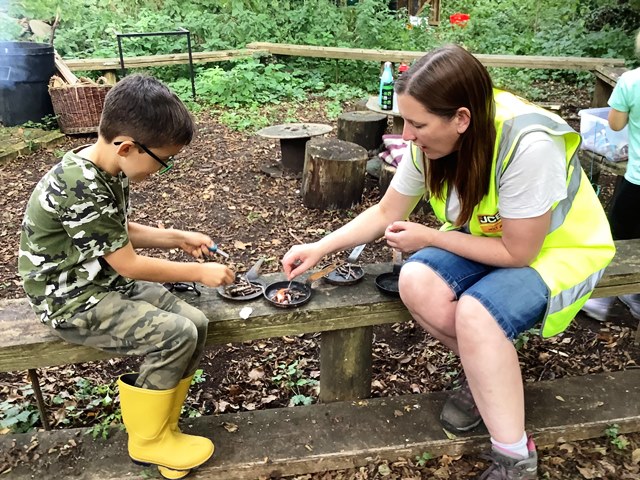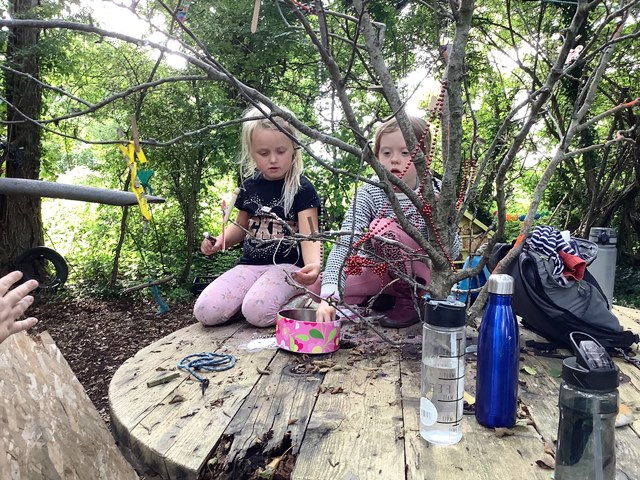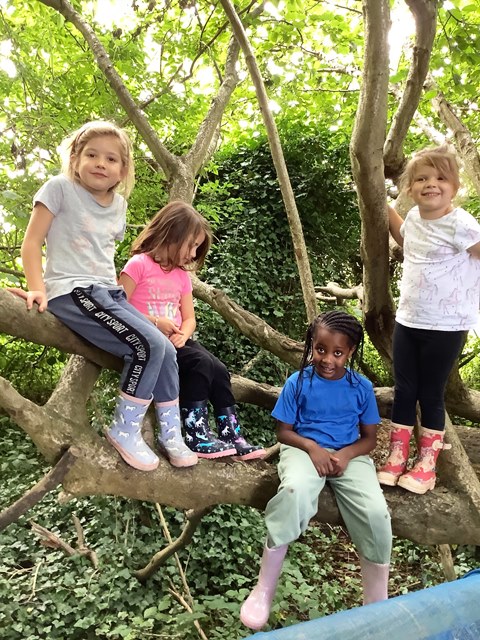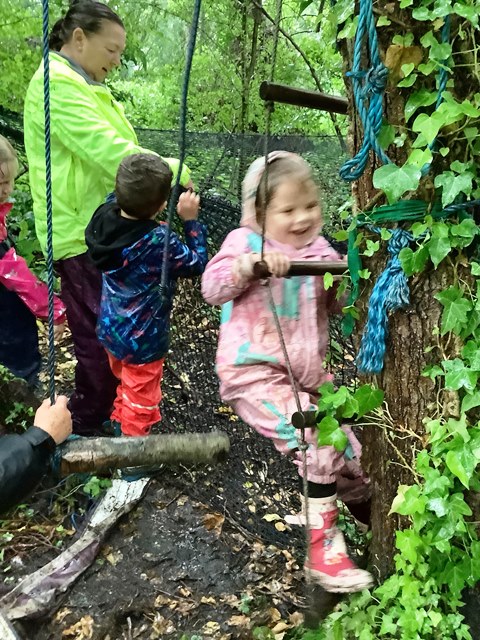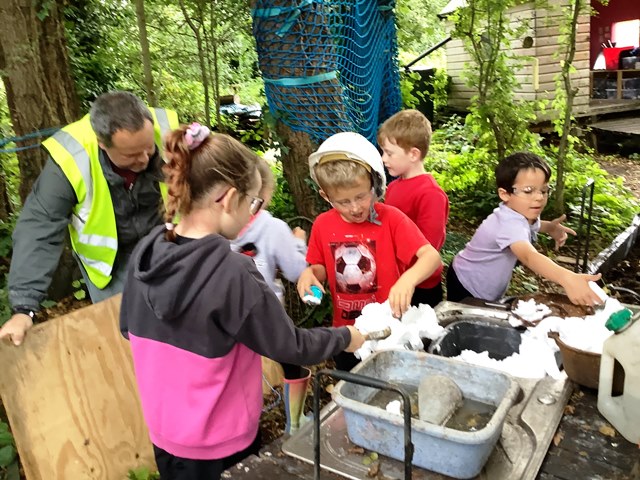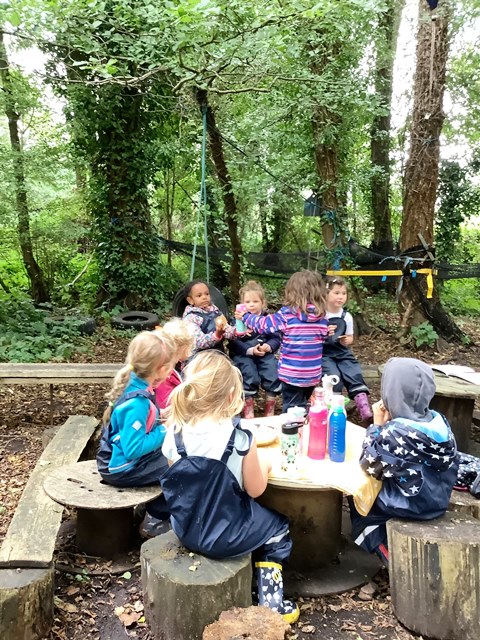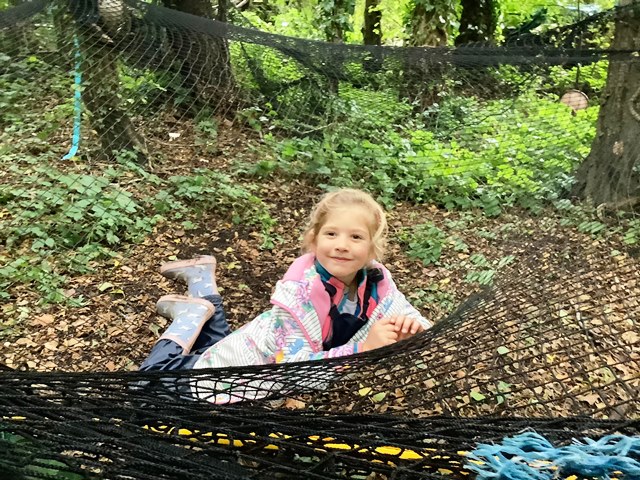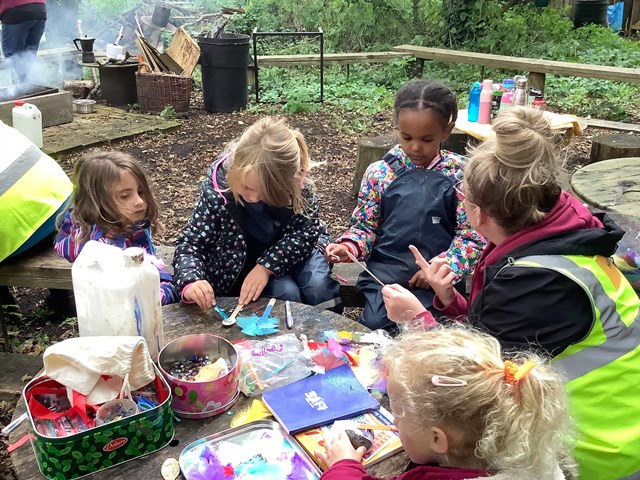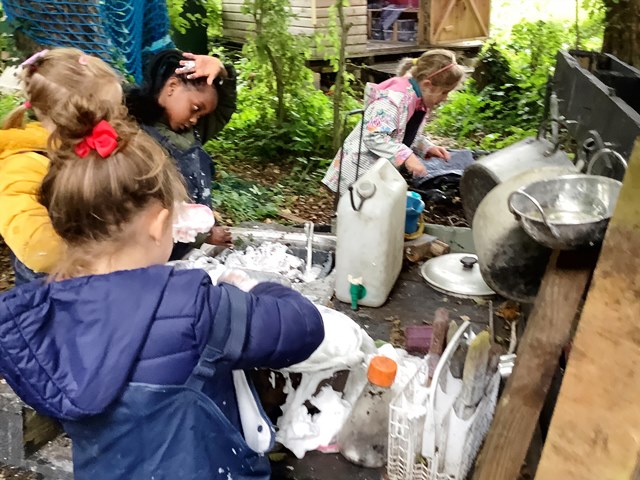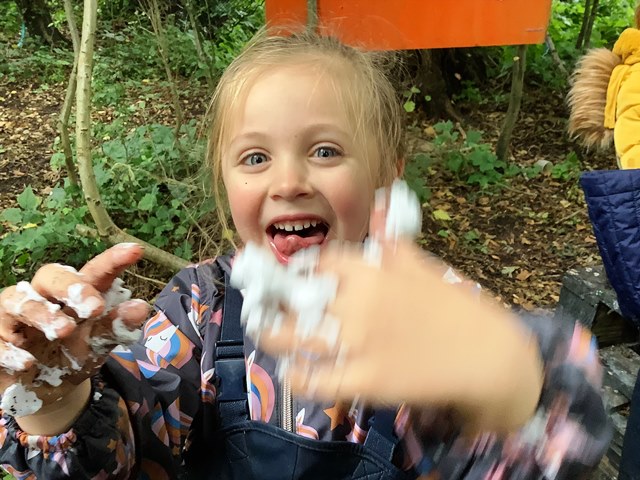 ---