Page Updated 14.11.19
Friends of Stanford School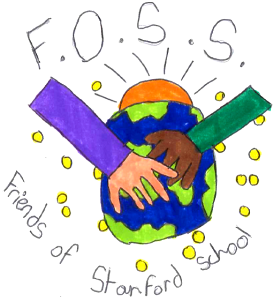 Designed by Henry
Introduction
All Parents, Guardians & Staff are members of the Friends of Stanford School and are welcome to any committee meetings.
Contact
- Lee Browning 01367 710628 or
07747 056908
Email:
fossbox01@gmail.com
What does the Friends of Stanford School do?
We are primarily a fund-raising body which aims to raise money for the extras that the school budget will not cover.
---

We need your help! If you shop online, please could you sign up to easyfundraising to support Friends of Stanford School (FOSS) Stanford in the Vale?
It's a really easy way to raise money for us – you just use the easyfundraising site to shop online with more than 3,600 well known online stores like Amazon, Argos, John Lewis, ASOS, Booking.com, eBay, Boden, and M&S and when you make a purchase, the retailer sends us a free donation, at no extra cost to you.
We want to raise as much as possible, so please visit our
new easyfundraising page
and click 'support us'.
Thank you

---
100 Club
October Winners
1st Carrie Cleary
2nd Abigail Humphries-Robertson
---
School Disco:
On Friday 18th October FOSS held their first disco of the year. It was attended by lots of children and was a great night.
Thank you to everyone who attended, the staff who stayed to help and to FOSS for running the event.
---
FOSS Committee
Mr Lee Browning: Chair
Mrs Amy Bignell: Treasurer
Mrs Ali Viggars &
Mrs Pippa Clark: Secretary
Mrs Amanda Willis
Mrs Vicky Maunder
Mrs Sarah Pitts
Mrs Katie Tidy
Mrs Karin Williams-Cuss
Mrs Diane Kirkman
Class Reps for 2019/20:
Foundation - Natasha Vann
Year 1 - Jenna Forth
Year 2 - Rachel Swanborough
Year 3 - Emma Richardson
Year 4 - Amanda Matthews
Year 5 - Leeanne Burgess
Year 6 - Steph Goddard