Page Updated 17.03.20
Friends of Stanford School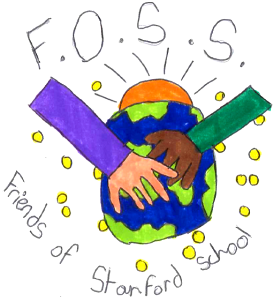 Designed by Henry
Introduction
All Parents, Guardians & Staff are members of the Friends of Stanford School and are welcome to any committee meetings.
Contact
Email:
fossbox01@gmail.com
What does the Friends of Stanford School do?
We are primarily a fund-raising body which aims to raise money for the extras that the school budget will not cover.
---
The Circus has been postponed until Wednesday 23rd September 2020.
Dear Parents
In light of the Government ban on large gatherings due to COVID-19, Happy's Circus have cancelled all bookings for May and June 2020.
This means that the show will not go ahead on Wednesday 20th May 2020.
However, both Friends of Stanford School and Happy's Circus are still excited about bringing the Circus to school and have arranged for the date to be moved to
Wednesday 23rd September 2020.
Don't worry if you have already purchased your ticket(s) as each ticket will still be valid for the new date. We will still be advertising and continuing to sell tickets ready for September, for a fun packed show for all of the family and local community to enjoy, as we start the new academic year. If you can no longer attend on the new date then please contact FOSS at
fossbox01@gmail.com
to arrange a refund.
The main gates will still open at 4pm - food and drink will be available before the show and during the interval. The show will start at 6pm but make sure you have your seat by 5.30pm for the arrival of the Ringmaster into the Big Top and for the fun to begin.
The duration of the show is approximately 2 hours with a 30 minute interval after the first 45 minutes.
We look forward to seeing you all there!
FOSS
Ticket Information
Tickets will still be on sale from the school office or Stanford Coffee shop or available from
www.pta-events.co.uk/friendsofstanfordschool
£8.50 for a single ticket (child or adult) or £30 for a group ticket (4 people which must include an adult)
Children under the age of two sitting on parent's laps do not require a ticket.
This event is open to everyone, not just children and families of Stanford Primary school, so spread the word, all welcome.
---
100 Club
February Winners
1st Lucy Condor
2nd Paula Daly
---
School Disco:
On Friday 7th February FOSS ran a wonderful school disco which was well attended. The children danced the night away.
Many thanks to all the staff, parents and FOSS members who helped run and organise the night.
---
Smile Amazon:

Another way you can buy the things you want and support FOSS at same time is through Smile Amazon.
Go tour
login page here ↠
---

We need your help! If you shop online, please could you sign up to easyfundraising to support Friends of Stanford School (FOSS) Stanford in the Vale?
It's a really easy way to raise money for us – you just use the easyfundraising site to shop online with more than 3,600 well known online stores like Amazon, Argos, John Lewis, ASOS, Booking.com, eBay, Boden, and M&S and when you make a purchase, the retailer sends us a free donation, at no extra cost to you.
We want to raise as much as possible, so please visit our
new easyfundraising page
and click 'support us'.
Thank you

---
FOSS Committee
Mrs Di Kirkman: Chair
Mrs Karin Williams-Cuss: Vice Chair
Mrs Amy Bignell: Treasurer
Mrs Ali Viggars & Mrs Pippa Clark: Secretary
Mrs Amanda Willis
Ms Emma Payne
Mr Lee Browning
Mrs Katie Tidy
Mrs Jess Clark
Mrs Linzi Esplin
Amanda Matthews
Class Reps for 2019/20:
Foundation - Natasha Vann
Year 1 - Jenna Forth
Year 2 - Rachel Swanborough
Year 3 - Emma Richardson
Year 4 - Amanda Matthews
Year 5 - Leeanne Burgess
Year 6 - Steph Goddard
UPCOMING EVENTS 2019/2020
TERM 4
Easter Egg Trail - 27th March - 24th April
Adult Quiz night - 28th March CANCELLED
TERM 5
Foundation, KS1 & KS2 Discos - 24th April
FAMILY CIRCUS - Weds 20th May POSTPONED until 23rd Sept
TERM 6
Stanford Village Festival BBQ stall - 14th June
Sports Day Refreshments - 3rd July
Bag 2 School - 9th & 10th July
Non Uniform Day - Tombola & Cake Donations - 10th July
Schools Big Summer Fete - 11th July
Year 6 Performance refreshments - 14th & 15th July