Page Updated 02.02.18
Friends of Stanford School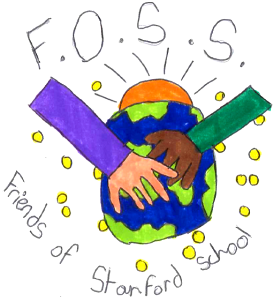 Designed by Henry
Introduction
All Parents, Guardians & Staff are members of the Friends of Stanford School and are welcome to any committee meetings.
Contact
- Lee Browning 01367 710628 or
07747 056908
Email:
fossadmin@btinternet.com
What does the Friends of Stanford School do?
We are primarily a fund-raising body which aims to raise money for the extras that the school budget will not cover.
100 Club
January Winners
1st Vicky Bird
2nd Jessica Smith
---
Waitrose Tokens:
On Wednesday 22nd November we were presented with a cheque for the amount of £115.00 from the Waitrose Token Collection. This money will be used to purchase resources to benefit all the children.
Thank you to everyone who contributed to the collection.
---
Disco:
On Friday 10th November FOSS held their first children's disco for this academic year. It was very well attended and a great success raising over £750.00.
Many thanks to the FOSS and staff members who set up and staffed the discos.
Thank you to everyone who attended and danced the night away.
---
Family Bingo Night
On Saturday 30th September we held our first ever family bingo night. It was a brilliant success with over 100 people in attendance.
The night was full of laughter, lots of noise and many children and adults winning prizes.
Thank you to FOSS for organising the night, to Lee and Eva for cooking the food, which proved very popular and to Mr Amies for calling.
FOSS Committee
Lee Browning (Chair)
Andy Hill (Vice Chair)
Gaby Clark (Treasurer)
Vicky Summers (Secretary)
Members:
Richard Stillion
Sharon Hill
Katie Amies
Maria Barnett
Jessica Smith
Rhian Atkins
Wendy Edwards
Emma Payne
Amanda Willis
Eva Geekie
Vicky Maunder