Page Updated 12.11.18
Friends of Stanford School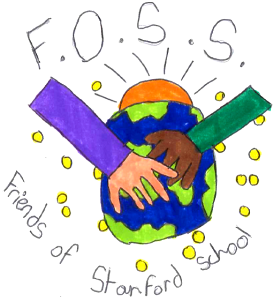 Designed by Henry
Introduction
All Parents, Guardians & Staff are members of the Friends of Stanford School and are welcome to any committee meetings.
Contact
- Lee Browning 01367 710628 or
07747 056908
Email:
fossadmin@btinternet.com
What does the Friends of Stanford School do?
We are primarily a fund-raising body which aims to raise money for the extras that the school budget will not cover.
---
100 Club
October Winners
1st Emma Evans
2nd Gemma Happe
---
School Disco:
On Friday 12th October FOSS held their first disco of the academic year. Lots of children attended the disco and danced the night away.
Many thanks to FOSS for organising the disco and to all the parents and staff who helped set up and run the disco.
---
FOSS Committee
Mr Browning - Chair
Mrs Bignell - Treasurer
Mrs Viggars and Mrs Clark - Secretary
Mrs Summers
Mrs Geekie
Mrs Atkins
Mrs Maunder
Mrs Kirkman
Mrs Tidy
Mrs Huby
Mrs Williams-Cuss
Mrs Pitts
Mrs Willis
Class Reps for 18/19:
Foundation—Miss Wilson (Lambert)
Year 1—Miss Hancock (Granito)
Year 2—Mrs Cleary
Year 3—Mrs Ingles
Year 4—Mrs Culverwell
Year 5—Mrs Lawson-Smith
Year 6—Mrs Clark