Page Updated 24.08.18
Friends of Stanford School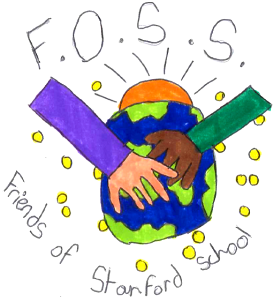 Designed by Henry
Introduction
All Parents, Guardians & Staff are members of the Friends of Stanford School and are welcome to any committee meetings.
Contact
- Lee Browning 01367 710628 or
07747 056908
Email:
fossadmin@btinternet.com
What does the Friends of Stanford School do?
We are primarily a fund-raising body which aims to raise money for the extras that the school budget will not cover.
100 Club
July Winner
---
Summer Fete 2018:
On Saturday 14th July we held our school Summer Fete.
We were very fortunate to have gorgeous weather. Lots of people attended our amazing fete which had lots of stalls, barbecue, raffle, tombola, bouncy castle, sport challenges, face painting, the stocks, tea and cakes and the popular bar!
In the arena lots of children demonstrated their musical and physical talents, with the school band, choir, dance club, Year 5 guitars, Year 1 maypole dancers and gymnasts all taking a turn. It was a great opportunity for the whole school community to get together.
The event concluded with a tug of war and for the first time ever - tractor pulling! Many thanks to the FOSS committee for all their hard work before, during and after the event, to David Bailey for doing the sound and to all the volunteers who ran a stall or encouraged others to run a stall.
A big thank you to the staff who helped out, ran an arena event or attended.
---
Bingo Race 2018:
On Sunday 17th June FOSS held its annual Bingo Race at Stanford Football Ground.
The weather was kind to us, dry and cool so it made it much easier to run numerous laps of the field. Many thanks to all the families who took part in the event. There was a lovely atmosphere during the event with lots of positive encouragement. A big thank you to all the FOSS members and marshals who made the event possible.
An extra special thank you to Richard for taking the lead on the event.
Richard even ran the second race himself as this will be the last year he organises it.
---
Disco 18.05.18:
On Friday 18th May FOSS ran a children's disco.
Thank you to everyone who attended and danced the night away.
Many thanks to the staff who stayed to help, to FOSS for running the event and to the Year Five children and parents who came to help.
---
We would like to share a letter that we have recently received.
Dear FOSS

I am writing on behalf of the Governors to thank FOSS for your hard work and generous support of the school. At a recent Governor's meeting, we reviewed our income against similar schools, both within Oxfordshire and across the country. The fundraising income per pupil at Stanford School was nearly double that of other schools in both categories.

We know that it can sometimes feel like a thankless task to recruit parents to FOSS and to get parents to participate in fundraising activities, but without your fabulous support, we wouldn't be able to provide the excellent resources we have for our children. This is especially true as school continues to face significant budget challenges.

Your fundraising activities such as the school discos, the summer fete and the adult events are great fun and bring us together as a school community. FOSS should be very proud of what it has achieved and the Governors are very grateful for your efforts. Please pass on our many thanks to the FOSS committee and members.

Best wishes

Stanford School Governors
---
---
Waitrose Tokens:
On Wednesday 22nd November we were presented with a cheque for the amount of £115.00 from the Waitrose Token Collection. This money will be used to purchase resources to benefit all the children.
Thank you to everyone who contributed to the collection.
---
Disco:
On Friday 10th November FOSS held their first children's disco for this academic year. It was very well attended and a great success raising over £750.00.
Many thanks to the FOSS and staff members who set up and staffed the discos.
Thank you to everyone who attended and danced the night away.
---
Family Bingo Night
On Saturday 30th September we held our first ever family bingo night. It was a brilliant success with over 100 people in attendance.
The night was full of laughter, lots of noise and many children and adults winning prizes.
Thank you to FOSS for organising the night, to Lee and Eva for cooking the food, which proved very popular and to Mr Amies for calling.
FOSS Committee
Lee Browning (Chair)
Vicky Summers (Secretary)
Members:
Katie Amies
Maria Barnett
Jessica Smith
Rhian Atkins
Wendy Edwards
Emma Payne
Amanda Willis
Eva Geekie
Vicky Maunder
Class Reps for 17/18:
Foundation - Mrs Clark
Year 1 - Mrs Kirkman
Year 2 - Mrs Rose
Year 3 - Mrs Eltham
Year 4 - Mrs Leach
Year 5 - Mrs Clark
Year 6 - Mrs Cleary