Page Updated 21.07.17
Friends of Stanford School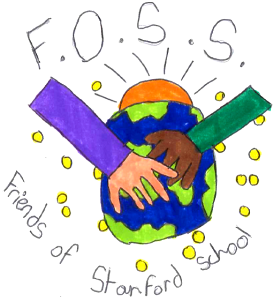 Designed by Henry
Introduction
All Parents, Guardians & Staff are members of the Friends of Stanford School and are welcome to any committee meetings.
Contact
- Lee Browning 01367 710628 or
07747 056908
Email:
fossadmin@btinternet.com
What does the Friends of Stanford School do?
We are primarily a fund-raising body which aims to raise money for the extras that the school budget will not cover.
July 100 Club Winners
1st Jane Lawson-Smith
2nd Bethany Turner
3rd Emma Evans
Summer Fete:
On Saturday 15th July we held our annual Summer Fete. It was an amazing afternoon. There was a great atmosphere with lots of people in attendance.
The acts in the arena performed brilliantly - the school band playing 'The Flintstones,' the school choir, dance club, Year 1's for did a maypole dance, Year 4 singing 'No worries,' the local karate club, Year 5 playing their guitars and the gym club. Well done to all the children who performed and the staff who worked with them. We had lots of teams in the tug of war but after many tugs we had four overall winners - well done to them all. Around the fete there were many stalls, a tombola, raffle, bouncy slide, games, bar, barbeque and some small reptiles and insects. A big thank you to all the staff who went in the stocks for a soaking!
Many thanks to everyone who made it happen - the FOSS members, David Bailey, Amanda (Animal lady), Neil Mantle, Lenny, the school governors, the staff and the children, plus other parents who were roped in to help.
Here are some sounds of the day:
The Band:
The Choir:
Year 4 Song:
Year5 Guitars:
Bingo Race:
On Sunday 19th June FOSS organised a Bingo Race at Stanford Football Ground as part of Stanford Festival.
It was a great event, although a little hot! Everyone really enjoyed running around the ground and crossing off their numbers. It was great to see young and old taking part and supporting each other. Many thanks to FOSS for organising the event, especially Richard.
The event raised £362.30.
Easter Egg Trail
Thank you very much to everyone who supported this event and completed the trail. We had 55 forms returned and made £195.00 for the school. The winning entry forms were from:
1st Liam (Yr 4) who won a tablet
2nd Jack (Yr 1) who won a laser quest pass
3rd Charlie (Yr 2) who won an Easter Egg
School Disco 12.05.17:
Thank you to everyone who attended the school disco on Friday 12th May.
It was great to see so many of you dancing the night away! Many thanks to all the staff who attended and all the year five pupils and parents who helped during the discos.
Thank you to FOSS for organising these discos.
Adult 80's Disco 06.05.17:
Thank you to everyone who attended the Adult 80's Disco on Saturday 6th May - a great night was had by all.
We had delicious food to eat, great songs to dance to, our own photo booth plus a well stocked bar (well until the end of the evening)!
Many thanks to all the FOSS committee who worked so hard to make it a huge success.
New Outside Area
Thank you to FOSS for their contribution to the new Foundation/Year 1 outside area.
FOSS Committee

Lee Browning (Chair)
Andy Hill (Vice Chair)
Gaby Clark (Treasurer)
Vicky Summers (Secretary)
Members:
Nina Stillion
Richard Stillion
Sharon Hill
Katie Amies
Maria Barnett
Jessica Smith
Rhian Atkins
Wendy Edwards
Emma Payne
Amanda Willis
Eva Geekie