Page Updated 15.07.19
Friends of Stanford School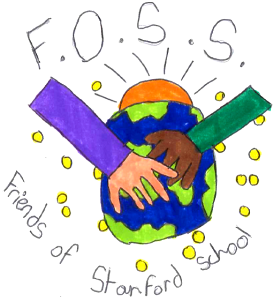 Designed by Henry
Introduction
All Parents, Guardians & Staff are members of the Friends of Stanford School and are welcome to any committee meetings.
Contact
- Lee Browning 01367 710628 or
07747 056908
Email:
fossadmin@btinternet.com
What does the Friends of Stanford School do?
We are primarily a fund-raising body which aims to raise money for the extras that the school budget will not cover.
---
School Summer Fete
On Saturday 13th July we had a wonderful Summer Fete. A big thank you to everyone who supported the day before, during and after the event.
Many thanks to everyone who sent in donations for the tombola and raffle. A big thank you to the staff and children who performed in the arena - you all did a fabulous job. Thanks to everyone who set up on the day, manned stalls and helped tidy up. It was a great day with an amazing community atmosphere.
Thank you to David Bailey for setting up and running the sound and to all FOSS members for the hours of work put into making this event such a success.
---
100 Club
June Winners
1st Carrie Cleary
2nd Rachel Swanborough
---
School Disco:
On Friday 17th May FOSS organised a school disco for the children. Everyone had a great time and danced the night away.
Many thanks to all the staff who attended and to all the FOSS members, parents and children who helped set up, run the disco and tidy up afterwards.
The disco raised
£660.89!
---

Thank you to everyone who took part in the Easter Egg Trail.
We had lots of entry forms back with the winning sentence 'Every child loves to eat Easter eggs'. The winning forms were picked during Collective Worship on Friday 26th April.
Congratulations to Daisy Sudworth who won the Easter Hamper, George Humphries Robertson who won the entry tickets to Roves Farm and finally to Monty Lawson-Smith who got the Easter egg and bunny.
The event raised £225.00.
Thank you FOSS for organising this enjoyable family event.
---
Family Bingo Night:
On Saturday 30th April FOSS ran a family bingo night which was attended by over 100 people. It was a fun and noisy evening where everyone got into the bingo spirit. It was lovely to see so many of the children winning prizes from cuddly rabbits, to Easter eggs, to a family pass to see Swindon Town play. Many thanks to FOSS for organising the evening, to Lee for doing the cooking and to Mr Amies for calling.
The evening raised about £1000.00.
---
FOSS Committee
Mr Browning - Chair
Mrs Bignell - Treasurer
Mrs Viggars and Mrs Clark - Secretary
Mrs Summers
Mrs Geekie
Mrs Atkins
Mrs Maunder
Mrs Kirkman
Mrs Tidy
Mrs Huby
Mrs Williams-Cuss
Mrs Pitts
Mrs Willis
Class Reps for 18/19:
Foundation—Miss Wilson (Lambert)
Year 1—Miss Hancock (Granito)
Year 2—Mrs Cleary
Year 3—Mrs Ingles
Year 4—Mrs Eltham
Year 5—Mrs Lawson-Smith
Year 6—Mrs Clark