Page Updated 22.06.17
Eco-Club
Run by Mrs Willis - Wednesday 3.15 - 4.00
Our School Sustainability Map
Our Eco Code
Walking Wednesday
Footsteps - a Parents' Guide to teaching road safety.
Our Eco Song:
Please meet our Eco Warriors
These are some of the reasons they wanted to join Eco Club:
Katherine:
I wanted to do Eco because it is fun.
Lilly:
I want to join Eco Club because I think it will be fun. I want to learn how to hold a chicken.
Alana:
I have joined Eco because I want to do anything that is fun.
Jack:
I wanted to join Eco because I like chickens!
Isabel:
I joined Eco because I could not wait to hold the chickens. I want to hold the chickens.
Emily:
I want to join Eco because I think it's going to be fun and I want to do the chickens.
Laura:
I joined Eco because I want to protect the world.
Molly:
I wanted to join Eco to help look after the chickens and the environment.
William:
The reason I joined Eco is because I want to improve the schools economy.
Toby:
I wanted to see what Eco Club was all about.
Eco Club Latest:
Look what we have been doing in Eco Club! We have made toys for the chickens, to help keep them busy.
To fit in with Healthy Eating Week we made fruit kebabs, which we enjoyed eating!
BNF Healthy Eating Week 2017:
This year's BNF Healthy Eating Week will run from 12 to 16 June 2017. More information can be found at:
www.foodafactoflife.org.uk
Dear Parents
We are writing to tell you about healthy food in your child's lunchbox. As it is healthy eating week we would like to increase the healthiness of children. Breakfast is healthy and make sure they have at least five vegetables or fruit a day, they drink plenty and GET ACTIVE.
We would like to make lunchboxes healthier, here are our suggestions.
cucumber
carrots
apples
bananas
pepper
sandwiches
wraps
cheese strings
oranges
babybels
rice cakes
pineapple
Please do not put in:
chocolate
crisps
sweets
fizzy drinks
Thank you for doing this.
Eco Club
Big Pedal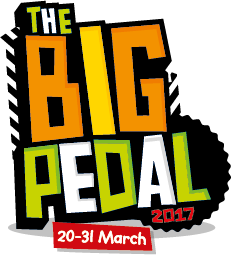 The Big Pedal is the UK's largest inter-school cycling and scooting challenge that inspires pupils, staff and parents to choose two wheels for their journey to school.
Powered by Sustrans and funded by the Bike Hub, the 2017 challenge will run from 20 to 31 March.
Eco Club would like as many children as possible to cycle or scoot to school from the 20th to the 31st March.
Please support this initiative and help the environment.
Earth Hour
Earth Hour is the world's largest demonstration of support for action on climate change. Last year, millions around the world across 178 countries came together to show support for action to protect our amazing planet. Now, more than ever, it's crucial we show support for action on climate change. You can be part of it.
Join us at 8.30pm on Saturday 25 March by switching off your lights for one hour.
RSPB's Big Schools' Birdwatch:
As a school we are taking part in RSPB's Big Schools' Birdwatch.
Every class is bird watching for one hour and sending their results to the organisation for them to use this information.
On Wednesday 18th January Gardening Club made bird feeders to put around the school grounds and attract birds into the grounds. Eco Club went bird watching and recorded their findings, which have now been sent off.
Eco Club also had a visit from Mrs Edwards, who lives in the village. Her husband, John Edwards, is part of Blind Veterans UK and he asked another member of the group, Mr Bert Hallet, who is completely blind whether he would make the village school one of his famous bird boxes. He did just that and we were presented with a bird box and insect box.
He has made many bird boxes and sent some to some famous people including the Queen and David Cameron.
More information can be found HERE...
Chicken Names:
We have now named our new chickens and roosters! Thank you to everyone who entered the competition.
Prizes have been given to the chosen names which were voted on by Eco Club.
Many thanks Eco Club
---
Green Flag:
We have officially received our Green Flag Award for another two years. The assessor had no suggestions on how we could improve our work.
She wrote ' Well done Stanford in the Vale primary School! It was clear to see that the school make excellent use of the wealth of wonderful habitats in the local area as well as their excellent school grounds to aid their learning about biodiversity. It was clear to see the wealth of Eco-Work, particularly using the tally charts and results from monitoring, as a further encouragement and a constant reminder of the aims and achievements of a sustainable school are excellent. The fantastic efforts to reduce car journeys and encourage healthy school travel inspired me to cycle to the school for my visit. Keep up the good work!'
So well done Eco Club, Gardening Club and Wildlife Watch.