Page Updated 29.09.18
Eco Club
Run by Mrs Willis & Mrs Dickenson - Thursday 3.15 - 4.00
Our School Sustainability Map
Our Eco Code
Walking Wednesday
Footsteps - a Parents' Guide to teaching road safety.
Our Eco Song:
Please meet our Eco Warriors
These are some of the reasons that they wanted to join Eco Club:
I have joined Eco Club again because last year I really enjoyed it and it is fun. Bella
I want to do Eco Club because I want to save wildlife. Millie
I like being with the chickens and my friends. Toby
I joined Eco Club because I want to hold a chicken. Edward
I enjoy going to Eco Club. Dexter
I want to make the world a better place. Jacob
I would like to feed the chickens.Thobey
I joined because I love the environment. Tiffany
I want to go to Eco Club because it is fun. Maisy
I would like to join Eco Club because I would like to help the world! Niamh
I joined Eco Club because I like cleaning the chickens and helping out. Amanda
I've joined Eco Club again because I can hold the
chickens for the first time. Tessa
I joined Eco Club because I want to do it again.
It's fun and I like the chickens. Emily A
I want to help the environment and pick up rubbish. Orlaith
I want to look after the chickens. Tommy
Because I have done Eco Club for a few years
and I want to do the chickens. Emily V
I want to help the planet. Gabriella

---
Green Flag:
We have officially received our Green Flag Award for another two years.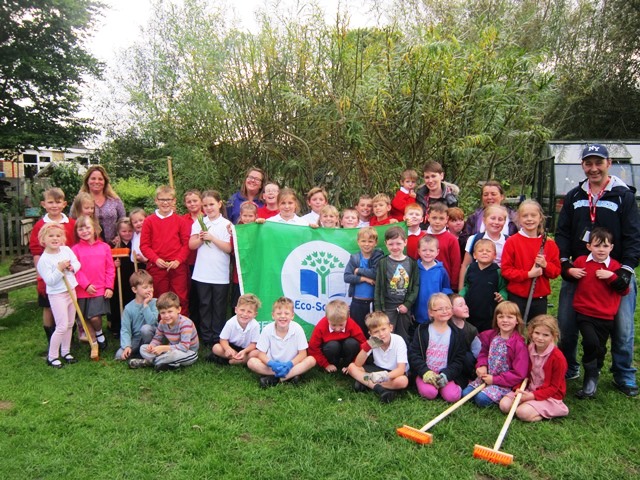 The Assessor's comment was: 'This school has a wealth of outdoor learning and the pupils obviously enjoy a vast variety of Eco activities. The Eco Club and Gardening Club are enthusiastic and knowledgeable ambassadors for environmental issues. The children are dedicated to looking after their school, local environment and village.
The Headteacher and staff are passionate about learning outdoors and the importance of developing the values of caring for the environment in the children. The Eco Action Plan and outdoor learning are an important part of the school development plan ensuring that Eco topics are included in the curriculum using the amazing school and community resources. The children have worked hard on all the Eco toipcs, sharing their skills in the local community and gaining national recognition for their hard work. They thoroughly deserve their fourth Green Flag Award. Well done.'
So well done Eco Club, Gardening Club and Forest school.